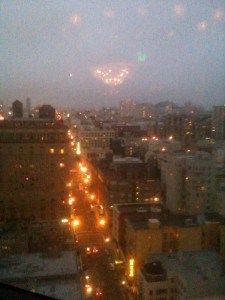 Sunday, 10:19pm
Reno, NV
"There are eight million stories in the naked city…" (Jules Dassin film noir classic)
Howdy.
Here's a nice little piece of insight for writers.
And by "writers", I'm referring to those ink-stained wretches (of whom I share a proud bond) who really care about the craft of writing.  For whom the act of stringing words together is — when done right — a sacred thing.
You can make a living as a hack writer (meaning: Someone who can communicate through writing, but who neither loves language nor attempts to create phrases with rhythm or dynamics or craft).
Most of the best-selling novelists these days are complete hacks, in fact.  (Talkin' to you, Dan Brown.)
Metaphor Alert: If you need a comparison to understand what I'm talking about, let's take the mastering of a musical instrument.  What's the difference between the dude who noodles away at a guitar for decades but never plays for anyone… and the guy who steps on a bar stage to cover a Cream tune… and Eric Clapton?
Answer: The first dude can't … Continue Reading