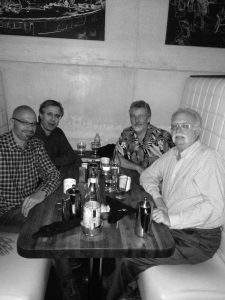 Saturday, 1:10pm
Reno, NV
"Ah, but I was so much older then, I'm younger than that now…" (Bob Dylan, "My Back Pages")
Howdy…
A lot of my social media focus lately has been on Facebook. As much as I distrust and mildly despise The Zuck, I have to hand it to the little sociopath for figuring out a dynamic that allows for real interaction with folks…
… which lasts, on average, around one to three days. Then, even the most viral post disappears down the social media rathole and is gone forever.
So I like to rescue some of the better posts I've carved into the FB newsfeed, and stack 'em up here on the blog… where they'll survive in the archives for as long as this rickety thing exists. (We're officially at the decade mark, by the way. Ten years of posting monthly… except for January of 2012, where I inadvertently didn't publish an intended article in time, so the archives have that single hole in them. That's pretty freakin' awesome.)
Anyway, no need for context here. If you'd enjoy seeing the comment threads on any of these posts, just hop over to my FB page (where you should already be following me, anyway, what are you thinking?). It's www.facebook.com/john.carlton.
And, as always, I love to hear what you're thinking in the comments here (where I often hang out and interact).
By the way… that photo up top is from the big damn AWAI seminar I was a featured speaker at, back in October. Everything about the photo (and yes, that's Dan Kennedy sitting with us) is explained in the Psych Insights For Modern Marketers podcast I link to below (in one of the posts) (and yes, this is a tease to get you to read this entire thing).
Enjoy the year-end Facebook roundup:
Take This To The Bank, Part 11: Most people's daily actions (eating, buying, loving, hating, grooming, working, all of it) are based on beliefs… which they regard as "true".
You better grok this, if you want to communicate with, sell to, or persuade folks in any way.
As irrational and unfounded in reality as these belief systems can be, they become unshakeable foundations for all behavior, thought and decisions.
Rookie copywriters like to bowl readers over with facts and data and science. Yawn. These are humans you're writing to. Reality is very subjective, and by the time perception gets past the internal obstacle course of flawed senses, emotional distress, and knee-jerk denial… your facts will get ambushed and slaughtered as efficiently as a 30's-era mob hit.
Real persuasion occurs in the murky soup of people's ancient, mostly-unconscious belief systems. Timid efforts ain't gonna cut it.
Bold, and even spectacularly whacky beliefs trump crunchy facts every time.
Just something to keep in mind as you explore persuasion expertise…
—
A life well-lived will be roiling with stories. Seems pretty obvious.
But it's the same with a business well-run. And a career with lofty goals. Even a project you've thrown yourself into. Or a single day of enthusiastic productivity.
The world spins in the greased grooves of stories. All around you, and deeply intertwined with your very existence, are stories of romance, harrowing adventure, small and large heroic episodes, and the fascinating history of your impact on everything you touch. Yes, you.
Your stories swirl and crash into the stories of your friends, colleagues, lovers, clients, family, enemies and random encounters.
Recognizing these stories, and molding them into snarling tales with a set-up, a point, and a punchline or lesson, can kick you into a higher level of conscious living. The slumbering masses ignore, deny and deflate their stories… and yet, the hunger in all of us for well-told tales is never sated.
There's no big secret to success. It's not the moolah or power you accumulate… it's the wealth of experience, feelings, brain stimulation, and your impact on others generated by living large.
It's hard to become, and stay conscious. Your stories help you catalog the good stuff, and keep you enmeshed with all the other actors in your life's movie.
The best marketing is alive with stories, because it's all just an extension of life well-lived.
Go chew up some scenery. The only real crime in the universe is squandering this unique, scary and wonderful existence you woke up with today…