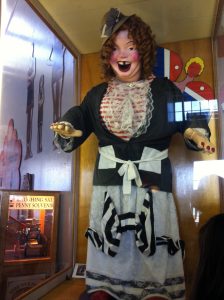 Tuesday, 7:59 pm
Reno, NV
"What's so funny about peace, love and understanding?" (Nick Lowe)
Howdy…
One of the first things you hear, when you're learning about fundamental copywriting and ad creation…
… is to avoid humor like the plague. The great David Ogilvy said "People do not buy from clowns." This pre-dated Jack-In-The-Box's latest commercial model (where they're so obviously going after the stoner market with late-night "Munchie Meal" take-out boxes that it's funny on multiple levels)…
… yet, overall, most high-end marketers still agree with it.
Even the funniest copywriters I know (and let me assure you that many of the best bust-your-gut-laughing humans alive are, indeed, copywriters) (weirdo bunch, totally) almost never insert humor into their sales copy. Almost. Occasionally, when it's absolutely safe (like writing to your own house list, full of folks proven to have the EXACT same sense of humor you have, right down to the Animal House reruns and Adult Swim shows you all watch)… they may go off the reservation and aim for making readers spit up their morning coffee over an email.
But it's rare. More likely, the funny-guy guru's you follow have a "meta-text personality" that includes some risky guffaw moments here and there, just to position them in their market as too-cool-for-school (and thus intellectually superior to their competition)…
… which they'll jettison at the point of closing any sale.
Cuz money is serious biz. And most buyers (not looky-loo's, but buyers) aren't keen on being the butt of a joke, and tend to distrust salesmen who seem a bit too… funny. (Even the word "funny" means both being humorous, and also being weird, brain-damaged and untrustworthy.)
Now, I'm a fairly humorous fella. (And any brain damage I've sustained is all better now.) I've made a colleague snort coffee through their nose as recently as… well, yesterday, on the phone. Other writers collect my private emails, and read them to family and friends. (Part of that may be a self-defense strategy against their spouse's assessment of a life in advertising as being "boring".) I've also caused entire ballrooms to laugh so hard, some attendees almost wet themselves. And I've even used "okay, you got me" sarcasm to get my point across to a reluctant client during consulting.
Of all the things I value the most in life… laughter and humor rank in the top five. (Just below sex, In 'N Out hamburgers, craft IPA beer, and the NBA.) (Oh, and my Jack Russell terrorist dog. Sorry, girl. Almost forgot you…) (And my '64 Stratocaster. And Turner Classic Movies. And…)
Okay, whatever. It ranks high, anyway. It's a big part of who I am, and what I bring to the table as a friend, colleague, writer and consultant.
And yet, when a sales process gets down to the shorthairs…
… I'm as serious as a mortician.
Losing a sale because you screwed around is NOT funny. It is, rather, a fucking tragedy.
So all the top writers I know have a strict rule against tickling the funny bone of a prospect… at least, when things get to "that point".
However, we also really, really, really want to find exceptions to this rule. We figure there's GOT to be an exception, somewhere.
Which means we've all become minor experts on the topic of humor. Because, it turns out, while everyone believes they own a "great" sense of humor… the truth is, few (if any) civilians understand humor at all.
So, I thought I'd share some of the research I (and some of my colleagues) (including writers like Kevin Rogers, who spent a decade as a stand-up comic before getting into advertising) have dug up…
… in no particular order…
… just as a starter guide to why we mostly don't (but sometimes do) use humor in our marketing:
The Joke's On Us #1: In the last few decades, Ivy League universities have started studying humor, trying to get a baseline understanding of what's funny to most people, and why.
And their first biggest discovery was that many people have no sense of humor at all. None.
However, while these funny-challenged folks have no idea why you're bent over laughing at a certain joke or situation…
… they are often very astute to the social cues of humor, and will be holding their bellies right along with you, laughing out loud.
They're faking it. Or, more precisely, they wait a beat after observing other people laughing, and join in as a social "bonding" routine. They're supporting the good vibes that mass laughter brings to any social setting… kinda like nodding in agreement, or applauding.
Researchers figured this out by tricking people in studies — seeding a small crowd with actors who laughed on cue at non-funny things, and recording the actions of study participants. Folks with actual senses of humor would smile in a bewildered way, wondering why they weren't getting the joke. But the fakers had no such objective judgments — the crowd laughed, so they laughed, too.
Reading about these findings blew my mind. I'd suspected something like this was going on, because I had friends who laughed a bit too hard, or who seemed to mainly use loud guffaws as a way to show dominance in a conversation. So I did some of my own testing, watching closely when fakers actually began laughing (a beat behind everyone else).
If you ask, most people will say they have a great sense of humor. Insider their world, they do. Whatever they find funny (or socially acceptable to laugh at, as a bonding process) is what's funny. This is how humans operate. All measurements of behavior begin with what you're doing as the universal standard for normal, or moral, or just "the right way"… and if others don't agree, then they're just wrong.
Marketer's Insight: While no one is sure what percentage of the population is actually humor-challenged, it IS a large chunk of your fellow citizens. So when you're creating marketing aimed at a large group of prospects, you cannot assume that ANY of them will grok your sense of humor.
Just like half or more will reject your politics (and yes, I know you have a superior understanding of politics to everyone else on the planet). And your religious views.
The rule in bars is "no talking about politics or religion"… because it leads to fights.
For marketers, you can add "no funny stuff" to that list. You simply cannot predict what any list will find funny, or not find funny, or be offended or baffled.
The Joke's On Us #2: One of the first challenges the researchers found was agreeing on how to "measure" what's funny.
Turns out it's not a simple thing at all. In fact, the commercial uses of humor is relatively recent — the stand-up comic was invented during vaudeville, which required between-act ring-leaders to keep the audience happy. Shakespeare and Mozart and other post-Enlightenment entertainers made liberal use of what we now call slap-stick (the term literally refers to Medieval clowns using a paddle on each other) and "low brow" humor to delight certain audiences… and more intellectual mockery and sarcasm to make the sophisticated elites titter.
So the people creating entertainment, or trying to influence public opinion or sway a vote, might know how to get a response… but it was an inexact science. Making one part of the audience laugh might offend another part.
The researchers have gotten lost in the weeds trying to define humor. (Some studies have claimed to be able to determine your socio-economic status by what you laugh at, in fact. Fart jokes and pratfalls for the working class, existential stories based on willful misinterpretations of esoteric knowledge for the elites.) (The flaw in this kind of study, of course, is that semi-illiterate yahoo entrepreneur's can make buckets of moolah with a good biz, and over-educated snobs may be dead-broke slackers.)
It's gonna take a while for researchers to get it all straight (if they ever do).
The thing is, humor is complicated.
But it's also a major element of business and social life, so thinking critically about it gives you an edge.
Here's how I've broken it down (through a long life of observing):
There are two basic "professional" uses of humor (in biz settings) — as a weapon to establish a better status position… or as a bonding tool (which can be an innocent way of forming friendships, which may later become alliances). All of my close longtime friends have wicked senses of humor, for example. Others who I consider good people, but whose funny-bone isn't so funny to me, never penetrate the Inner Circle. This has not been done consciously — it's just the way things sift out. But it's very interesting to note, isn't it?
The weaponized use of humor employs mockery, sarcasm, and crude jokes that seek to identify "winners" and "losers" (or "The Other"). It's very risky when you don't know your audience (and that political or racist joke falls flat), but it can be nastily effective when dealing with the home crowd (so your insinuation that all Yankee fans are slobbering Neanderthals goes over big in Boston every time). (It's true, by the way, that all Yankee fans are slobbering Neanderthals, but that's another issue.)
There are a few broad divisions in the way humor is used that matter to marketers. The first is shock vs. bonding — you get a laugh by purposely violating some social norm (which can delight or offend, depending on your audience)… or you cozy up to everyone's comfort zone, and we all laugh while agreeing on what's being discussed. Do not try to use shock humor unless you are very, very experienced with it. Backfires are common. On the other hand, mild bonding humor can go a long way to establishing relationships… or bore the bejesus out of everyone.
The second main division is wit vs. jokes. Have you ever been with a group of folks who just toss zingers at each other, piling up the wit like stacking wood? It's a joy to behold, if you're witty. There is no preparation beforehand — you've got to live by your ability to quickly counter, support or twist whatever is said. It's freeform funny conversation… which is the opposite of telling memorized jokes. Someone with an arsenal of jokes can quickly take over a conversation (often with the support of the less witty folks who prefer a more stable environment). I've seen many high-flying conversations completely gutted by a series of jokes (which require, by design, that everyone remain quiet and respectful while the joke is told).
Don't get me wrong — I like jokes. But I have none memorized, because I prefer free-form wit. I used to know a lot of jokes, though — so many that a couple of friends and I can simply smile at each other and mention a portion of the punch line (not even the whole line), say "Joke number 37", and get the SAME laugh that telling the entire joke would have generated. (Example: "Well, maybe it's not like a river…". Funny, right?)
Marketer's Insight: Just understanding the fundamentals of how humor is delivered and consumed can help you immensely. If you're not a witty dude, don't try to fake it. You can't. If you like jokes, go ahead and memorize some… and use them when you're in a situation where everyone is yukking it up over memorized jokes.
But consider the audience, always. Don't shock when it will offend. Never assume your audience shares your religious or political views (and triple-check your perception of this before wandering down the very dark alley of potentially-offensive jokes). And it's fine to just be part of the audience, to laugh and enjoy the wit or the prepared humor — you're actually bonding with your supporting laughter.
Quick Story: A well-known colleague of mine — a really nice guy, liked by everyone, and a killer marketer — once took me aside and asked how he could develop a more interesting personality. He was lost in witty conversations, had no jokes memorized, and didn't understand why some folks found some stuff so fucking funny.
I took the challenge, and with my pal Kevin Rogers (the former stand-up-turned-copywriter), we gave him a list of things that might help (which included watching George Carlin routines critically — figuring out how each story unwound, and when the laugh points popped up… memorizing a handful of jokes from the Playboy jokes page and also from Reader's Digest — so he had something a tad ribald, and something very middle-of-the-road… and critically reading witty authors like P.J. O'Rourke or Molly Ivins — one conservative, one liberal.)
It didn't work. I know you can develop real wit, because I've progressed myself from a joke-telling kid (sharing stuff from Mad magazine or jokes my drunk uncles used to shock the aunts), to a rookie good conversationalist, to a high-end witty dude who can hold his own in any crowd. On any subject.
But I think you need to start with a basis sense of humor… which we've discovered is not default equipment with all humans.
Still, by all means, learn how to tell a joke properly. Find them written out, and memorize them, right down to the exact words used. It's like memorizing scripted lines for a play. Some advanced actors may wing it occasionally… but if you can't do that, don't wreck the scene by trying. Study the process, if it interests you, but otherwise just follow the path already laid out.
Another Quick Story: Gary Halbert and I loved to mess with each other's minds on stage at seminars. The ultimate prize was getting the other guy to lose his cool by laughing too hard to speak (or come back with a wittier line). Spitting coffee through your nose was a bonus point.
We'd get vicious, too… using insults, practical jokes, rumors, everything was fair play. It kept us loose and happy during long weekends of Hot Seats.
But it also taught us a good lesson in the limits of humor. During one break, Gary and I were chatting at the side of the stage… and an attendee walked up and leveled a gross, tasteless insult my way. Then he laughed heartily. In his mind, he was inserting himself in the Inner Circle — he'd thought, "Hey, I'm a funny guy, too", and figured insulting me was an easy way to get special attention.
Cuz, you know, Gary and I were so vicious with each other.
It doesn't work that way, of course. Neither Gary nor I laughed. We just stared at the guy until he slinked away, humiliated.
Hey — I can call my friend a fuckhead and get away with it. Because that's how we roll.
But YOU call him a fuckhead, and I'm in your face in a heartbeat. You're not allowed that privilege.
If you have to ask whether you're in the Inner Circle or not… you're not in it. This is pretty much universal in human experience. You can loudly berate your bowling buddies and get a laugh back… but that goofy yahoo on the other team says the same thing, and them's fighting words.
It's stunning how often people don't grok how this simple social paradigm works. And it can ruin business situations for you, handled poorly.
Just a word to the wise…
The Joke's On Us #3: Finally, for this primer on the subject, never underestimate how much some people value humor…
… while an equal number are threatened by it.
Look critically at long Facebook threads for evidence. You'll find in-jokes that you cannot possibly understand, because you're aren't privy to the back story. You'll find other people gleefully trying to keep up with the witty back-and-forth's, who miss the point entirely. (You can get real-world examples of how different people find different stuff funny… and keep in mind the research claiming to predict status by what you laugh at.)
And you'll find many examples of people trying desperately to disrupt funny threads. Every time someone inserts comments like "First-world problems", they're trying to kill the conversation. Ask yourself why they'd want to do that. Often, it's simply being uncomfortable with the discussion, and yet feeling desperate to comment. Just as often, though, it's a crude attempt to establish dominance. (It's the same with comments like "Bang! for the win", which attempts to control through judgment.)
I consider these kinds of disruption offensive, because they can murder a good thread. Hard to continue laughing about some modern situation when reminded that kids are starving in India. It's Debbie Downer on steroids.
It's the same with sarcasm. Shielding cynical comments by claiming "you're just joking" is a blatant cop-out, and a failure to take responsibility for the consequences of your statements. It works, unfortunately, in politics and personal grievance. "Can't you take a joke" is the icing on the insult.
Humor evolves on a society-wide level. What was hilarious a decade ago in a movie is now a cringe-inducing example of obliviousness. Outside the US and Britain, stand-up tends to be joke-oriented… whereas our comics and cartoons careen toward the absurd, employing more long-form stories than standard punch-lines.
Humor is very important to some people. It's my main defense against a heartless universe obviously out to get me.
And at the same time, humor is a very foreign and scary thing to others.
This is why it doesn't mix well (usually) with serious sales pitches, where money is on the line.
Make sense?
I may do another post on this, if folks are still wanting more.
Meanwhile, love to hear your take and experience with humor in biz situations, in the comments section below…
Stay frosty,
John
P.S. One last tactic: If you're going to use humor in biz settings… it's a good idea to make yourself the butt of any joke. It's called "self-deprecating" humor, and it allows you to use every shred of your wit, sarcasm and sharp humor to make a point… you simply make yourself the target, rather than risk offending or insulting anyone else.
I make sure my audiences at events understand that I know the answers to so many problems… because I personally failed or got waylaid by nearly every problem possible in life and biz myself. It's absolutely true… but a less forthright speaker might avoid spoiling his reputation with confessions like that.
If I nail an attendee with some shocking assessments (like calling him an idiot)… I make sure he understands, first, that I've been the biggest idiot in the universe myself. Many times. And making mistakes, learning my lessons, and then using those lessons the next time is how I became successful.
In fact, I don't know of any other way to progress in life and biz.
Do you?
P.P.S. By the way…
… if you're a victim of what my colleague David Garfinkel calls "intellectual loneliness" (where you're withering away because you lack witty, funny, smart-as-whips pals… who also happen to share your passion for business, copywriting, marketing and the entrepreneurial lifestyle)…
… then it might be time for you to seriously explore my Platinum Mastermind group.
It's a small (under 20 members) group that meets four times a year… where we do Hot Seat-style consults on each member's situation (problems, biz plans, ad copy, anything at all that's bugging them)… with a focus on GETTING SHIT DONE. No vague philosophy. Just hard-core, detailed, specific brainstorming and sharing of experience that leads to actual things you can do to unclog the moolah spigot, and get your biz and life back on the fast track.
We also have guest experts who come by just because they like the way I operate. And they share, and help brainstorm, and just pour themselves into the weekend. Recent guests: Joe Sugarman… Gary Halbert's sons (Bond and Kevin)… Jay Abraham… Brian Kurtz (former CEO of Boardroom, Inc)… Dean Jackson (marketing superstar)… Joe Polish… and many more.
Just see what's up, for cryin' out loud. The site won't bite you: Carlton's Platinum Mastermind.
Oh, yes. This could be the day you remember forever, where everything changed for you…