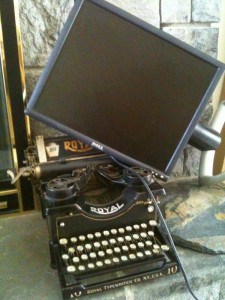 Thursday, 8:06pm
Reno, NV
"Here come Johnny Yen again…" (Iggy Pop, "Lust For Life")
Howdy…
Oh, my God!
They killed the sales letter again!
Will this horror never stop?
Actually, you can relax.  Just like Kenny in South Park, the traditional sales letter is on some kind of perverse "Permanent Hit List"…
… where every marketer trying to claim he just invented a new fad stands astride the image of a quaking letter…
… and slays it.
Huzzah! Death to you, vile long-copy sales letter!  Take that… and that…
… and that.
This latest round is clever as hell, too.  The new trend is putting your sales letter in a video, and reading along with it.
The irony:  The dude selling you the "Magic Box" product that kills the sales letter forever…
… uses a sales letter to do the killing.
Hey — don't get me wrong.  I love video.  Been using it in marketing since… well, since it was actual videotape on reels.  (Yeah, shocking, I know.  We were so backward in the last century.)
In fact, the "Magic Box" product I'm talking about is, I'm guessing, an excellent solution for many marketers who can't figure out how to make a video sales letter work.
And all's fair in love, war and advertising.  So all the dudes out there telling you the sales letter is dead, and you can sell without selling, and the Web has changed everything…
… well, more power to 'em.
I just want to clarify 3 things.
Enlightenment Moment #1. Video is not magic.  No one will give you money for your product just because you have video in your marketing.
Video IS a smokin' hot vehicle for delivering a good sales message, however.  We've seen (and heard of) results skyrocket in certain markets simply by introducing video into the mix.
It lets you engage your prospect with visuals, audio, and all the attention-getting power of passion-inflected voice-overs.
Video rocks.  When the Web goes 3-D, then 3-D video will rock, too.
When your monitor starts spraying you with carefully-selected odors, then smells will become a marketing tool.  Taste isn't far off, either.
The thing is… the best kind of selling will always be a senses-consuming, totally customized experience for the prospect.
The more personalized you can make the sales process, the more you will sell (as long as you don't screw up the message).
So for now, yeah, video is something you need to test vigorously.  (And those tests will likely show you that video is just as powerful as folks insist it is.)
However…
… it's not the video that's doing anything for you.
It's the experience of being taken through a good sales process in a new way that tweaks more of your senses.
A sucky sales message in a video will still get you sucky results.
Enlightenment Moment #2. There is a trend now among some info-marketers of insisting that you can "sell without selling".
This is an excellent sales tactic.  Vast mobs of rookie marketers crave this kind of soothing message.  They fear the sales process, and want to hear that they can skip any act even remotely associated with gnarly, unsightly salesmanship.
And so, this is the exact message that is floated by info-marketers eager for the quick kill.  You don't need to know how to write, and you don't need to understand anything about selling.
And it's bullshit.
These guys are (a) excellent writers themselves (even as they insist they're not)… and (b) astonishingly clever salesmen.
Again, I salute them.  I even urge people to check out their products.  It's often good shit.
However, it causes my in-box to fill up with questions from confused rookie marketers…
… and it's annoying to have to haul out the same answer every few months.
Which leads us to…
Enlightenment Moment #3: Let's review — once again — what a sales letter really is…
… and why people keep wanting to kill it.
Ahem.
Please note this:  There has never been a time in the history of business…
… where long copy sales letters were the "norm" for most marketers.
Most advertising and marketing sucks.  It always has, and always will.
Most advertising "experts" who staff the kind of mega-agencies that create ads for large corporations (from selling cupcakes to selling investments on Wall Street)… are NOT killer salesmen.
None of the mainstream advertising you see for Coca-cola, for example, actually sells Coca-cola.   It just keeps the brand in your head.  (Okay, when they can get away with it, they'll also try to hypmotize you into craving it… but that's never been proven to work.)
What causes Coke to actually sell is a complex manufacturing and delivery system that dominates the sugar-water industry.  Nobody walks out of Taco Bell because they sell Pepsi instead of Coke.
However, Coke will fly off the shelves in a supermarket because they have primo shelf position, coupons and cross-sell affiliations up the whazoo, and it's a leader in creating new vehicles for easier consumption.  (You still call the local soft-drink dispenser "the Coke machine" — even if there's no Coke in it — because Coke created the industry of delivering cold bottles individually, automatically.)
So yeah, those cute TV commercials with Santa swilling Coke with polar bears isn't "selling", as in moving product.
What moves the bottles and cans is the hard-core marketing machine that keeps 7-11 fully stocked, at eye level.
Any marketer with less than a billion dollars in their ad budget, who thinks they're gonna be successful by "copying" Coke's commercial style…
… is an idiot.
Copying their manufacturing and delivery system, sure.  Again, if you got the bucks, the distribution channels, the deals with supermarket chains, etc.
Same with cars.  You don't see a Ford commercial, stumble off to the dealer in a zombie daze, and buy immediately.
No.  You engage with a sales process.
These processes… the dealing with a "sales agent", or finding yourself at the consuming end of a system that started with sugar water… all rely on pure salesmanship to work.
Top marketers, throughout the long history of marketing, either know this…
… or learn it, quickly.
It's the only way to become successful in a way you control.  You don't rely on luck, or on fads, or on the unexpected confluence of events for your success.
No.  You create your success.  By knowing how to sell.
Now… let's get back to why most advertising and marketing sucks.
In the greater world of advertising, there are the huge agencies who use slogans and art, and call it an ad because no one knows any better…
… and then there is this tiny little sliver of the industry, way off in the corner, called "direct response advertising".
It's the bastard child of the big agencies.
The big agencies like slogans and pretty art, because all they want to do is to please their client.  So the client cries out "That's a GREAT ad!  We can't wait to run it during the Superbowl!"
And they happily pay vast fortunes to the agencies, believing they have done their due marketing diligence.
Meanwhile, over in the corner (sulking, because we get no fucking respect)…
… the direct response guys don't care if the client loves the ad.
Because they're not selling the ad to the client.
They're, instead, creating an ad that will sell to PROSPECTS.
The term "direct response" refers to the nature of the ads.  There is some element of asking for ACTION.  A response.  Click here to order.  Opt in to get the free goodies.  Call for a quote.
This kind of response scares the bejesus out of the big fancy agencies.
They HATE the idea of being held responsible for any kind of actual RESULT from their nice-looking, salesmanship-free ads.
Because, if Ford ever asked their agency how many cars were sold from the last whiz-bang set of TV commercials…
… the answer would be a shrug.  "We don't know.  We literally have no clue whether those ads sold lots and lots of cars, or no car at all."
(Here's how that game works, btw: At the end of the year, if Ford sold more cars — for whatever reason — the agency retains the account and are heroes.  If Ford sold less cars, they fire the agency and hire another one.  It's all smoke and mirrors, alchemy, voodoo and wish-fulfillment all rolled into one big ball of bullshit.)
The direct response guys?
They can't afford to create ads that don't work…
… cuz everyone will immediately know if the ads bomb or succeed…
… based on the results.
No guesswork.  No magic.  No nonsense about "brand awareness" or "long-term sales strategies".
You create the ad.  You minimize "x" factors, you test, you count up the numbers, and either it works, sorta works, or fails.
So…
Faced with the prospect of actually having to create a provably-successful ad… the direct response guys have always gone straight to the source of successful selling:
Salesmanship.
Knowing how to persuade, hold attention, overcome objections… and especially how to close the deal.
And guess what?
In one form or another…
… doing this always ends up in some kind of long-copy sales letter.
Infomercials in the 80s were long sales letters.  They were low-rent videos that ran for an hour on late-night cable for spare change, in an age when most marketers were spending a fortune on high-production 20-second spots on the networks (with zero actual selling going on).  (Those crappy infomercials brought in vast fortunes, too, and changed the way marketers think about cable — and late night selling — forever.)
Most ads in newspapers and magazines were small, tidy little affairs with cute headlines.  The ads that worked in newspapers and mags, however, were the full-page monsters that presented better stories that the publication itself… and which sold hard and crazy.
Most businesses, throughout the ages, have insisted on following the herd… and dumped endless piles of cash into sales-challenged marketing that was doomed from the get-go.
And meanwhile, off in that corner of the advertising industry, the direct response guys who knew how to sell just plodded along, piling up results and remaining more-or-less content to stay behind the curtains.
Then the Web arrived.
And with it, the biggest opportunity for entrepreneurial start-ups that civilization has ever seen.
You literally needed just an Internet connection and a cheap computer… and you could start a real business.  Kitchen table optional.
And guess what?
The smart entrepreneurs went straight for the jugular with their marketing efforts.  Without deep pockets, they had to make their advertising work right off the bat.
And so they were instantly attracted to direct response strategies.  Who cares if the ads weren't pretty, or people bitched about long copy, or — gasp! — complaints rolled in from folks offended that anyone would use the Net to sell anything.
What works, works.
The Big Dog entrepreneurial marketers online are ALL direct response aficionados.
Even the ones who insist they're not.  (They're just really, really good at selling you in ways that don't trigger the "I'm being sold!" alarms in your head.)
Don't get confused by what stuff is called.
A minute of video is (more or less) equal to around a page of double-spaced copy.  So a 10-minute video is delivering the oomph of a 10-page sales letter.
So, fine, don't call it a sales letter.
We don't, anymore.  We now talk to folks about creating a sales message.  The delivery system for that message may be a real letter, or a website, or a video on a site, or a series of auto-responder emails, or a speech from a stage, or a webinar/teleseminar or…
… or any other way it can be presented to a prospect.
It's not the "letter" part of the phrase that matters.  (The next generation of marketers now coming up the ranks have likely never received a mailed letter in their lives, anyway.)
No.
It's the "sales" part that matters.
Learn how to sell.  It's not voodoo.  It's actually easy, when you have an experienced guide.
Don't sweat the "writing" part.  If you can sell, you can do all your marketing verbally… have it transcribed into video scripts, or Web pages, or printed ads, or whatever you need… and skip the whole "writing" thing altogether.
But you probably aren't a natural salesman.  Most people are woefully inept at crafting a good sales pitch.
So learn the simple steps behind selling.  It's not hard.
However… if you insist on remaining ignorant…
… then you will forever be prey to the dudes who DO know how to sell.
And they will sell you one Magic Box solution after another.  Solutions they themselves have succeeded with…
… because — oops, they forgot to tell you — they are KILLER salesmen.
There are a lot of great products out there for entrepreneurs and small biz owners who can't afford to have marketing that doesn't work like crazy.
If you get on my list, you'll know who we recommend.  We don't recommend anything we haven't tried ourselves.
But before you try ANY of the clever new shit out there…
… please… learn how to sell.
Just absorb the simple basics into your skull.
And here's where I recommend you start.  (Just click on the blue word "here's" in that last sentence.  Like magic, you'll be transported to a stripped-down website where you can learn more.  No obligation.  No trickery.  Just the basics on what you can do, right now, to learn more about becoming a killer salesman.)
The best marketers out there are obsessed with closing the deal.
You're just not in the game if you don't understand salesmanship.
You are, in fact, meat.  Sustenance for those who do know understand how to persuade and influence and sell.
Okay.
That was a long way around the block to make a point.
But it needed to be made.  And will be needed again, no doubt.
If you appreciate this kind of no-nonsense explanation on how stuff really works…
… then climb aboard.  Opt in, above right.
It's a minefield out there, when you're alone and trying to make a business work without knowing who to trust.
We know who the good guys are, and who the charlatans are.
I'm sure you disagree with at least some of what I've said here.
The comment section is now open, awaiting your wisdom and input.
Have at it.
Stay frosty,
John