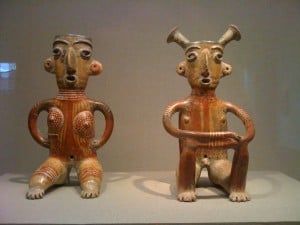 Monday, 3:29pm
Reno, NV
"You're either on the bus, or off the bus…" (Ken Kesey)
Howdy…
Quick lesson here I thought you'd enjoy.
The phrase "there are two kinds of people" is used by comics, politicians, and just-plain-folks trying to set up a point with an easily-understood little story.
It's an over-simplification, most of the time, of course.  Life is too nuanced and complex to fit into just two tidy categories.
However, sometimes you can make a damn good argument behind the two-groups thing.
In selling, this is what we've called "the dichotomy of futures"…
… meaning, you can make two distinctly clear divisions:
1.) The "in" group, which is your target market…
2.) … and the "out" group, which you use as a punching bag to make your point.
The classic example is the old Wall Street Journal direct mail letter that told a story of two men with identical resumes… same education, same dreams, same age, same town, same career.
One dude ended up a total loser, while the other was lavished with fortune and happiness.  The difference?
Dude #2 read the Wall Street Journal, of course.
That letter mailed for a very long time, and brought in a lot of subscriptions.
In that very simple presentation of two futures, we experience the "take away", the "greed impulse", the terror of loss, the urge for a better deal than everyone else gets…
… the whole shebang of killer selling strategies that appeal simultaneously to our lizard brain needs and our modern fears.
It's an ancient tactic.  Philosophers talk about "the road less traveled" (versus the path everyone else takes), soldiers are taught to kill or be killed, and activists say you're either with us or you're against us.
No middle ground.  No gray areas.
It's a nice, tidy, super-simple way to make your point.
However, you can screw it up.
When persuading people, you need to create divisions that resonate and make instant sense.
Good example of what NOT to do: "You either agree with me, or you're a communist pig."
You see this type of clumsy attempt used a lot, and it does exactly zero persuading.  In fact, it creates backlash, and you end up with the opposite result of what you wanted.
Folks don't change their minds… they just get pissed off.
Handled correctly, however, you can actually dissolve resistance and allow persuasion to sneak in the side door.  (As in: "There are two kinds of people — those who agree with me… and those who don't realize they agree with me yet because I come across as such a goofball.")
Here's what reminded me of this tactic: While hosting our super-exclusive Platinum Mastermind Groups this past weekend in San Francisco (screaming successes, by the way)…
… I sprained my lower back.
The ol' lumbar just went ka-pow on the last morning.
I got through the session fine.  But I was hobbled.
And it reminded me: There are two kinds of people in the world — those who've experienced back pain… and those who haven't.
In the meeting, everyone was generous with the sympathy.
However, there was one guy who instantly connected with my situation… because he'd been down that road before.
If you have never experienced back pain, then sympathy is all you're qualified to offer.  You cannot even begin to imagine what it's like, no matter how hard you try.
And once you have experienced it… you're in a special club.
There really are just two kinds of people.  Those who've tweaked, sprained, ruptured or broken any of the gear in their back…
… and everybody else.
I took the one guy aside, and listened to his advice. We bonded immediately.
Some of the other people in the room also had advice, but it didn't resonate with me.  This fellow-hurting-puppy, though… we had common ground.
In marketing, it's good to remember this lesson when you attempt to bond with prospects.  (Essential for most selling situations.)
If you can honestly find a natural division between your best prospects and the rest of the world, that you share…
… you already have the beginnings of a persuasive story.
Don't over-use this tactic, and don't stretch the facts to make it work.  The dividing line has to be natural and smooth.
In this personal example, I've been "open" to advice about keeping my back healthy before — because I've had a sore or slightly bummed-out lumbar region for years — but I never paid close attention.
Why?  Because any advice given to me was about preventing the situation from getting worse.
And, as any good salesman (or student of human psychology) knows…
Rule Number One is:  People won't spend a nickel or invest time to prevent anything…
… but once something breaks, they'll spend everything they have and focus completely on fixing it.
Once I entered that rare group of actually having a sprained lumbar, I was finally ready to hear some advice about getting it un-sprained.
If what you sell is a solution to a problem…
… then your best prospects will always be experiencing some level of trauma.  (A high level would be a health problem.  A low level of trauma might be needing an oil change in the car before a long trip.)
There's an interruption in the smooth flow of their life, and they want it corrected.  Fast, easily and at a bargain if possible.
They have a different world view than everyone else.  They're in a unique group.  And they'll perk up to stories about this group that everyone else would yawn and ignore.
Good little tool to put in your kit.  Use it sparingly.
Stay frosty,
John
P.S. Did you know you can now get the home-study version of the Simple Writing System?
This special package is perfect for do-it-yourself types — learn how to write all the sales messages you need for your biz (ads, websites, videos, etc)…
… at your own pace, in your own sweet time.
For more, go here:
It's a smokin' bargain…