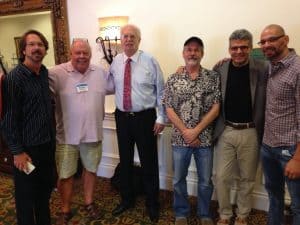 Monday, 12:45pm
Reno, NV
"Hey, you bastards, I'm still here!" (Steve McQueen, "Papillon")
Howdy…
I was talking to a colleague the other day, and he asked me how I liked retirement.
Uh, what retirement is that, I asked.
Well, he said, I thought you'd pretty much left the biz.
Sigh.
I guess I need to address this now. I mean, seeing as how I'm speaking next week to a seething crowd of 500 copywriters at one of the biggest bootcamps of the year (the sold-out AWAI gargantuan event in Florida). AND, the following week, hosting our autumn Platinum Mastermind meeting (now in it's 7th year). While, you know, handling multiple calls from colleagues looking for advice, plus paid consulting gigs, writing a new book, monitoring the next Simple Writing System classroom, and…
If this is "retirement", it sure looks an awful lot like a regular workweek.
But, yes, there has been a rumor floating around that I'm retired (or "semi-retired"), not traveling anymore, not taking clients, etc.
And, in a word, it's all bullshit.
What happened was, a couple of years ago, I decided I sucked as a manager, and sold the Marketing Rebel corporation to my longtime business partner, Stan Dahl. Who has been handling it quite nicely ever since. The Insider's Club membership site is cooking on high heat… the Simple Writing System just had another All-Star Teachers session (with A-Listers like David Garfinkel, Mike Morgan, Lorrie Morgan-Ferrero, and former Gary Halbert sidekick Scott Haines all hosting classes)… and all the good work we've always done in the advertising and marketing worlds has continued without a hitch.
It's working so well now, because I realized what a bottleneck I was as a manager. Once I got out of the way, things blossomed.
Jeez Louise, that's humbling. But it's all worked out great.
And I got back to what I do best: Writing, consulting and being one of the most notorious bad-ass creative advisors in the game.
This is a VERY common entrepreneurial blunder, by the way. You get a biz going by handling almost everything personally… the ideas, the planning, the implementation, the writing, the schmoozing and networking, and all the hiring of tech help and support teams and lawyers and contracts and…
… and pretty soon, you're working 70 hours a week, the biz is thriving, but you aren't doing the creative stuff you're good at.
For me, the calls and meetings with lawyers and accountants and affiliate managers and everyone else's lawyers and biz operatives just crushed my spirit and will to live.
I was unhappy.
And so I sold the biz, and moved back into my old role as writer, creative dude, and consultant extraordinaire. The "wheelhouse" of my talent and skill-set, where I've always made the most impact.
And, I was happy again. While working around 20 hours a week, just like the first decades of my career. A 20-hour workweek is just about perfect, and because I know all the productivity hacks allowable for humans, I get more done in that 20-hours than most folks do in the 60 hours they slave at.
So, I'm in my "bliss groove" again. Good writing requires lots of down time, so your brain can cogitate on the crap you've stuffed in there, cook it up in a fresh batch, and make it all accessible when you sit down to actually write. Reading lots of books on different subjects, including gruesome fiction and light articles on diverse (even dumb) subjects, is also part of a well-lived writer's lifestyle. Plus engaging in the adventures, pleasures, misadventures and bumbling horrors of modern life.
In fact, without immersing yourself in the culture and the Zeitgeist, you quickly become stiff and boring as a writer.
Yuck.
But I don't count the cool, fun stuff as "working". I love the process of being a complete, well-rounded writer with his pulse on the culture. It's what makes this the best damn gig on the planet (for introverts or wannabe introverts seeking influence, wealth and happiness).
In the 1990s, I both wrote most of the ads for which I'm now infamous (all the screamingly successful golf, self-defense, health, music and small-biz ads that changed the way entire industries approached marketing)…
… while ALSO taking off three-to-six months a year to go do something else. I was following Travis McGee's advice (from the "you gotta read 'em" novels by John D. MacDonald) of "taking your retirement while you're young, in pieces, and returning to work when you need to replenish the coffers". For me, that meant indulging in exciting mid-life crises (I've had six so far, and loved every single one) like when I disappeared from the business world for half a year, formed a 3-piece rock band, and played all the biker bars in Northern Nevada. What a blast.
I also took time off to write some novels, and dip a toe in the world of writing fiction for a living. It was enormous fun, but the pay was dismal. Most of the working novelists I met made less in half a decade than I did for writing a couple of winning ads in a good market (and it only took me a few weeks to write those ads). I decided to keep fiction as a side hobby, and came back to my old clients to write a string of ads that doubled their bottom line.
And then, just after the turn of the century, I decided to get serious for a few years. And write a monthly newsletter (the notorious "Marketing Rebel Rant" that mailed for 6 years to the most influential marketers alive), while maintaining a client list that required me to be available the entire year. No more taking off massive chunks of time. I loved the whole process, which happened to coincide with the explosion of the Web as a viable marketing vehicle…
… and I hung out in a very insider network of movers-and-shakers that included Frank Kern, Jeff Walker, Eben Pagan, Joe Polish, Dean Jackson, Tony Robbins, Jon Benson, Joe Sugarman, Ed Dale, and of course my best friend in the biz, Gary Halbert.
It was FUN. And thrilling, because we were inventing the marketing models that would become the STANDARDS for all online marketers for a generation. My first website, which I designed on a napkin, was a go-to template for many businesses for a long while. I recorded one of the first ever podcasts in the marketing section of iTunes (with help from Dean Jackson)… became one of the hottest speakers on the global seminar circuit (hosted by Armand Morin, Dan Kennedy, Rich Schefren, Kern and others)… and of course our Simple Writing System has pumped over a thousand entrepreneurs and copywriters through the process of creating killer ads on demand.
While some old-school marketers fought the Web and resisted new technology, I was an early adopter. I grabbed many of the first generation gizmo's, created early video sales letters (before the term was even invented), hosted some of the first online webinars and membership sites, and in general surfed the new wave of modern possibilities right at the crest.
I'm not bragging. I'm just as amazed at the way things have turned out as anyone else. I happened to write "Kick-Ass Copywriting Secrets of a Marketing Rebel" at the precise time a vast mob of newbie marketers were becoming online entrepreneurs… and it was the perfect fit for them.
But it also led almost directly to those 60-hour weeks that eventually started to fry my brain.
I've counseled biz owners against burning out a lot in my career as a consultant. It's common, it's horrific, it can ruin your life…
… and, it's completely avoidable.
But you have to act FAST when you sniff the burning rubber coming off your brain.
For me, it meant backing away from the reins of a business I'd nurtured for a decade… and sliding back into the more comfortable position I knew so well, of being a writer-consultant. Working a fraction of the hours required of a manager.
To some folks, this somehow meant I'd "retired".
Nope. Just moved back into my former career lifestyle.
Like I said — I suck at management. I'm not built to argue with lawyers, or proofread contracts, or get deep into the weeds of making the day-to-day details of running a biz work. I KNOW what needs to be done, and I can spell it out for you in precise steps.
But that doesn't mean I'm the guy who should be doing it.
A big part of happiness is finding out where you fit. And then sliding your bad ass into that position, away from the drudgery and angst of doing stuff you're NOT built to do.
And let's set the damn record straight: I'm NOT retired.
I love this biz too much to leave. I'm traveling as much as I ever have (though being more picky about which gigs I travel for). I'm flying out to Florida next week, as I said, to speak in front of 500 folks who rightfully expect to have their cages rattled by me from the stage. I'm flying to Los Angeles both for our mastermind, AND to hang out with Jon Benson at another biz gathering (including James Schramko from Oz).
And we'll be in Vegas in January for another mastermind, in Phoenix for secret tapings of a new show, I'll continue co-hosting the rollicking (and still free) Psych Insights For Modern Marketers podcast with Kevin Rogers…
… and I still maintain a full-time desk in the Marketing Rebel Insider's Club… where I personally answer questions from members, do monthly "Hot Seat" consultations (free, for members) alongside Stan Dahl, and generally act as the community's resident copywriting expert.
Okay, I'm not putting the old rock band back together, though. It was fun, but I'm kinda done with the bar scene. And I get bored on cruises and tourist-trap trips. I like to travel with a purpose.
I'm built to handle the advanced, high-level workload of a top copywriter and business consultant. So that's what I'm concentrating on these days. While flying out to speak at seminars, networking with my pals, and staying rooted on the pulse of the modern business environment.
It's a wild time to be alive, and to be an active member of the hottest entrepreneurial movement the world has ever seen.
I ain't retiring for a long, long time. Baring getting hit by the occasional city bus while jaywalking, I should say. Nothing's guaranteed in life, is it.
Will I see you in Florida… or at one my upcoming other seminar appearances? Or, gasp, at my Platinum Mastermind? (Got a seat waiting for you, and there's still time to grab it. Go here for details.)
If you, like so many of the best (and happiest) marketers and writers around, value the input, savvy, advice and experience of a guy like me…
… who's been around the block a few times, and knows the game inside and out…
… then check out some of the stuff we've got for you all over this blog page. Including a deep, roll-up-your-sleeves-and-get-down-to-work consultation.
It's only going to get more exciting out there in the big, bad biz world… with more opportunities to either thrive or get lost in the weeds than you can imagine. If you're in biz, you need a resource like me watching your back.
Why not make 2016 (coming up fast) the best damn year of your life? Put your team together now, and see if including me and Stan and the rest of the gang here doesn't make so much sense you can't stand it.
Meanwhile…
Stay frosty,
John
P.S. The photo, by the way, is from another huge event this past year where I was a featured speaker. And got to hang with my buds (from left) Kevin Halbert (Gary's son), A-List copywriting legend Clayton Makepeace, marketing legend Dan Kennedy, me, former CEO of Boardroom Brian Kurtz, and A-List copywriter (and my podcast partner) Kevin Rogers.
Quite the little braintrust right there…