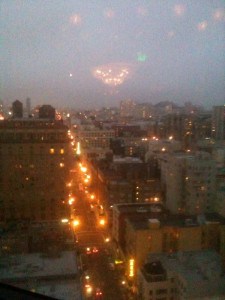 Sunday, 10:19pm
Reno, NV
"There are eight million stories in the naked city…" (Jules Dassin film noir classic)
Howdy.
Here's a nice little piece of insight for writers.
And by "writers", I'm referring to those ink-stained wretches (of whom I share a proud bond) who really care about the craft of writing.  For whom the act of stringing words together is — when done right — a sacred thing.
You can make a living as a hack writer (meaning: Someone who can communicate through writing, but who neither loves language nor attempts to create phrases with rhythm or dynamics or craft).
Most of the best-selling novelists these days are complete hacks, in fact.  (Talkin' to you, Dan Brown.)
Metaphor Alert: If you need a comparison to understand what I'm talking about, let's take the mastering of a musical instrument.  What's the difference between the dude who noodles away at a guitar for decades but never plays for anyone… and the guy who steps on a bar stage to cover a Cream tune… and Eric Clapton?
Answer: The first dude can't even call himself a guitarist (and wouldn't dream of it, unless he loves mockery).
The second guy is a hack.  No shame, and we need these guys to keep live music rocking in the free world. (And, with Auto-Tune software, we're hearing more and more hacks enter the slipstream of popular music.)  (Hey, I'm an accomplished hack at this very thing — been playing at biker bars for decades.)
The third is Eric.  Now, he's a guitarist.  Lives, breathes and dreams the instrument, and learned the craft at a master's level.  Put in 10,000 hours of practice as a teenager, and never let up.  (Don't you DARE think he somehow came upon his skills "naturally" or easily.  He worked at it.)
So, yeah, if all you wanna do is use writing to reach a goal… like, say, getting filthy rich and famous… then by all means, aspire to hackdom with your writing.  Thumbs up from this corner, and more power to ya.
Being "good enough" can take you far.
However…
Just as a small number of people burn with a desire to become an entrepreneur (an ember that never sparks in most folks)…
… if you truly care about writing — and I mean TRULY care, to the point that the crap ground out by the endless mob of bad writers out there actually grates against your brain — then, first, know that you are in a minority.
Do not expect appreciation of your dedication to the craft… except from other writers who know damn good writing when they see it.
I'm the first person to tell up-and-coming freelancers not to obsess on the "writing" part of becoming a freelancer.  Get good enough to get the job done, but do not overlook the other important aspects of the career — like in-depth marketing savvy, knowing how to deal with clients, mastering street-level psychology, and all the other skills in your Bag O' Tricks that will make you a well-rounded and wealthy freelancer.
On the other hand…
If the standard advice for the wannabe damn-good writer ("Writers write") sounds just fine to you… then maybe you actually have some ink in your veins.
I can pin your ears back with advice about progressing in the craft.
Today, though, let's just discuss one of the more important fundamentals:  Storytelling.
The human brain is hard-wired to seek out and appreciate good storytelling.  Before the Web, before TV, before newspapers, before writing even existed…
… all knowledge was shared through stories.  Myths, fables, reports from the field, riveting tales shared over a damp mug of mead…
… a story would be told, memorized, and told again generation after generation.  The super-awesome ones still exist today (in archetypal plots like Romeo & Juliet offshoots, the Grimm Bros. folk tales, most comic books, all Hollywood movies, and even the urban myths now circulating online).
Some carried forbidden information (pre-Civil War hymns like "Follow The Drinking Gourd" were plausibly maps for escaped slaves) (the drinking gourd referred to the Little Dipper constellation, which would lead you north to free states as you traveled by night).
Others were complex morality tales (no such thing as a free lunch, Hansel.  Gretel, you listening?).  Most reinforced the rules of living amongst your group, by identifying the outsiders and establishing the requirements for bravery and acceptance.
All the great propaganda masters and influence peddlers understood the power of a story to trump the truth.  (Like Goebbels, Lenin, D.W. Griffith, Walter Winchell, and several modern-day politicians I can't mention, because their bullshit still coats the thinking parts of too many folks' brains.)
You know why successful scam artists are called "Con Men"?  The "con" comes from "confidence" — they weave believable stories so well that otherwise right-thinking people fall for them, convinced that up is now down, and black is now white.
Of course, stories are used for good, too.  It's just easier to illustrate the power of a story with the evil examples.
Hey — are you in a committed relationship with a little snuggle bunny you dearly love?  At some point, you both created a story starring yourselves… which made so much sense, that you agreed to live out the script in real time.
Ask Mom how she met Dad.  She'll tell you a story.
In fact, ask anyone how they got to where they're at right now.  The job, the haircut, the town to live in, the car they drive, the last vacation they took…
… they've got a story about it.
We are, each one of us, the stories we tell.
And what we buy, and how we choose our goals, are deeply intertwined with stories.
Now, here's the kicker: Just because humans are front-loaded with a love of stories…
… doesn't mean you're automatically able to tell a good one.
In fact, most folks suck at storytelling.  Just like they'd suck at anything they didn't work at.  Fishing, playing guitar, climbing rocks, grooming a dog, creating a business plan, dancing the Watusi, whatever…
… just because you can do it, doesn't mean you're good at it yet.
I'm gonna go out on a limb here and make a wild guess:  You've been bored, before, by someone telling a lame story.
Of course you have.  We all have.
And wouldn't the world be a better place if everyone who told a boring story realized it, and then studied the craft of storytelling so they would never bore you again like that?
We can only dream.
I was lucky.  I was the baby (youngest by 8 years) in a family crammed with storytellers.  I learned early that… unless I learned to pepper my tales of childhood adventure with enough tidbits (or scary parts) to interest the adults… I would be interrupted, ignored or at best tolerated at the dinner table yarn-fests.
So I paid attention to how really good stories played out.  This was during the late 50s, where Saturday afternoons were spent devouring truly awful sci-fi movies, and where your prowess as a storyteller on the playground could instantly elevate your social status.
You gotta tailor your tale to your audience.  That's the primary lesson.
A story that bores the bejesus out of one person, may dazzle the hell out of someone else.  And you should get good at knowing whether you're bombing or scoring quickly (so you can change course if necessary).
Those bad sci-fi movies were cinematic masterpieces to us.  As a kid, we knew the payoff was coming (usually a monster).
As an adult, I can only watch those films as kitsch now — the plot holes gape, the lack of logic appalls… and while I finally understand why they always starred some busty babe in the cast, the romance is goofy at best.
So the main rule for writer/marketers is this: Learn what kind of story appeals to your audience.  If you don't know, you're taking a risk with anything other than a paragraph-long tale.
Don't pretend to know how to weave a story that gets listened to.  Instead, learn the craft.  (Just as you would never pretend to be able to play guitar if you wanted to impress real musicians.)
There are no shortcuts… but you can get hip to good storytelling fairly quickly if you apply yourself.
Don't rely on books. There are some decent ones out there, and go ahead and read them.  ("How To Write A Damn Good Novel", Jim Frey.  "Man & His Myths", Carl Jung.  Search "how to write a good story" on Google and follow up on two or three of the suggestions.)
No more than that, though.  There aren't that many elements to storytelling.  Get the basics, then move on.
Because book-learnin' won't get your chops honed.
You gotta start talking.
Every time you wake up and survive the day and get back home, you've got a story to tell.  Maybe not an epic adventure, but shit happened to you.  And you did things, sometimes wrong, sometimes right, and you were often surprised or alarmed or excited about the outcomes.
Unless you live in a Unabomber-style cave, you know people who tell stories.  Start critically breaking down what you hear, both the good ones and the bad ones.
Consider how to improve the sucky ones, and figure out what made the rockin' ones rock.
Learn to edit yourself viciously. The best verbally-delivered stories are fast and furious.  Trim away all irrelevant details.  (And learn to spot irrelevant details quickly as you're speaking.  If it doesn't matter whether it was Tuesday or Monday you saw the UFO, then don't waste time trying to establish the day.)
In fact, it's the "set up" part of telling a story that trips most people up.  Consider the classic "two ducks walk into a bar" joke storyline.  Is it important that it's a bar and not a library?  Sometimes.  But it's almost NEVER relevant what kind of bar it is, what town it's in, who else is in the bar, what time of day it is, what the weather is, etc.
Two ducks walk into a bar.  That's enough.  Move on to the next act — the interaction with the bartender.  Act Three is the punchline.
A good story doesn't have to be funny.  Or even entertaining.  But they ALL deliver some form of information.  The classic "I was broke, I discovered a way to make money, and now I'm rich and famous" storyline is so common in advertising BECAUSE it's a short, understandable plot that nearly all audiences can identify with.
It's just a set up, however.  Good for you, surviving all that nastiness and turning your life around.
If you want to hold my interest, however, you've got to segue immediately to what this has to do with me.
Okay, we can discuss storytelling more later.  The ins and outs of the craft aren't hard to master, once you know what to do.
But you gotta know where you're at, first, with your ability to weave a rollicking tale.
It's NOT a natural tool in your kit.  The love of stories and the yearning to be able to tell one is in your DNA, yes.  But actually doing it requires some discipline and dedication to the craft.
How about this: In the comments section below…
… tell us a quick story about something that happened to you in July.
That's all.  A short tale about some event, or action, or realization, or whatever.
If you've already sharpened your skills, you can turn a yarn about cutting the grass into a laugh-fest that makes our bellies ache.
If you're rusty at it, you can make the story of your DUI arrest after the wedding of your ex (which you attended as an uninvited stalker) a total snoozer.
But don't be shy.  The first attempts are always the toughest.  Here, you have a community of like-minded people… who care less about the quality of your story, than the fact that you've screwed up the courage to write one out here.
C'mon, don't be a wuss.
Tell us a quick dispatch from your July adventures.  Or non-adventures, doesn't matter.
Before you can start crafting stories with the mojo to captivate and convert prospects, you gotta be able to tell a simple tale that has no consequences at all.
I've done this often during my rare Copywriting Sweatshop seminars.  I tell everyone to go to lunch, and come back with a story.
It's pretty eye-opening.  Most folks will come back and insist that "nothing" happened, and thus, there was no story to tell.
Well, it's impossible that "nothing" happened.  If you walked out the door, got knocked unconscious by a falling flowerpot, and didn't awake until after the lunch break…
… so that LITERALLY you had no sensory awareness or brain function…
… you'd still have a story to relate.  "Dude, I got bonked by a flowerpot out in the hall, and woke up with paramedics about to put the electric shockie things on my chest…"
Et cetera.
Was the waitress rude at the cafe?  Was it surprising that the food was so good (or bad) in the place you went to?  Was the couple in the booth behind you breaking up?  Did you leave thinking "Carlton's a complete whack-job", and come back (after talking with other attendees) realizing I'm actually only slightly whacked (and thus tolerable for the duration of the event)?
What HAPPENED?!?
Give it a try.  No one will bite you.
If push past your reluctance (or lack of "natural" skill) to craft stories, you are well on your way to influencing people, winning friends, and getting your sales message across to vast nattering mobs of fresh prospects.
If enough readers here enjoy digging into storytelling details, maybe we'll explore some other tips later.
Stay frosty,
John