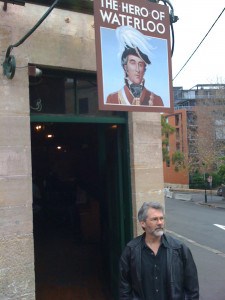 Monday, 1:32pm
Reno, NV
"But it's all right… in fact it's a gas…" (The Stones, "Jumpin' Jack Flash")
Howdy…
It's time for another orgy of graduation rites across the land…
… and, in honor of it all, I am re-posting my now globally-notorious big damn rant on the subject. This was one of the more popular posts I've written, so it deserves an annual rediscovery.
So, without further ado… here's the sixth redux of that post:
Nobody's ever asked me to give the commencement speech for a graduating class.
That's probably a good thing. I'm pretty pissed off at the education system these days, and I might cause a small riot with the rant I'd surely deliver.
See, I have a university "education". A BA in psychology. (The BA stands for, I believe, "bullshit amassed".) I earned it several decades ago…
… and while I had a good time in college (height of the sex revolution, you know, with a soundtrack that is now called "classic rock"), made some lifelong friends, and got a good look at higher learning from the inside…
… that degree provided zilch preparation for the real world. Didn't beef me up for any job, didn't give me insight to how things worked, didn't do squat for me as an adult.
I waltzed off-campus and straight into the teeth of the worst recession since the Great Depression (offering us Nixon's wage-freeze, record unemployment, an oil embargo, and near-total economic turmoil)…
… so, hey, I should have a little empathy for today's grads, right?
Naw.
While today's graduates are facing similar grim economic times, there's been a significant change in the concept behind a college education. Somehow, over the years, a bizarre mantra has taken hold in kids minds: "Get a degree, and it's a ticket to the Good Life."
A job is expected to be offered to you before the ink is dry on your diploma.
And it really, really matters WHICH school you get that diploma from.
You know what I say?
Tuesday, 9pm
Ft. Lauderdale, FL
"After 6 hours of school, I've had enough for the day…" (Beach Boys, "Dance, Dance, Dance")
Howdy…
If this is your first time here, let's see if we can't make it completely painless (and even fun).
Cuz, you know, it'd be a shame if you got spooked, and were thus deprived of the vast (free) resources and time-tested tools available here.
So let's just dive in, what d'ya say?
Step One: Sign in, under "Get The New Report" box on your upper right. Use your best email address, please. You will not be deluged with email — I post once or twice a month, max, and will send you advance notice.
I promise I'll be a rare, welcome presence in your inbox. You can always disconnect anytime, simply and easily. This ain't like signing up for a phone plan or a stint in the Army.
Step Two: Just skip through the (free) archives. There is ten years worth of serious advice, insight and revelations for copywriters, entrepreneurs, biz owners and even folks still at the "dreaming about it" stage of getting after your goals.
No need to get lost in there — just realize it's available, whenever you're ready to learn or expand your toolkit. Free.
If you've got a few extra minutes, though, and you'd like to read some popular recent posts, try "How To Hire A Copywriter" from last year (which helps clients understand how to get the best freelancer they can)… the redux of "The Rest Of Your Freakin' Life" (one of the most referred-to posts on living well I've ever published)…
… and "The Entrepreneur's Checklist" — a perfect "quick start" guide for moving up to the next level of your career or business goals. Fast, and without a lot of fuss… and ESPECIALLY without any surprises. You can search directly.
That's just to get your feet wet here. A small mob of fans drift through the archives several times a week, reading only what grabs them.
You'll discover, almost in the first minute of reading, that this isn't your "normal" kind of blog. Most of the posts are written by me, personally. Each one has been carefully planned out, edited, and published only when ready for mass public consumption.
Enjoy.
Step Three: Finally, be sure to examine the stuff available in the right-hand column…
… like my best-selling book "The Entrepreneur's Guide To Getting Your Shit Together". You can score the digital version for ten measly bucks, and indulge in nearly 400 pages of timeless advice, insider stories, and specific tactics to making money as a marketer or advertising honcho.
You don't have to pick up anything in this column, of course. Just be aware of what's available… in case you realize (perhaps after reading a post or two) that there truly IS a reason why so many professional copywriters and top marketers admit I was the mentor who flipped their switch on.
Plus, in the "Consulting" tab up top, under the logo, you'll find out how to reach me directly. I'm one of the few grizzled veterans in the advertising world who still enjoys interacting with folks regularly, and occasionally taking on a new client. Not often, but occasionally.
Anyway, you can complete this "get acquainted" little go-round in just a few minutes.
If anything grabs you, devour it. Again, the ten years of archives are free.
I'll be posting a fresh piece soon, too. So be sure to sign up, get your hot free report, and enjoy getting a few (and only a few) emails from me in the near future.
I may not be everybody's cup of tea.
But if we click, we'll click big-time… and you'll remember this day as a turning point in your life. It doesn't get any realer than this blog…
Stay frosty,
John