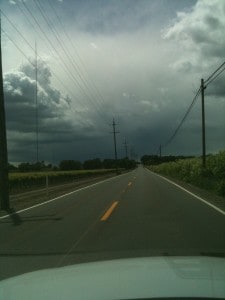 Wednesday, 6:50pm
Reno, NV
"Hey, you bastards, I'm still here!" (Steve McQueen as Papillon, floating away to freedom…)
Howdy…
I'm re-publishing — for what has become a very popular tradition on this blog — one of the more influential posts I've ever written.
It's a good one, worth rereading even if you read it before.
What you're about to encounter is a slightly tweaked way of looking at the best way to start your new year…
… but this tweak makes all the difference in the world. I've heard from many folks that this particular technique finally helped them get a perspective on where they're at, where they're going…
… and why they care about getting there.
So, even if you've read this post before… it's worth another look. Especially now, as you gaze down the yawning gullet of 2013, trying to wrap your brain around a plan to make the year your bitch.
This is a critical step for entering any new period of your life. To keep your life moving ahead, you need to set some goals, dude. And most goal-setting tactics, I've found, are useless. Worst among them is the traditional New Year's resolutions (which seldom last through January).
This tactic I'm sharing with you (again) is something I've used, very successfully, for decades…
… to reach goals, to clarify the direction of my life, and to change habits. I first shared it in the old Rant newsletter a few years back, and I've hauled it out here in the blog on a regular basis.  It's timeless, classic stuff that will never let you down.
So let's dive in. Here's the relevant part of the post (slightly edited):
"Goal Setting 101 And
The January 15th Letter"
Yeah, yeah, I know a chat about goals can quickly turn into a boring, pedantic lecture. But then, so can a chat about space flight.
And, in reality, both space flight and your goals are VERY exciting things.
Or should be.
It's all in the telling.
What I'm not going to discuss are "resolutions". Those are bogus pseudo-goals that have the staying power of pudding in a microwave.
No. It's merely a coincidence that I'm suggesting a review of your goals in January, just after the New Year's supposed fresh start.
I mean… there's not much else to do, so why not sit down and plan out the rest of your life.
This is, of course, a very damp, cold, and bleak time of year. The depths of winter and discontent.
A good percentage of the population suffers fleeting depression because of lack of sunlight… thanks to the geniuses behind Daylight Savings Time, who arrange for dusk to arrive around 2:30 in the afternoon in these parts.
We also just got slammed with back-to-back-to-back "Storms of the Century", each one dumping a record load of snow on us. I sent photos to friends, and many emailed back wondering when I'd gone to Antarctica to live.
We had a little cabin fever brewing. Didn't help when the local PBS channel ran a special on the Donner Party, either. Three feet of snow drifting down, the lights flickering, enough ice on the road to make the SUV sidle like a Red Wing goon slamming someone into the boards.
The safest place was home… but man, the walls start to close in after a few days.
I'm telling you, I had excuses up the yin-yang for allowing my senses to get a little dulled. The natural response is to turn your mind off, and hibernate until March. And I succumbed. Started moping around, watching CSI: Miami reruns instead of reading a book, surfing the Net for stuff I didn't care about… you know the drill.
I'm sure you've done your own version of it now and again.
And I'm also sure you already know that no amount of "buck up" happy talk will mitigate the gloom.
In fact, there are a few enlightened health pro's who say we should let our bodies wind down every year or so. Get a full system-flush type of cold, crawl under the covers for a few days and let the demons and other bad stuff bubble to the surface. So you can purge the crud. Evacuate the used-up bacteria and tube-clogs out of your pipes, physically. And shoo the whispering monsters out of your head.
We're not perfect creatures. We need to sleep, we need to recharge our batteries, and we need to stop and get our bearings. At least once a year. So don't beat yourself up for the occasional down period. We all have them, and the healthiest folks just roll with it. It's not good to repress this stuff.
It only becomes a problem when you sink into clinical depression. That's the cold, empty state where nothing looks good, and hope is an absurd memory.
I've been there. Several times. The year I turned 30 (for example) I lost my job, my girlfriend and my place to live all within a 45-day stretch.
That shit can wear you down.
Now, I have two things to say about this:Read more…