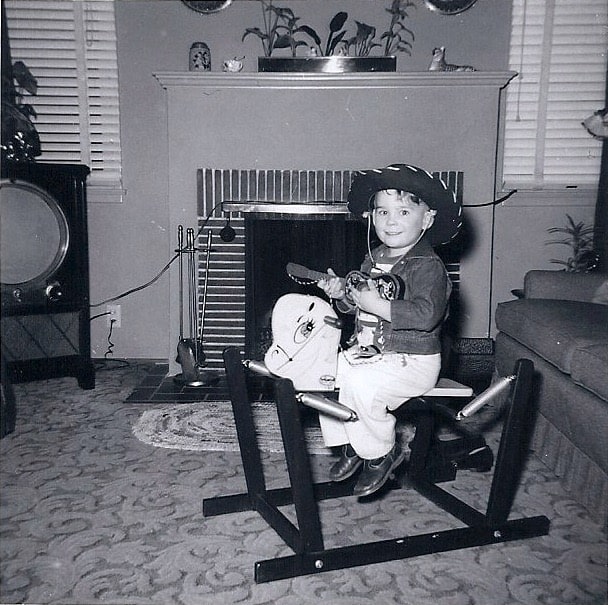 Monday, 2:01pm
Reno, NV
"Now I'm sitting here, sipping at my ice cold beer, lazing on a sunny afternoooooooon…" (The Kinks, "Sunny Afternoon")
Howdy.
File this little piece of consulting advice under the "WTF Were You Thinking?" Department: I frequently encounter entrepreneurs (usually the struggling kind) who confuse "working" with activity.
When they finish a project, for example, the sudden evidence of fresh free time startles them — somehow, inside their head, they feel they "should" be devoting every waking moment to the gig.
So they dive immediately into the next job.
This is so wrong.
You're not a machine.
You need downtime, and lots of it — that's where the creative process flourishes, and your overall energy levels recuperate.
The top performers in all niches jealously guard their free time, and greedily devour it with gusto.
Here's what they know that you keep forgetting: The harder you work, the more down time you require regeneration and recovery from the stress.
However, (and here's the real trick), the more PRODUCTIVE you yearn to become…
… the more you have to respect, guard and cash-in your time AWAY from the work.
One hour of writing after a 20-minute walk and an hour-long nap will be HUGELY more productive than six (or ten, or 100) hours of sleep-deprived "forcing it" work.
Every writer I know has tried to force copy during an overnighter at least once…
… and ended up tossing ALL of it in editing, and starting over.
Forcing it is an excellent way to miss a deadline and ruin your career.
You simply cannot cheat on the biological bill that comes due each day — nutrition, zzz's, plumbing maintenance, exercise and brain stimulation.
Maybe in the future, you can have your head put in a glass dome and keep it fed with tubes so you can skip some of the physiological requirements of being human…
… but I'll still put my hour's worth of writing (after the walk and nap) up against whatever crap you produce in that state.
You're a complex organism.
Stop pretending being a workaholic is some kind of heroic adventure.
It's not.
It's slow suicide and a waste of life-force.
The equation is very simple: Nurtured productivity > forced effort.
Got it? Good.
Now go take a nap, and order my book when you wake up and get back to pursuing your dreams…
Stay frosty,
John
P.S. No, seriously, order my book. It's just to the right of this column, a nice big icon to click that will take you instantly to the correct Amazon page.
Okay, you lazy ass. Here's the link, so you don't have to scroll to the right…
P.P.S. Yeah, that's me in the photo. Mid-fifties, back when naps were NOT to be missed, no matter how urgent is was to play another song on the guitar as your horse ambled off into the sunset…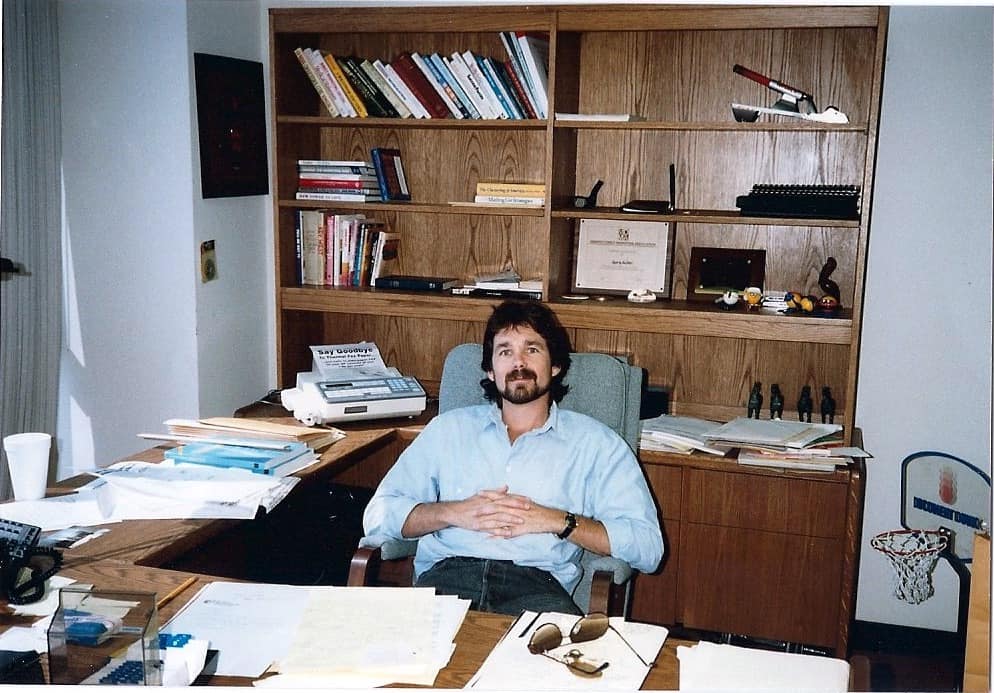 Thursday, 12:26pm
Reno, NV
"Ch-ch-ch-changes, turn and face the strange…" (David Bowie)
Howdy.
Let's have an uncomfortable discussion, what d'ya say?
Let's talk about the dirtiest word most adults know: Change.
Here's the thing about change: Learning how to become a functioning adult is hard, as in requiring every shred of skill, talent, brain power and ability you possess.
And when you "arrive" (however you define it — get a job, get hitched, get pregnant, get out of jail, make a fortune, whatever) you're kind of exhausted from the effort…
… and you really don't want to go through all that crap again.
And then the world changes around you.
Dammit.
In our lifetime, that change has been dramatic, jarring, frequent and brutal. Very little of what worked for you even 5 years ago is still viable. The music on the radio sounds like static, people stare at you when you dance, and your job can be done faster and better by machines.
You think I'm talking about the generation just ahead of you, don't you? All those clueless old fucks slowing you down and mucking up the vibe.
But here's the truth: No matter how hip you are right now…
… in a very, very short time (much too soon to be fair), YOU will be the one desperately grasping for a clue (and holding up the line because you're slow).
I marvel at my Pop's life (he was vivacious and awesome until finally checking out at 95). Born in the Industrial Age, dug foxholes in Belgium saving the world from the Hun, witnessed the birth of the Nuclear Age, tried to ignore the Cold War while keeping his head low and raising a family, and we spoke via Skype every week for years. On his PC.
He was impressed with his new HD teevee (you can see the blades of grass in the outfield!), read every page of  the newspaper every day (but fact-checked the editorials on Google, the lying bastards)…
… and if we all had to go live in caves for awhile after the space aliens bombed us back to the Stone Age, he would have been the guy you'd want in your tribe (cuz he knew how make stuff and fix machines).
Mostly, though, I now sympathize (finally) with his sense of wonder of how the details of life keep changing, making his prior assumptions and habits almost criminal (though he tried to keep up, separating his recyclables and watering on odd days). He was never bitter, and revealed a enviable patience with punk tailgaters, ESL customer support, and rude clerks.
And, following his example, I actually relish the way my former talents and abilities become obsolete (and even mocked) as things change, and change again.
There's a core sense of "self" that includes a Zen attitude of living well no matter what Life hoists on your ass, and working on what you do well…
… that only seems to become evident as you get really old and decrepit.
You shrug off the bad shit (like modern pop music, which just objectively sucks the big one, I mean, c'mon, people), and adjust your own groove as you go (so you aren't in the way of the punks in Daddy's Beemer determined to die on the highway in a flaming pile-up).
The key: Don't fight change. It's gonna happen, and you're gonna get grazed at best, wounded and left behind at worst.
You are not required, however, to change your "core" self…
… unless you're a bigot or so dangerously stupid that you need to shut up and listen more.
Change is a bugger. It's like that rogue wave that even the most experienced surfer can't handle — it arrives without warning, defies the natural laws you've learned to navigate, and seems to have it out for you personally.
It doesn't.
The universe is wired to fuck with old animals in unpleasant ways.
Accept that, and do your best, and cultivate your sense of wonder and joy.
Everybody's ticket gets punched sooner than they'd like. The ride may seem long and never-ending at times, but it ain't.
Hope you're enjoying this bitchin' autumn weather.
Go tell someone who deserves it you love them, will ya?
Stay frosty,
John
P.S. If you haven't devoured my two books on Amazon, you're just cheating your bad self of a stone-cold advantage in life and biz that your competitors are probably using to beat you over the head with.
They're both fast yet exhilarating reads…
… and if you bother to read the reviews about them, you'll see that the benefits pile up fast.
Stop missing out already.
Go here and here to scoop them up. And enjoy!
P.P.S. Yeah, that's me in the photo…
… just after I'd taken over the Big Desk at Gary Halbert's office on Sunset Blvd in Hollywood. Like 30 years ago.
For me, looking at that smiling nutball with the out-of-control hair reminds me of the radical changes that have happened since. Both glorious and heartbreaking.
But I embraced change, and even sought it out, even back then.
What a great ride so far…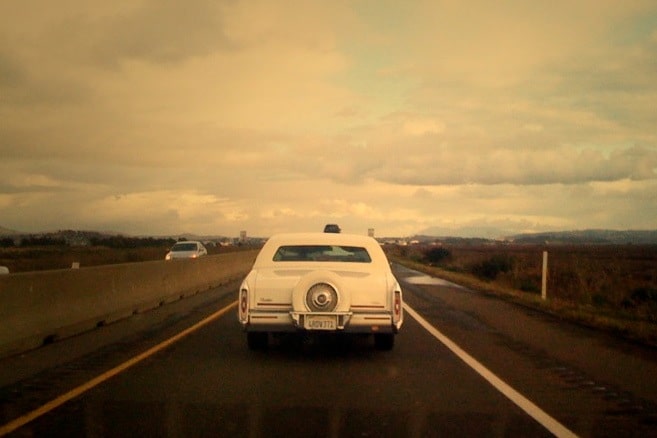 Tuesday, 3:23pm
Reno, NV
"Under my thumb is a squirming dog who just had her day…" (Stones)
Howdy.
I'm republishing this off-beat rant, cuz it's been one of the most-discussed and helpful posts I've written over the years.
And it's a totally counter-intuitive take on a subject most biz books not only ignore, but aggressively seek to dismiss.
Yet, in my decades of consulting, I see it bubble up in nearly every entrepreneur I meet at some point.
So, enjoy another nugget from the archives:
Friend…
Do you suffer from the heartbreak of envy?
Are you jealous of friends and colleagues who attain success, while you continue to struggle?
Would you like to learn a simple cure for feeling inferior to others?
Well, then step right up…
Here's the story: I grew up with the definite impression that ambition was a moral failing. The operative phrase was "Don't get too big for your britches"…
… which was a cold warning to anyone who dared attempt to rise above their (vaguely defined) place in life.
And one of the greatest joys was to gleefully watch the collapse and humbling of the High & Mighty. I believe there's some evolutionary fragment left in our systems that wants a solid check on keeping folks from leaving the pack.
Now, if you risk failing and succeed, that's great.  We were there for ya the entire time, Bucko. Rooted for ya. Got yer back.
I think our innate need for leadership allows for a select few to "make it" without hostility. And, as long as they provide whatever it is we need from them — protection, entertainment, intellectual stimulation, decisive action, look good in a tight sweater, whatever — they get a pass.
But we seem to have a ceiling of tolerance for others moving up the hierarchy too fast. Whoa, there, buddy. Where do you think you're going?
And when the unworthy grab the brass ring, it can trigger a hormone dump that'll keep you up all night.
Because, why did HE make it, when he's clearly not the right dude towin.
This is totally fucking unfair, and makes ME look bad now.
The lucky creep.
I hope he screws up and gets what's coming to him…
And so on.
I've felt it, you've felt it, the nicest person you've ever met has felt it. Humans are constantly comparing themselves to others, and we do not like it when Mr. Envy comes a'knockin'.
Dan Sullivan (of Strategic Coach) has a good take on this: He suggests you stop comparing yourself to others… and instead, compare yourself to yourself.  Get happy with the progress you've made from wherever you were before. Don't allow your brain to start measuring how short you came up against your lofty dreams, or other's success. (Which is what most folks do.)
I like that tactic.
However, I have another one I've been employing ever since I began my solo career, so many decades ago.
It works, and I think you'll like having it in your tool kit.
Back then, as a raw rookie, I was dangerously inept. And woefully inexperienced and unprepared for the tasks ahead of me.
Had I allowed my Inner Scaredy-Cat to win the argument, I never would have left the house to go snag my first gig.
Worse, as I moved into inner circles (at joints like Jay Abraham's offices), I began to encounter other writers my age and younger… who were light-years ahead of me in every category. Fame, skill, wealth…
… and especially that precious sense of feeling like you earned your place in the world and belonged there.
Mr. Envy showed up frequently, and occasionally I would find myself secretly wishing for these guys to fail.
I mean, why them and not me yet?
The bastards were too big for their britches…
But that wasn't gonna work. If I wanted to earn my OWN place in the world, I realized I needed to knee-cap Mr. Envy, and lock that demon away somewhere forever.
Because the better way to look at things…
… was to congratulate these guys on their success, learn from their adventures getting there, and encourage even more success for them.
There was, I knew (once Mr. Envy was muzzled), plenty of room for everybody in the writing game…
… and the other guy's success didn't impact my own even a little bit.
In fact, once I selflessly began networking with them, they helped me out.
It was win-win, all the way.
Still, though…
… that nagging sense of "Gee, I wish I was him" kept lurching back into my head. I wanted to be an MTV rock star, a drooled-over novelist, an infamous international lover, a frequent guest on Larry King (this was a long time ago, folks), David Letterman's best friend, a gazillionaire with no worries about rent or…
And that's when I stumbled on this extremely cool CURE for envy.
I'm sure I nicked it from some other source, somewhere…
… but I haven't been able to find it explained anywhere else.  Maybe I really did invent it.
At any rate… it works.
Wanna know what it is?
Okay. Here is my…
Super-Potent Envy Cure: When you find yourself wishing you were someone else… or at least in their shoes, enjoying all the great stuff they seem to be enjoying…
… just imagine being inside their skin — really inside them, being them — for 5 minutes. 
Dealing with everything that makes them who they are.
And then see if their life still looks so good.
Most envy comes from a lack of something, perceived or real. When you're broke, the dude with two hundred bucks in his checking account looks like a winner. When you're desperately horny, the guy getting laid all the time looks like the hero of a 007 novel. When you're being ignored in your market, the mogul with the big business machine looks like a cushy gig.
This is where your street-level salesmanship comes in. (Which is what I've been trying to share with y'all over the past 13 years here in the blog.)
Great salesmen lead better lives. Not because they sell lots of stuff…
… but because they live in the real world. 
You can't be efficient selling when you're hobbled with a belief that the world (and everyone in it) "should" behave a certain way… or you wish they would.
Naw. You gotta be hip to how people actually operate.
So you take off the blinders, and peek behind the masks, and get to know your fellow high-end primates REALLY well, from deep inside their hearts and minds.
This raising of the curtain — shocking at first — will actually make you love people more…
… while also helping you understand why they do what they do.
You'll understand why good people do bad things, why bad people do good things, and why the inner life of everyone around you is unique.
And while you love your fellow beasts…
… once you feel comfy with yourself (because you're finally going after your goals and engaging in your own rollicking adventure in life)…
… you won't want to spend even a full minute inside the skin of anyone else.
Because it is CREEPY AS HELL in there.
I love to read autobiographies and biographies. (Or skim them, when they're horribly written.)
It has changed my outlook — and my petty jealousies — to learn the real story of the people I once idolized, and often wished I was living their life.
Wow, does it ever change your outlook. Especially when you discover the wicked little secrets that fueled their motivation to attain whatever it is — fame, acclaim, wealth, accomplishments — that triggered your envy button.
The novelists loathed themselves. The movie stars craved adulation like junkies. The great lovers were joyless asshole sociopaths. The wealthy barons were infested with sick needs.
Big men still pitied themselves over Mommie's inattention. Forceful leaders were quivering lakes of insecurity. Debonair social stalwarts harbored unquenchable dark desires.
Yes, there are folks out there who succeed without secret vices and immature cravings.
They're also boring as hell. And you'd be screaming for release after ten seconds inside their skin. (Many have just been unusually successful at quashing their sweaty-palmed desires. In fact, the boring ones are often sitting on the nastiest payloads of demons. See: Every Bible-thumping politician recently caught with hookers and drugs.)
You want wit, a lust of adventure, forceful opinions and a knack for winning in your heroes?
I do, too. But I've learned to like them despite the roiling mess of complexity coursing through their veins.
In fact, I embrace it. I like my heroes flawed — it brings out the luster of their accomplishments.
It also highlights the elusive (and quickly disappearing) moments of satisfaction they seek.
You're alive. You are here on this earth with a ticket to ride that expires (sometimes sooner rather than later). You may wish you had a better set-up… finer bone structure, a thicker mop of hair, more muscles, more impressive genitals, bluer eyes, a rich uncle with you in the will, whatever hang-up is spoiling your enjoyment of life…
… but the simplest way to attain lasting happiness is to let your dumb-ass desires drift away, and get jiggy with who you are now, and what you've got to work with.
It's kind of Zen, and it takes effort to get there. But it's worth it.
You can't be happy all the time, but you can actually enjoy the down times, too, once you change your basic orientation from "I wish" to "Here I am".
Some of the most satisfied people I know are butt-ugly trolls who have learned that natural beauty is fraught with negative side effects (and not worth pursuing)…
… and that, at the end of the day, what really counts is what you bring to the table in terms of being a quality human being.
I've known a MOB of successful people in my career (including many of the most famous and infamous "bigger than life" legends in business). I've been friends with them, been let in behind the scenes, and hung out long enough to see underneath the mask.
And I wouldn't want to spend 5 minutes inside any of their skins, ever. 
I like who I am, with all my faults and all my regrets and all my inherent stupidity. I fit well inside my own skin.
And — though it took a VERY long time — I earned my place in the world. Really earned it.
Nothing happened from wishing, or cheating, or relying on luck.
Naw. I blundered my way into the Feast of Life. Utterly fucked things up along the ride…
… but kept learning from mistakes, kept cleaning up my messes and fixing what I broke when I could, kept trying and growing and staying true to the goals that resonated with me.
That's all I had going for my sorry ass.
We're all pathetically flawed. All of us, from James Bond on down through your neighbor who just bought the new Jag (and won't stop gloating about the deal he got).
Nobody gets out of here unscathed. You can't live without making mistakes and stepping on toes.
And yes, sometimes you will get too big for your britches, when you're going for the gusto. When it happens, buy new ones.
Stay frosty (and true to yourself),
John
P.S. My recent reads include the autobiographies of Keith Richards and Christopher Hitchens.  Keith's may be the best-written of all-time — he's a brilliant storyteller, used a writer who knew him for decades to help collect his thoughts coherently… and he is tough on himself. Hitch bares all, but can be a bit long-winded.
The key to biographies is NOT to settle old scores, or try to spin your existence so your legacy looks better. Screw that nonsense.
The key is to spill the beans, relentlessly. Lift up your mask, raise the curtain on your demons, cop to your trespasses.
And share the juicy details. The story is not the broad overview, but the detail. You lived it, dude. I wasn't there.
What happened?
P.P.S. What biographies or autobiographies have you liked?
And let us know, in the comment section here, how you've handled envy (good or bad) in your life.  Along with the realization that your fellow passengers on this whirling planet are one scary-ass species…
VERY Special P.P.P.S. While not exactly an autobiography, my book "The Entrepreneur's Guide To Getting Your Shit Together" reveals a ton of behind-the-scenes adventures and insider advice aimed straight at the tender beating heart of the struggling entrepreneur.
Get your copy now, either as an ebook or in paperback. For a few measly bucks, you'll be ushered into a front-row seat to see how I stumbled upon the amazing result-getting lessons of great marketing…
… and I guarantee you'll laugh your ass off along the way.
Get it here: "The Entrepreneur's Guide To Getting Your Shit Together".