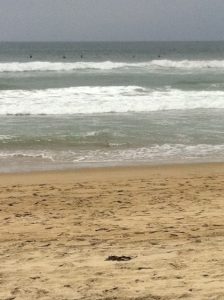 Saturday, 3:26pm
Rancho Cucamonga, CA
"Hot fun in the summertime…" (Sly Stone)
Howdy.
I've been doing some Critical Think (trademarked term, by me) about one of the main keys to "real" communication with your fellow humans:
Empathy.
Not sympathy.  Empathy is a very different animal — it's where you essentially walk a mile in the other guy's shoes.  You start, conduct, and end all conversations with active knowledge of how the other guy is perceiving your side of the tale…
… and you actually give a damn how he's reacting.
Empathy is not just a secret weapon in your tool kit…
… it's the freakin' nuclear bomb of high-end communication.
And it's so powerful, because most folks simply do not possess it.  The vast majority of your neighbors and brethren think, speak and act from inside a confining little echo chamber where their own prejudices, beliefs, notions and cockamamie thoughts completely dominate.
And there is almost zero chance of anything contrary penetrating that white noise in their brains.
Thus, marketers get mad at customers, entrepreneurs ignore opportunity and pitfalls with equal obliviousness, and biz owners with superior products are passed over by prospects.
---
Don't get mad. Get knowledgable! Lots of business boosting, life-enhancing secrets in my free report, you know! Get it right here.
---
You know who always seems to win?  Savvy politicians, con men, and psychopaths.  The dudes who cynically know how to turn on the charm and say all the right things to get what they want.
By far the hardest thing I've been trying to teach people over my career…
Is that good salesmanship is a tool.  
Like a hammer.  A hammer works to pound nails into the foundation of your dream house… just as effectively as it can pound holes in the head of your mother-in-law when you finally lose it.
The hammer doesn't care who's using it, or for what purpose.
That's why, when I teach high-end salesmanship, I express the fervent hope that anyone using what I teach to push unethical shit will die and rot in hell.
Using good salesmanship tactics will vastly improve the bottom line for ethical, honest businesses.  
The tactics that work to persuade people to vote for corrupt politicians, or sleep with smooth-talking psychos, or buy into scams…Read more...