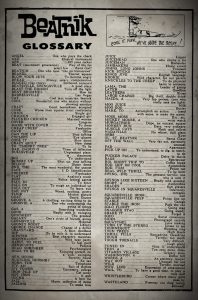 Monday, 1:17am
Reno, NV
"Tell me that you've got everything you want, and your bird can sing…" (Beatles)
Howdy…
Got another classic blog post here for you.
The topic is not only evergreen for writers and marketers… but, amazingly, the more arcane referenced website is still operational.
This second site, especially, is a SHOCKINGLY GOOD resource for finding both current buzz words and great slang…
… for when your message cries out for hipness, relevance, "slang nostalgia", or just a sizzling word or phrase that knocks your reader back on his heels.
Just be careful, and remember Rule #1 for using slang: It's got to be part of your communication…
… so if you suspect for even a heartbeat that you're going over your reader's head (or whizzing straight past him without recognition) be sure to translate or explain what you're saying.
I use a lot of slang in my copy, because I strive to write the same way I speak.
However, I'm quick to use "quotes" around a word or phrase I suspect most readers won't easily understand…
… and I'll often restate things in "plain English" (often in parentheses, like this) just to be absolutely positive I'm not losing anyone.
This rule goes double when you use any kind of jarring tactic from Dave Barry's bag of tricks.  The LAST thing you want from a prospect you're trying to persuade is a head-shaking moment of confusion…
… no matter how funny it is.
Still, if you want to increase your writing chops, it's essential to study the masters of the craft in all parts of the culture.  And Barry is certainly a master at humor writing.
Hey, it may come in handy in your marketing at some point, even.
Regardless, knowing how to control the storyline and retain focus while going off on wild verbal joy rides is a great example of advanced writing skill.
I know you're reading a lot of crap in your free time.  Just mix in a little expert-level stuff, too, so you don't start thinking hacks like Dan Brown or TV shows like Two And A Half Men are actually "good writing".  Okay?
Okay.  Here's the post, from several years back.
And yes, the links are good (and the Double Tongued dictionary is just freakin' priceless)…
Begin regenerated post:
If you're gonna slam your copywriting chops into high gear, you have to allow yourself to fall in love with the language.
This concept makes many otherwise strong men and women quiver…
… and it's because our lame-ass education system does its best to make people hate the language early on.
This antagonism toward English — created by boring homework and pointless drills and dull reading — has saddled most rookie copywriters with a truly sad and shallow vocabulary (that's your personal list of useable words).
Not only are they clueless about what constitutes a "power word" (one filled with emotional tension, like "humiliate"), but the convoluted way they construct even a simple sentence will put you to sleep.
But that's why I say "allow" instead of "force" yourself to fall in love. There's a very easy and enjoyable way to do this that can fix the damage done by brain-dead teachers.
Here are two ways to begin right now:
Snuggle Up With Language Resource #1: The current edition of the online magazine "Slate" (www.slate.com) has a great story about Dave Barry. He's just retired his column, after 22 years.
If you've never read Dave Barry, you're in for a treat. More important, you need to read him and pay close attention to how he uses simple, common words and phrases to bring his ideas alive.
The guy is a master Word Slut, clearly in love with language and the amazing power language has to rattle our cages. Read the article titled "Dave Barry — elegy for the humorist" by Bryan Curtis critically, and try to understand the skill required for this kind of mastery.
Snuggle Up With Language Resource #2: While researching linguistics (I have strange hobbies), I also came across one of the best sites on current slang I've ever found. Go to http://www.doubletongued.org and just start clicking on the words listed there.
Warning: You better allow an hour or so per visit, cuz this is good stuff.
My favorite "new terms" the site has defined (and given fascinating histories for) are rat spill, metric butt-load, eye-wreck, ghetto pass, duckshove, road diet, listicle and BlackBerry prayer.
If you can go to this site and NOT find a new word to use in your next ad, then you're hopeless.
The best copywriters are all dedicated Word Sluts. We delight in finding and using fresh slang and old forgotten cliches — anything that works to increase the readability of our copy.
But you must be careful — you cannot use words that aren't clearly understood by most readers.  This forces you to write at around a fifth grade level (which most newspapers aspire to).
You start using too many fifty-cent words (big ones that most people aren't familiar with) and you will lose large percentages of your audience. This, of course, will murder your response.
But that's why reading guys like Dave Barry is so important.
He never uses a word that isn't instantly understood by anyone able to read a newspaper. And yet, by having a deep "bag" of words to choose from, he is not limited at all.
Simple language, lovingly arranged in the right way, can still be amazingly powerful.
Enjoy.
Stay frosty,
John