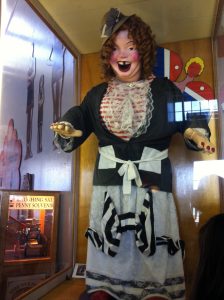 Friday, 2:33pm
Reno, NV
"Get away from me, kid, ya bother me…" (Tom Waits, "Step Right Up")
Howdy.
So, let's take on the entire advertising model of western civilization, what d'ya say?
Here's a good place to start: It's the end of baseball season, playoff fever in the air. I've been watching the SF Giants stumble-bum their way through a summer swoon (barely making the last NL wild-card spot)…
… and generally enjoying the age-old process of heartbreak and joy. I followed sports religiously as a kid, but paid less and less attention to it as the real-life adventures of adulthood took up all my time… and now, having a wee bit more time to indulge, I've returned to the fold.
But I record the games, and watch them after-the-fact.
Because of the mind-numbing commercial breaks.
I'm not alone, of course. Across the country, grown men and women run screaming from rooms when someone inadvertently turns on the evening news, for fear of hearing the score in a game they're recording for later.
And being forced to endure the entire broadcast — including the endless, mind-melting commercial breaks — in, say, a bar or a friend's house is pure torture.
The SAME commercials will play over and over, sometimes twice in the same break. Some of the national ones are mildly clever (at best), but hardly classic films that deserve repeated views. And the local stuff is just awful. (The locals can be excused, of course — tiny budgets, no insight to how persuasion actually works, and they're at the mercy of clueless ad agencies or a brother-in-law with a camcorder. There's even some charm in the awkwardness of homemade spots… sometimes, anyway. Mostly not, but you might get the flavor of the area at times.)
But the national spots have no real excuse. Yes, there is value in repetitive views — the average buyer sees a late-night cable infomercial something like 7 times, in pieces lasting a few minutes, before pulling out a credit card. There's a process to the art of long-form, chew-up-the-wee-hours commercials.
However, the model of jamming a single pre-recorded commercial into every break in a sporting contest just begs to be ignored. Any thinking creature knows to check out mentally during the break, and go do something else. If you're welded to the couch (say, in the midst of watching a blowout, weighed down by one too many beers), you still do not "watch" any commercial for the 20th time…Read more…