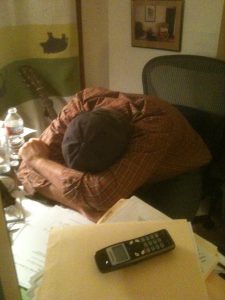 Saturday, 2:33pm
Reno, NV
"When I look back on all the crap I learned in high school, it's a wonder I can think at all…" (Paul Simon, "Kodachrome")
Howdy.
As I was writing a new article to post here, I used a term I invented: "Critical Think". It's not all that original, as ground-breaking terms go… but the idea behind it is very important for anyone seeking to move up a level or two in their career (or in their quest for ultimate happiness).
So, I've dug up the post where I first explained Critical Think, and I'm dragging it back onto the dance floor.
Really, this is timeless stuff. Enjoy:
Howdy.
Someone recently asked me to offer a clue on how to nurture critical thinking.
It's a fair question.  And while I'm no neuro-scientist, I talk about critical thinking a lot, because it's the foundation of great writing, killer salesmanship, and engaging the world with your throttle wide open.
However, it's not an easy subject to grasp if you've seldom taken your brain out for a spin around the Deep Thought Track (as most folks have not).
So let's explore it a little bit here…
Critical Think Point #1: Yes, I know the headline on this article is a grammatical car wreck.  It should be "how to think critically", or at least "how to critically think".
But this botched phrasing is actually part of the lesson I'm sharing here.
Consider:  The vast majority of people sleep-walk through their lives and careers, never going beneath the surface of anything.  They process, at most, a small fraction of the information they see, hear or read about.
It's pretty much GIGO.  Garbage in, garbage out.
So the first job of any good marketer is todeliver some level of brain-rattling wake-up call for the prospect.  To literally jolt them out of their semi-permanent reverie, and initiate a more conscious state of awareness.
Cuz you can't expect a somnambulant zombie to be proactive about following through with your request for buying something.  Or opting in.  Or even just continuing to read.
Thus: Good ad writers make full use of the incongruous juxtaposition of compelling sales elements — or, for short, the "hook".
Ideally, you want the induced "WTF?" reaction strong enough to unleash a splash of adrenaline, or even physically make 'em bolt up and take notice.  (As in, "That can't be right! This violates my entire sense of what's real!")
HoweverRead more…