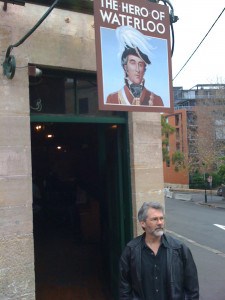 Monday, 7:55pm
Reno, NV
"But it's all right… in fact it's a gas…" (The Stones, "Jumpin' Jack Flash")
Howdy…
It's time for another orgy of graduation rites across the land…
… and, in honor of it all, I am re-posting my now globally-notorious big damn rant on the subject. This was one of the more popular posts I've written, so it deserves an annual rediscovery.
So, without further ado… here's the fourth redux of that post:
Nobody's ever asked me to give the commencement speech for a graduating class.
That's probably a good thing. I'm pretty pissed off at the education system these days, and I might cause a small riot with the rant I'd surely deliver.
See, I have a university "education". A BA in psychology. (The BA stands for, I believe, "bullshit amassed".) I earned it several decades ago…
… and while I had a good time in college (height of the sex revolution, you know, with a soundtrack that is now called "classic rock"), made some lifelong friends, and got a good look at higher learning from the inside…
… that degree provided zilch preparation for the real world. Didn't beef me up for any job, didn't give me insight to how things worked, didn't do squat for me as an adult.
I waltzed off-campus and straight into the teeth of the worst recession since the Great Depression (offering us Nixon's wage-freeze, record unemployment, an oil embargo, and near-total economic turmoil)…
… so, hey, I should have a little empathy for today's grads, right?
Naw.
While today's graduates are facing similar grim economic times, there's been a significant change in the concept behind a college education. Somehow, over the years, a bizarre mantra has taken hold in kids minds: "Get a degree, and it's a ticket to the Good Life."
A job is expected to be offered to you before the ink is dry on your diploma.
And it really, really matters WHICH school you get that diploma from.
You know what I say?
Bullshit. Okay, maybe if you go to Yale or Harvard, you can make the connections on Wall Street and in Washington to get your game on. Maybe. (More likely, those connections are already available, if you're gonna get 'em, through family bloodlines… and the Ivy's are just playing up their famous track records in a classic sleight-of-hand.)
Put aside the advancement opportunities offered to spawn of the oligarchy, though… and the realities of life-outside-of-academia do not jive at all with the propaganda doled out by the university systems.
Many of the richest guys I know are drop-outs. Some are HIGH SCHOOL drop-outs. The few friends who did go to the kind of school whose name causes eyebrows to rise…
… are ALL working far outside their major. To the point that nothing they learned has proven to be even remotely useful to their adult life. (Unless they stumble upon another over-educated dweeb at a cocktail party and get into a bare-knuckle Trivial Pursuit marathon.)
Too many people get all confused and bewildered about "education" as opposed to "going to college".
It's not the same thing, folks.
Some of the most clueless individuals I've ever met have impressive diplomas… while nearly all of the most savvy (and wealthy) individuals I know done got educated all on their lonesomes.
I learned more about history, business and psychology in 2 weeks of serious pre-Web library surfing (with a speed reading course under my belt) than I did in 4 years of college.
And I learned more about life in 3 months of hanging out with street-wise salesmen than I did from ANY source, anywhere, up to that time.
By all means, go to college if that's part of your Master Plan to having a great life. You'll meet interesting people, and it's a Rite Of Passage for many Americans these days.
But don't do it blindly. Just cuz The Man says it's what you're "supposed" to do.
Do some critical thinking before you jump in.
And if you really want that degree in Russian literature, or women's studies, or political science, or whatever… Read more…