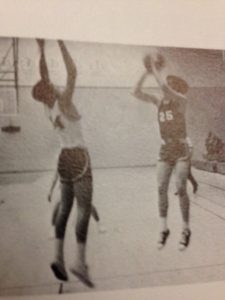 Friday, 2:15pm
Reno, NV
"I read the news today, oh boy…" (Lennon, "A Day In The Life")
Howdy…
One of my favorite quotes from Gary Halbert: "There is nothing that cannot be accomplished by a man who refuses to face reality."
You laugh, but he was dead serious. One of the reasons we became fast friends was our mutual outlook on life – whenever reality was inconvenient to our goals, we just ignored the facts, lowered our head, and bulled forward.
That photo, above, is me in high school (from the yearbook). I loved basketball, and was good enough to become the captain of the "B" squad my junior year…
… however, as should be evident in this photo, I ran into a brick wall trying out for the varsity a year later.
The guy guarding me as I took that jumper is taller than me by a foot. I was the smallest guy on the squad…
… and really, at some point a caring coach probably should have taken me aside and said "John, I know you love the game… but look at your family. No one is taller than 5'10", and basketball is a sport for tall folks. You're not going to magically grow into the size they want on the varsity team…"
I wouldn't have listened, anyway. I'm like a Jack Russell terrier – a big dog trapped in a small dog's body. Eventually, in sports, my poor eyesight and lack of height stopped me…
… but I had fun for a couple of years in the meantime.
Later on, as I was gathering my courage to try copywriting, an actual professional copywriter earnestly informed me that I should not even try.
"It's too hard," she said. "You'll never be a pro writer."
That was, of course, the BEST thing she could have ever told me. I doubt I could have survived the first years without that internal motivation of needing to prove her wrong.
I call it "negative motivation"… and it's actually one of the most powerful forces available for getting stuff done. I never saw her again, and don't even remember her name…
… so it wasn't a need to flaunt my success in her face. It was all internal for me – I used her as the "face" of the obstacles in front of me, and I even laughed when I later realized I was in a position to tell her "Fuck you, I made it anyway."
Yes, my internal ego is an immature twerp sometimes. Chip on the shoulder, snarling underdog attitude, and an almost stupidly-aggressive and irrational refusal to face reality.
I am so grateful for it, too.
(By the way… I nailed that shot in the photo, above… and ended up with 20 points while also hitting the winning basket. Easily my finest moment in a futile, doomed effort to be a "real" basketball player. A has-been at 16.)
You do not need to be a belligerent rebel to be a good entrepreneur…
… but it can help sometimes.
Certainly, given the choice of sitting down to dinner with the business types in suits, who are uber-polite and careful in their conversations…
… or the rowdy crowd of rule-breaking ne'er-do-well whack job entrepreneurs who may easily get kicked OUT of the restaurant….
… well, you know which one I'd pick.
I was Halbert's sidekick for a very long time, and one of the most enjoyable parts of the gig wasRead more…