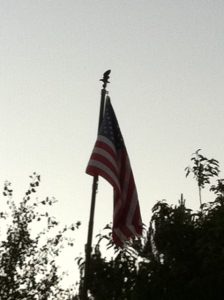 Saturday, 8:44pm
Reno, NV
"They've all gone to look for America…" (Simon & Garfunkel)
Howdy.
I want to wish the country a happy birthday on this fine July 4th.
She's looking not too shabby for 235 years old.  I've been here for a lot of those b-days, too… and here are a couple of random thoughts (before I get drowned out by fireworks):
Random Thought #1: I'm not gonna discuss politics, and I hope you have the presence of mind not to start in on it yourself in the comments.  However… as far apart as we seem today on the multitude of problems faced… I can tell you it has ever been thus.
At our very best, the country has always been like a dysfunctional family forced to co-exist at a perpetual holiday dinner.  My own family shows signs of it occasionally — somebody gets hot about some subject, voices rise, someone gets called an idiot, feelings are hurt…
… and then, minutes later, all is well and we're laughing about some story from the family archives.  (I had uncles who couldn't get through a game of gin rummy without throwing cards across the room and giving us kids an excellent lesson in swearing like a sailor before the aunts corralled them back into some semblance of civilized behavior again.  I miss those old farts, and a whiff of beer and cigars can take me back instantly…)
I was doing "Duck and Cover" drills under my desk in grade school, back when we were pretty sure the Commies were about to rain nuclear bombs on us.  My first notice of politics was when Kennedy was shot, and I was stunned to learn the first congressman I met (in a high school event) was a total brain-dead tool.
We'll never get along completely as a country.  One man's sensible solution is another man's call-to-arms, and it will never change.
I realized this permanent division of political thought early on… and it's helped (a bit) to alleviate the frustration.  I'm a political junkie, but I stay out of the public cat-fights that so many others love to start and never seem able to finish.
Like that dysfunctional family, you just gotta hope that — at the end of the day — we can put our differences aside and remember that we're all in this crazy experiment in self-governance together.
Random Thought #2: Probably because I don't wear my politics on my sleeve, I've got friends all over the political map.  Right-wing nutballs, liberal chickenhawks, dudes with loaded guns in every room, feminists on edge, Bible thumpers with an eye on the school board, deniers, accusers and nervous paranoids…
… you name it, I've got a pal somewhere walking the walk.
And I never discuss politics with most of them.  And we remain friends by ignoring the occasional outburst, and never, ever trying to change anyone's mind directly.
It's my experience that no one's mind has ever been changed (I suspect in the history of the world) from an argument.  Facts won't do it, personal experience won't sway anyone… and you sure as hell won't accomplish anything by insulting your opponent.
Alexander Hamilton — one of the Founders — was killed in a duel by Aaron Burr over… politics.  Nice work, guys.  Both were hugely influential (Secretary of the Treasury, and Vice freakin' Prez), and both careers ended instantly — one dead, one done forever as a politico.
I know what it's like to get so mad… so full of rage and so damned sure that I was on the side of the angels (while the other guy was obviously in league with pure evil)… that violence seemed like a dandy next step.
But long ago, I also learned how easy it is to let that rage go… and let the steam just dissipate, while rational thought returns.
You ain't gonna change his mind.  And he aint' gonna change yours.  And guess what?
That's why this whole experiment in self-governance got rolling in the first place.  There was never gonna be any unanimous decisions, on anything.  So you vote for a representative, who does the job or gets voted out.  Three separate branches will hash it out, legislatively, legally, and (hopefully) leadership-ly.
The one constant I've seen over my decades of being addicted to watching politics (best reality show on the planet, BTW)… is that the loudest and meanest voices belong to folks who haven't got a fucking clue how the government actually runs, or why the machinations of the beast works as it does.
There are no simple answers, just like there's no simple way to shut up your dumb-ass brother-in-law with all his weird "fix the world" solutions.
Yes, it's frustrating.  But it has ALWAYS been frustrating.  We had a civil war over it.  Assassinations.  One long, chaotic and maddening intellectual (and too often, physical) brawl that will never end.
Still…
Random Thought #3: As infuriating as it can be to try to coexist with so many fellow obviously-bonkers countrymen…
… I have a secret weapon against sinking into a funk about it.
And that secret weapon is nothing more than this realization: It's a safe bet that — at most — maybe a few of my ancestors ever felt free to speak their minds.  At any point in their lives.
I come from solid working-class stock, as far back as the meager family tree has been tracked.  And I can easily imagine some distant Carlton… wracked with the same anti-authoritarian tendencies I have… spending his entire existence biting his tongue to avoid the gallows.
And wondering, desperately, why his thoughts and beliefs weren't just as valid… and just as worthy of being aired… as the jerk-wads in charge.
It would blow his mind to know that I can pretty much write about whatever subject I like… and spout whatever nonsense pops into my head… whenever I feel like it.
Blow.  His.  Freakin'.  Mind.
Yeah, sure, there still are lines you can't cross publicly.  Sedition, yelling "fire" in a theater, provable slander… the First Amendment is still a work in progress.  Not too long ago, they threw comics in jail for saying what you can now hear on regular cable stations 24/7.  And it kinda twists your gut when fanatics get a pass to offend people at funerals.
And what the heck is up with cash now equaling free speech in elections?  I wish more of the budding plutocrats out there would remember that Ben Franklin (among others) mostly distrusted the common dude's intellect… but figured the vote was still the best of all paths to take for self-governance.
Every Fourth, I take a deep breath and give serious thanks that no one's boot is on my neck censoring the crap that flows through my brain… as it was for just about everyone else in history.  What we've got is imperfect, it's a legal mess getting messier all the time, and even constant vigilance is no guarantee it won't be snatched away tomorrow by The Man.
But right now… for at least this 235th birthday… the rickety allowances of free speech is (as far as I'm concerned) still the crowning glory of my homeland.
Last Random Thought: We're pretty spoiled.
Back when I was dead broke and living out of my car… I still enjoyed privileges and cool shit that past kings would have eaten their own arms for.  Plenty of inexpensive nourishment for body and soul, and even as a edge-walker in the economy, the means to enjoy life on a level unimaginable to my ancestors.
In that beat-to-shit '81 Celica fast-back — both the ugliest and the most fun car I've ever owned — I had shelter, enough comfort to occasionally have sex in, a vast range of travel, free radio, piles of tapes, books, newspapers, a guitar, clothes, food, even my old typewriter and reams of paper.  And well-kept roads under the wheels.
One night, sitting on the hood watching the stars as the ocean boomed on the rocks directly below me… well-fed, guitar in my lap, a snug night's sleep in the car ahead of me… I remember thinking I wouldn't trade my life for any of the most privileged existences I knew about in history.
Drafty castles, Huns swarming, a mouthful of rotting teeth, no pizza or cold beer, lucky to make it past 30, a world teeming with ghosts and superstition, no TV or radio or media entertainment of any kind (except for poor Yorick, I knew him, Horatio…)…
Screw that.
We live in interesting times.  And we have a catbird seat for monitoring the action (if you're paying attention).
As annoyed as I am sometimes with the old broad, I'm tipping my hat to her on her birthday and wishing her many, many more.
And my love for her is genuine.
Stay frosty,
John
P.S. Have at it in the comments… but no political bullshit, all right?  You've got ample other places to do that to your heart's content.
Tell you what.  Just for today… let's celebrate what we have in common, all right?