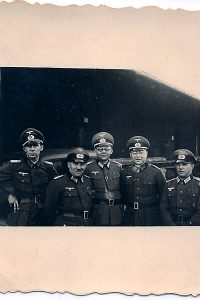 Monday, 12:48pm
Reno, NV
"Use all your well-learned politics, or I'll lay your soul to waste." (Stones, "Sympathy For The Devil")
Howdy.
Today, I'm gonna share with you one of the nastiest, yet most valuable lessons you'll ever get in your career.
It's all about the firestorm of conflicting personality types you'll encounter in the Big Game O' Biz. It took me ages to figure all this out (and get it into a simple concept that's easily explained)… and many, many times it has saved my butt from disaster.
This is the mostly hidden part of being in business. The other fundamentals… honing your skills, dealing with technology, managing moolah… all seem to be fairly straightforward.
If only we didn't have to deal with human beings to get through the day, everything would be just dandy.
However, sizzling underneath every interaction with another Shaved Ape lies a volcanic pit of emotional, physiological/biological, intellectual and metaphysical goo. Experienced professionals intuitively learn to negotiate this roiling obstacle, eventually… but usually can't explain what they're doing. They rely on a code of ethics, first, that eliminates or salvages biz relationships with the most common kinds of crooks and monsters out there.
However, waiting for the other guy to violate your code before jettisoning him from your life means you're a punching bag while the truth about the human capacity for evil slowly dawns on you. (And most folks never really understand any of this. Which is why the neighbors of the freshly-caught serial killer always express disbelief — "He seemed like a nice guy. Always mowed his lawn. Sure, there were screams from the basement sometimes, but…")
I studied this stuff — and figured it out — only because I was completely on my own in the early part of my career as a freelance copywriter (where I constantly dealt with new people, and needed all the insight to make quick-yet-correct decisions I could muster). I had a smidgeon of a hint, through an otherwise-worthless psychology degree I snagged in my youth…
… but the real breakthrough came because my quest to become an expert in salesmanship forced me to go deep with how people actually react to a sales pitch. This was my introduction to "street level psychology"… Read more…