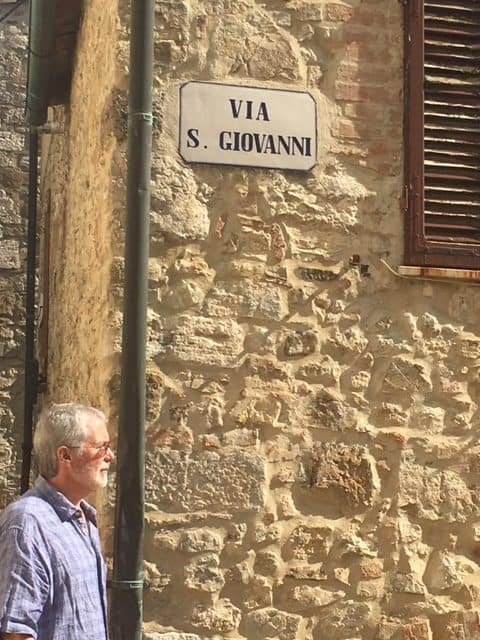 Wednesday, 11:22am
Rome, Italy (yeah, I'm on vacation)
"Wither goest thou, America, in thy shiny car at night?" (Jack Kerouac)
Howdy…
I've been asking people, lately, what I consider a great question: "Is there anyone in your life who could write your biography?"
Most folks never think about their legacy.
The writers I know all do, of course, though few take the time to work up an autobiography (beyond the blurbs we use for promotion). You gotta be really full of yourself to think you're worthy of a book.
Still, it's a question to ponder. Who in your life knows you well enough to tell the tale?
I have no one. Because I've moved around a lot, and had radically different sub-plots in my life many times that brought in new batches of friends and cohorts, leaving prior ones in the dust.
There are folks who could tell you intimate things about me, within a limited "chapter" of time… but never the whole story, as an overview. Childhood, youth, the middle years, geezerdom. Each of these eras are like separate John's, completely different people.
Guys like Keith Richards and Mick Jagger have been close their entire lives, from late childhood on, because of the band. They may not know all the details of each other's tale, but they could hold forth with pretty decent accuracy on the main themes.
I have a cousin who married his high school sweetheart, and they have that kind of relationship — total lifetime knowledge of each other. Maybe, at one time, that wasn't so rare. Now, it seems almost quaint (at least among the circles I run in).
I guess you can count yourself lucky if you have someone who could pen a relatively factual obituary for you, today.
The flip side: On the other hand, I could write the biography of MANY friends…
… because I've practiced the simple tactics from Dale Carnegie's "How To Win Friends And Influence People" for most of my life.
I ask questions, and then follow up with more questions. I'm interested in how people live, how they make decisions and how they handle the consequences. What their happiest memories are, what their darkest days were like, how they got here from there.
It's not magic. It's empathy, combined with a genuine interest in other people. It's easy to get someone to tell their life story, when you simply ask them.
It's not done all at one shot, either. You need to spend some time together, share some history, earn the trust required to divulge the juicy secrets.
And, because you don't betray confidence, you never share what you hear capriciously. You simply know more about certain folks than even their other trusted pals do. But your reputation as a person capable of keeping secrets is solid. It has to be.
As a writer who needs to understand how people operate, this is a main tool. Empathy, plus interviewing.
And here's the Big Secret: So few people know my entire story… because they never ask.
They'll wax prolific on their own tales, when asked. But they never ask bac. Most are just too overwhelmed with living their own lives to care about anyone else's, and it's understandable. Others are genuinely uninterested in how others live.
But most just don't know how to ask. They confuse respect for privacy with refusing to go deep.
Back in college, I had a great prof who forced us to go into the community and get an old person to tell their tale. It was an anthropology class, and we would have flunked without doing it.
It was freaking great. These oldsters — ignored, forgotten, in the way — lit up when asked about their lives.
No one had ever asked before.
And the tales told were fascinating, like the best novels you've ever encountered. War, loss, love, discovery, travel, horror, insight…
… all the rough and tumble intricacies of a long life were there.
It opened my eyes, tell you what. I was young, full of myself, obsessed with the now-relics of a Boomer existence (sex, drugs and rock and roll, mostly).
Yet, these folks who came before me went through similar periods (swing, prohibited booze, flappers, illicit sex)…
… and then entered new chapters, usually family, job and generational upheaval. It all made sense.
It was like glimpsing my own future, told from the past.
Just saying. We get so deep into ourselves, we forget to pop our heads out of our ass ever so often to see what's going on with everyone else.
Life is a gorgeous, horror-filled wonderland, relentlessly bombarding us with incoming drama, tragedy and comedy.
Those who get to enjoy/endure it for many years are the lucky ones.
And the tales told are never boring, when you know how to translate them.
For a marketer looking to succeed, this is the key to the kingdom.
Stay frosty,
John
P.S. If you've followed me for any length of time (here on the blog, in my books, or on social media) you know I frame my advice on being successful within stories.
I do it, because that's how ideas stick. We're hard-wired to listen to stories, and remember the good ones.
If you're interested in the lessons I've learned about success and living large (from a very long career at the roiling edge of life and biz)…
… then you'll be interested in this.
You can thank me later.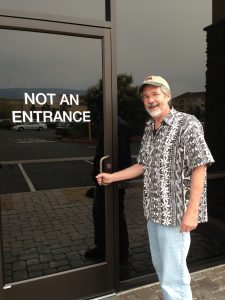 Saturday, 1:55pm
Reno, NV
"Clowns to the left of me, jokers to the right…" (Stealer's Wheel)
Howdy.
Thought I'd share Heads Up Alert #13 with you today: Your world is crammed with fools, tools, and drooling Neanderthals who, at best, are merely amusing characters in your life's movie…
… but who can also be, at worst, the agents of your destruction.
Not everyone likes you, remember.
You have close friends, relatives, neighbors and colleagues secretly rooting for you to fail. (Sometimes not-so-secretly.)
There are folks out there who can muster alarming rage and target it directly (and very personally) at you…
… for crimes they've only imagined you've committed.
And, there are charming bastards out to harsh your mellow because that's the game they need to play in life.
Humans are constantly conflicted over the existence of others in their world.
Heck, a good percentage of folks are in constant conflict with themselves — they don't even need someone to play with. (My favorites, though, remain people who get mad at things like machines and objects. Like, that toaster is in league with his pitching wedge and the starter in his car, out to get him. So, destroy them!)
When you poke your head above the general fray — by becoming an entrepreneur, volunteering to help the PTA, run for office, whatever — your first lesson about surviving as a more public person will be to thicken your skin.
Cuz you're gonna be attacked, no matter how sweet and lovable you are.
Your motives will be questioned, your history will be combed through for gossip-ammo, your looks will be mocked…
… and it can escalate fast if you engage.
Cuz that's what the worst of the haters need to do — find a wall to bounce their rage off of.
When you respond, or even pay polite attention to the trolls who will come after you (and they will come in droves, relentlessly)…
… you are playing a game where you are guaranteed to lose.
Cuz there are no rules for the troll, and no "winning" the argument or setting the facts straight — they just want to jumpstart drama and destruction, and the more casualties the better.
Here are 3 very simple rules to help you out:
Rule #1. Pay as little attention to critics and haters as possible. In biz, hand off complaints to your customer support person or team, and have specific tactics for handling all situations.
Often, the best response will be to simply apologize, refund and blacklist the troublemakers.
Yes, even if they're wrong.
Key: YOU should get away from dealing with trolls early in your career.
All legit complaints should have an easy path to get past your assistant, because you need to know how good people are being affected by your stuff.
But the trolls should be caught and released back into the wild without the chance to inflame your sense of decency and optimism.
Rule #2. Learn to quickly reframe incoming assaults on your integrity and worth, so you halt any adrenaline dumps before they knock you off your game.
Consider the source, remember who you are, remind yourself that the brave new digital world is wired to give trolls cover while they sow grief. (Comments, reviews, Yelp, etc.)
And know that legitimate complaints can help you become better…
… and any initial burst of anger or aggression can easily be turned around with some good old listening and calm response. (Some of my most rabidly-loyal customers started out hating my guts over something we easily clarified. Seriously. It's like 3rd graders getting in a fistfight, only to become best friends for life afterwards.) (Okay, maybe that's a male thing…)
Remember: You're writing the script of your movie, as much as the universe will allow. And you really do have near-total control over your emotions, your fight-or-flight responses, your decisions to hate, love or just see what happens later.
Good reframing is just editing your script, so instead of losing control, you re-shoot the scene in your head so you're the understanding, water-off-a-duck's-back Adult In The Room who can remain in a state of Zen calm even while everyone else is freaking out.
Rule #3. Lastly… whenever I'm tempted to engage with trolls and critics (how DARE anyone give me a bad review on Amazon!), I just remember my favorite quote: "Never wrestle with a pig in shit. You both get filthy, but the pig likes it."
Give the trolls in your life enough rope to hang themselves. When you're living a good life, doing the right thing as often as possible, don't get all hung up on what the critics and nay-sayers are demanding. Your fans, happy customers and reputation will balance things out.
Stay frosty,
John
P.S. Volume 2 of "The Entrepreneur's Guide To Getting Your Shit Together" is out and a copy is eagerly awaiting your eyeballs.
So when you're ready for more wisdom and cool advice, it's time to catch up here.