Howdy.
If you're here via the EOFire interview with me that was just published…
… welcome.
Let me introduce this blog to you, briefly.
First: We've got a sizzling (and free) "Simple Writing System Express Course" going on right now at www.simplewritingsystem.com …
… where you can score some real marketing skills in just a few minutes.
The lessons are available right now, and it goes quick. It's also solid fun, if you're in any kind of business that requires killer marketing tactics to bring in the Big Bucks.
You'll enjoy this… and the new skills you discover will transform your ability to turn prospects into customers.
Next: There's a nice "If You're New To The Blog" post just to your right, in the right-hand column… just click on it to bring up a quick post explaining everything.
There are some 13 years worth of FREE archives here, accessible in the lower part of the right hand column by year. Yes, this is one of the very first marketing and business blogs, and it's been a regular stop for top entrepreneurs, copywriters and lovers of outrageously successful advice since it debuted in 2004.
In these archives, you will find a vast library of specific tactics, strategies, philosophy and direction on running a successful biz and living life well. All written by me (with two or three exceptions, when I asked colleagues to post something important). All revealing the really good stuff from my 30-year career as an "A List" copywriter, business consultant, marketing guru, and all-around bon vivant.
Dive in anywhere you like. There are tags and categories on each post… or, you can just browse.
You can get a mini-MBA education right here, straight from the street-savvy secrets I share here. All tested and proven in the brutal and unforgiving real world.
I've also targeted a few "must read" posts you might want to start with, from the archives.
Also in the right hand column, you can browse through the courses, books and consulting offers I keep current. Just click on any icon for more info.
Finally… remember…
… you can sign up to get email alerts when I post something new, up in the top of the right hand column. You'll also get a cool free report.
I'm not everyone's cup of tea. I'm sometimes crude, but always honest…
… and everything I share comes from my personal experience in the biz world. Where I established a pretty nice reputation as a copywriter to be followed, a consultant to seek out, and a speaker who blows the roof off the joint on stages worldwide.
I hope you're the type who appreciates solid, reality-checked insight to creating, maintaining and nurturing solid business models. From creating killer products, to advertising effectively (which most marketers do NOT), to putting the pedal to the metal on living large and raking in the Big Bucks.
Because… if you ARE this type of entrepreneur or biz owner… then you've just stumbled on a true treasure trove of exciting, relevant and useable advice.
Go on, dive in.
Love to hear what you think, in the comments. I'm always hovering, personally answering comments and inviting others to join the threads.
Stay frosty,
John
P.S. If you're interested in a good place to start, I suggest the first course I created…
… a primer on becoming a true "insider" in the advertising and marketing world called "Kickass Copywriting Secrets of a Marketing Rebel".
Dog-eared copies of this course (it's not digital, and will be rush shipped to you when you purchase it) sit on the desks of famous, notorious and wealthy entrepreneurs, copywriters and marketers all over the world. Just check out the testimonials to see how others have put it to immediate use.
Grab your copy here.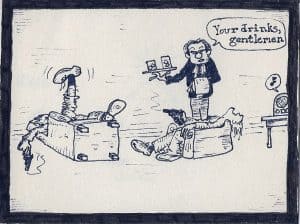 Saturday, 3:53pm
Reno, NV
"Well, excuuuuuuuse me." (Steve Martin)
Howdy.
One of the very bright dividing lines separating happy, successful folks from the unhappy wannabe's…
… is the role of excuses in moving through life.
Dudes and dudettes who get stuff done stare down obstacles and find ways through or around them…
… no matter how long it takes, or how many times they fail at it.
They're the minority.
Much more common is the notion that having a good excuse lets you off the hook for getting something done.
Our bollocked-up school system encourages this — oh, your dog ate your homework? Okay, you can have an extra day.
And it just gets worse in adult life — oh, sorry I T-boned your car there, but I just broke up with my girlfriend and was re-reading her last text to me… sniff…
At some point, most civilians will be on their death-bed, looking back on their failures and crushed dreams, and have to find cold comfort in the idea that at least they had good excuses.
They tried, sort of, and had their feelings hurt or their efforts rebuffed, and what can you do?
Life's hard, right?
Okay, fine. Cuddle up with your excuses.
You might garner a bit of sympathy from some folks, but you'll just continue to be disregarded by anyone feasting on life and getting stuff done.
Start with being late. If you think it's okay, as long as you have a plausible excuse (the traffic lights were absolutely conspiring against you, or gosh, clocks are just hard to understand, you know?)…
… then move to the back of the line right now.
You may actually HAVE a good excuse this time…
… but if being late is "who you are" (and yes, you are judged harshly and continually in the biz world on this stuff)…
… then consider WHY it's a habit.
Look deep. It may be passive-aggressive behavior you picked up as a kid. It may be a symptom of happiness-corrupting disorganization (which no potential client wants any part of). It may be undiagnosed ADD, or even the first ripples of real cognitive disorder.
But usually, it's just a habit. You keep getting away with it — or you THINK you're getting away with it (and really, the people around you just stop relying on you, and consider you a liability).
The consequences seem mild — maybe somebody gets pissed off once in a while, or you miss a flight. Whatever. Life is hard, right?
Get off my case.
The problem, of course, is that if you want to play in the level above you — in biz, romance, sports or just generally effective living — you are going to pay dearly for your bad habits.
Top clients won't put up with sloppy non-professional behavior. Self-respecting potential romantic partners will avoid committing to you.
And a whole bunch of cool life experiences will vanish…
… all because you think having a good excuse absolves you from the responsibility to be where you said you'd be, when you said you'd be there… prepared to do what you said you'd do.
Getting away with something is NOT the same as "succeeding".
Highly effective people, who get shit done and succeed at life, rarely allow excuse-artists into their lives in any meaningful way.
Buy a fucking watch. Add twenty minutes to your estimation of how long you'll need to get somewhere (or more)…
… and if you're early, find a spot to kick back and check email or Facebook or just relax. Or read a book. There's no such thing as "wasting time by being early". Be prepared for it.
And it's worth repeating: Yes, the people operating in the level above you ARE judging you by these small behaviors.
Maybe other folks in your world are just character actors, whose time isn't worth much. (That's the way stone-cold sociopaths think, you know.)
However, the successful crowd you want to be dealing with will not put up with that bullshit.
Okay, you better get moving. You're gonna be late…
Stay frosty,
John
P.S. The foundation of living effectively…
… is really just a bunch of simple insights, rules and strategies that are easy to adopt…
… once you figure out what they ARE.
Simple shortcut to finding them out, right here.
P.P.S. Yeah, I drew the cartoon at the top. College days, when I was the staff doodler at The Cal Aggie Times in Davis.
This was my idea of wickedly insightful humor.
I dunno… what do you think?