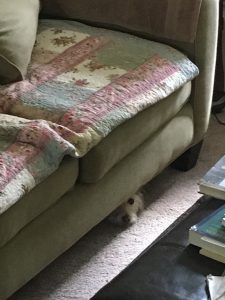 Sunday, 4:31pm
Reno, NV
"You think you're alone until you realize you're in it…" (Elvis Costello, Watching The Detectives)
Howdy.
Short post today…
… and yet, it may be the most important thing you read all year.
First, a bit of context:
We all have shame, hiding deep inside us.
No matter how successful, pretty, rich or beloved you are…
… a dark pool of roiling shame lies below the surface. It's just part of our animal nature — that big slab of neo-cortex which gave us language, critical thinking and vast memory storage also gave us the capacity to register shame.
And hold onto it forever.
Shrinks make a fortune seeing clients who are obsessed with their shameful past. And it's a renewable resource — because the way many psychologists treat it, the shame never really leaves.
And I say: Fuck that.
Let your shame go, and be free of it.
It really can be that simple.
Listen: Holding onto your secrets is a choice. Not an obligation, not a command, not something you have no control over.
You actually have HUGE amounts of control over what you choose to hold onto. Also what you think about, what keeps you up at night, what bothers you, and — especially — what holds you back.
It's just that no one TOLD you about this power before. And there's no Owner's Manual around to find instructions in.
It's a glitch in the human system: You're born, you grow up, you do stuff or have stuff done to you that triggers shame… and it becomes a 200-pound backback you haul around with you for the rest of your journey.
Or, anyway, that's how most folks approach it.
What can you do? It's just part of the game.
Except… it isn't.
Now that I've simply told you about this secret power you have — the ability to choose what you hold onto — you're essentially free.
You may choose to ignore this new power, and continue to cling to your shameful memories. That's a choice you can make.
Or, you can fire up that new power, and just let it all go.
News flash: You are, nearly always, the ONLY person on the planet who cares about your ancient shameful memories.
If there are others who have some kind of investment in keeping you riddled with shame… well, you also have the choice to eliminate them from your life.
It's not rocket science.
Let it go.
Isolate the memory, define it, box it up in your head. Name it. Make that box strong, unbreakable, and lock it forever.
Then… toss it from your brain.
Let it go. And get the fuck OVER it already.
If you need to make amends, do so. If you need to find new coping tactics for the next time you're triggered, find them and incorporate them into your new power to let go.
But choose to be free of shame.
If you like, you can replace shame with something more proactive: Remorse.
When you do something that used to create shame, engage your ability to feel remorse instead. Remorse is temporary: You fucked up. Fix it, if you can. Clean up your mess, apologize, and take steps to do better next time.
Then actually TAKE those steps. You may need to learn some new skills. Learn them. You may need to have awkward conversations with people. Have them.
You may need to complete a whole "to do" list in order to do better next time.
Do it.
That's how adults handle fucking up.
Rookies and children and emotional zombies go straight to shame. You didn't just fuck up — you're a bad person. There's something horribly wrong with you. Your shame is eternal and unfixable.
Which is all bullshit.
Shame is like setting up camp on your life's journey. You seldom move on. You're stuck in place, wallowing.
Remorse is a pit stop. Oops, screwed up. Get out the mop and coping strategies, make thing right… and move along.
You'll be a more effective and worthwhile person for feeling remorse, and taking steps to do better next time.
It's a bit like "failure" to an entrepreneur.
To civilians, failure is personal, the end of the world, a nightmare that will never leave.
To an entrepreneur, failure is just another step along the path to success. Everyone fails sometimes. So what? Lick your wounds, figure out what went wrong, take steps to do better next time…
… and get back in the ring, armed and ready for the next go-round.
Okay, then.
You now know your shame is bullshit, and fixable.
You no longer have the excuse to wallow in your misery, because you have the power to escape that self-destructive crap.
Whether you use it or not is up to you.
And I say: Start your new year right.
Get busy, and stop hauling around that 200-pound backpack.
Stay frosty,
John