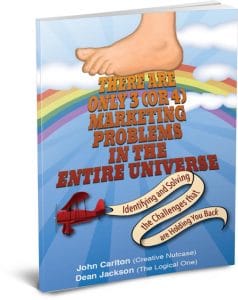 12:37pm, Christmas Day
Reno, NV
"You'll shoot your eye out!" (Ralphie's Mom, "A Christmas Story")
Howdy.
Hope you're having a great holiday, and all your dreams have come true.
If you're here after grabbing your FREE copy of the book that Dean Jackson and I just released, welcome. Our gift to you took just 90 minutes to create, per Dean's brilliant "90-Minute Book" magic. Well, 90 minutes, plus the four years since I first proposed the book to Dean…
… but since we dawdled away those years never actually writing any of it, this sudden burst of creativity for 90 minutes actually represents a Christmas miracle.
I'm stunned we got it out.
Sure, it's in need of some editing, which we'll do later (when the book is sold on Amazon), because it's a transcription, and my brain-to-mouth process works much differently than my usual brain-to-keyboard process. But for now, today at least, this somewhat raw first edition is your free gift from us.
Get your free copy at www.3or4problems.com… if you missed the announcement of it on Facebook last night.
And welcome to the blog. Be sure to sign up for alerts, top right. Right there. No, your other right. Yeah, right there, inside the little box. Just type in your email address — the good one you always check, not the fake oaddresse you use to throw folks off your trail. You want to hear from me. I won't deluge you with email, and I swear you'll love every message you do get from me. (I'll never share it, either.)
PLUS — you get a cool free special report when you sign up, jammed with info you can put to use right away to make yourself and your biz glow with profits. Yet another freebie gift for you. The goodies are just piling up.
There are tons of great posts for you here on the blog — over a decade's worth of advice, tips, strategies, insight and pro-level marketing secrets… all in the archives. Which you can access in the lower right column. Yes, just below where you left your email address.
Also, check out the books I offer, the great deals on the courses, all of it.
Oh, and just for now, I've slashed my normal Skype consults (where I personally solve your entrepreneurial biz problems, and even critique your copy if you want, in real time, digitally face-to-face). Right now, you can get a full-on consult for $999 — which includes your hour on Skype with me, personally, plus an email exchange for anything you want me to look at. I normally charge $2,500 for these. But I'm feeling the holiday spirit, big time.
To get the details, just email my assistant Diane at diane@john-carlton.com. Write "I want to know how to get a personal consult with John" in the subject line. We'll get right back to you with the details. And get you on the schedule fast.
The new year is right around the corner. How rich and happy you get over the course of 2017 depends on how you approach the opportunities and problems you have in front of you now.
One of the best ways to kick it up a notch is to get your sticking points unstuck, your problems solved, and your plan for the year double-checked by a respected, well-known pro. I've been doing this stuff for over 30 years now, and the list of folks who owe their wealth and happiness to me is long (and full of some very famous people).
But enough of that.
If you're ready to goose your fortunes for the coming year, great. I can help you in ways you can barely imagine right now.
Today, just enjoy your Christmas gift from Dean and me.
Hope you and yours are having a great day.
Stay frosty,
John