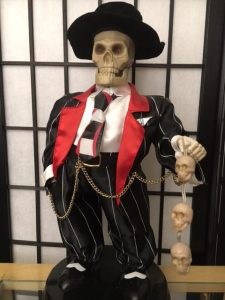 Sunday, 9:30pm
Reno, NV
"Have I got a deal for you…" (said no one, ever, truthfully)
Howdy.
You having a good week?
Nobody tried to cheat you out of anything, or make you look like a maroon?
That's good. You're walking the straight and true, and that's the real key to a life of wealth and happiness.
Still, sometimes it pays to see what's going down over in the darker side of town.
So let's share more of the "survival rules for entrepreneurs" I have in my consulting stash — the insights (from brutal experience) that helped me build a solid biz and reputation…
… but this time, let's wander into the really weird stuff for a spell. Be cautious, and don't make any sudden moves, okay?
Here's Rule #8: Convincing prospects to trust your bad self.

I first heard about "the trust game" from a wizened, street-savvy con man, early in my career.
I knew I needed to learn more about solid salesmanship tactics, and there were no books around explaining the good stuff. (There still aren't very many.) You had to search out the old-school guys who'd made their name working face-to-face with people…
… in situations where, if they didn't make the sale, they might not eat that night.
So they tended to get a little ruthless. Murdered their ethics, buried 'em in the back yard, and went out to work the "game".
I had no intention of conning people. These guys did not lead nice lives, and one of the reasons they got so good at working the con is that they often had to disappear quickly to avoid being busted. Sometimes they just split for a short time. Sometimes they left town altogether. Yes, there is another world, parallel to ours, where con men drift in and out of sight, following a sort of circuit across the country.
And with the dangerous games they play, they usually only have one shot to get it right, and losing wasn't an acceptable option.
So they learned the hard-core persuasion tactics.

They learned the confidence game.
I realized something, though: The same tactics they used for their crooked products…
… could also be used for high-quality, completely ethical products.
They were just too lazy to create good stuff.
Plus, it was obvious they also liked the thrill of being bad. Evil bastards, most of them.
---
Got a valuable, ethical product to sell? You promise? Then here is my complete system I've used to move millions of dollars worth of products & services – all just through the written word!
---
But they were also kinda lonely.
And once you got them telling stories, you couldn't shut 'em up. When they sensed an appreciative audience, they just spilled everything, happily. Proud of their life's work.
So whenever I ran across one of these street-wise confidence men, I became their new best friend for an afternoon, grilling them for insight, tactics, warnings and horror stories.
And I never bored them by asking "Why don't you just go legit, and sell good stuff? You'd make an honest killing." They weren't interested in becoming legit.
A good life lesson right there, but we'll get into that another time.
Today, we're going deep in the confidence game.

So, here's the story…
Bob had grown up on the streets of Berkley, being a lookout as a kid, then a shill and later the dealer as a teen. By the time I met him, he had married a lawyer and was enjoying the good life as a kept man in the suburbs. But he loved to talk about the old days.
His "product", in this instance, was a classic 3-Card Monte street game. You set up a table on a corner, and had three playing cards placed in a row: Two red aces, and the black Queen of spades.
With the lookout watching for cops, the dealer would use slight of hand to move the cards around, inviting the marks (say, you, passing by and thinking "Hey, that looks easy") to guess where the Queen was now.
The shill was pretending to be a mark, actively engaged in the game. And winning money. He'd bet $20 that he could spot the Queen, lay down a bill, watch the dealer move the cards around…
… and then point to the card he insisted was the Queen. The dealer turned it over, and… 
Voila! The Queen.

"Yeah!" the mark would yell. "This is like taking candy from a baby," as he pocketed another twenty.
"You're gonna break me, man," whined the dealer, looking all sad and embarrassed.
Now, you, of course, would never indulge in illegal street games like this.
No, no, no.
But it seemed so easy. You followed the Queen without missing, just like the shill.
Why, all that money could have been yours. If you'd been betting.

"Hey, buddy," says the dealer, looking at you with imploring eyes. "You want to give it a try?"
What the hell. You throw a twenty down, watch the Queen get shuffled around… and you pick her out. The dealer turns the card over, and hey, you won! You followed the Queen, without trouble.
Easiest money you ever made.
You know where this goes, right?
You win the next time, too. And the next.
Then, the dealer — looking more frustrated than before — asks if you want to double down, maybe triple down. If the lookout has signaled a cop nearby, maybe the bet gets even higher. Big money, you're talking about now.
A pile of cash, just sitting there.
What a schmuck, you tell yourself. If this guy wants to give me more money, great.
And all of a sudden, it ain't so easy following where the Queen went.

You're pretty sure it's there, yeah, it's gotta be there on the left. Pretty sure.
And it ain't. Not this time. Or the next. Or the next.
And you just lost a little bundle.
The cop turns the corner, the dealer folds up the table and scurries off (with your lost dough) in one direction, the shill in the other… and you're wondering what the heck just happened.
"The con," my new BFF told me, "is all in building up confidence. Allowing the mark to trust that the dealer is who he presents himself as — a bungling maroon who can't hide a Queen amongst three cards to save his life."
He sat back. "I loved that game. You gotta really work to gain someone's trust."
My question (which I kept to myself) was: Why do all that work to gain trust…
… Only to squander it on one transaction?

Why not actually have something of real value to offer? Something worth the money, that turns the mark into an actual customer?
The lifetime value of a customer who buys again and again — delighted with the quality of the product and service — is surely worth more than a quick rip-off (and the risk of spending the night in the pokey).
For marketers and biz owners like you — who strive to do the right thing, who have a great product valued fairly — the stark elements of this game should give you a hint how to create that lifetime customer.
It's all about trust. 

Real trust, though. Not that smarmy fake stuff the street hustlers practice.
This is what's behind the free reports, the bonuses, the unconditional guarantees, and even the "double your money back" promises of classic marketing campaigns.
Every sale begins with a relationship. Sometimes, it's a brief one — you have something your prospect wants, he's done some shopping around and likes your prices (and guarantee), and the deal is done.
Other times, it's a more drawn-out affair. There has to be some wooing, some proof of your reputation and the quality of what you offer.
And the first steps may have to involve no risk at all.
Something for nothing, essentially. A "taste" of the goods. A chance to experience what it's like to own one.
In the con game, all this is rushed. And, in truth, you can't con an honest man. The hustler relies on teasing the greed of the average mark…
… who falls in love with the thrill of making an easy killing by putting one over on some street dude who is obviously an idiot.
Until he isn't.
In a rational marketing campaign, you have better things to use to engender trust.

You've been around for a while, with a track record you can verify, testimonials from real people who can vouch for you, and clear evidence that you are a square shooter with a high-quality product, priced fairly.
Yet, it's the same "game", essentially. You establish trust, you let the prospect drive the transaction (no pressure), and you deliver the product.
The big difference: You're doing it ethically.

While the con man cannot stand the thought of actually providing real value.
For him to "win", the mark has to "lose".
Just saying. The art of salesmanship goes back to the dawn of history, and can be used for good or evil.
Choose the right path, and I'll help you become successful, by continuing to share these insights.
More "survival rules for entrepreneurs" to come.
Stay frosty,
John
P.S. You know what else works in your favor, when you crave the Big Bucks and successful lifestyle of a damn good entrepreneur?
Knowing the "deep" secrets of awesome salesmanship.
Now, it took me DECADES of chasing down mentors and teachers (including all those old-school street-wise dudes)…
… along with the hard work of putting what I learned to work in the real world as a freelancer, and then as a consultant.
I have been around the block, my friend. And when you add the life experience of my biz partner, Stan Dahl (who was a ridiculously high-paid consultant for such companies as Starbucks and Wells Fargo before joining up with me to help entrepreneurs)…
… that's a lot of solid, real-world experience on display. Tons of advice, tactics, strategies, problem-solving tricks, and solutions to whatever might be holding you back.
And how do you take advantage of all this experience and savvy?
The most fun and least expensive way is to join our Marketing Rebel Insiders' Club. 
There are answers to every problem, sticking point and disaster you encounter. Just see why so many entrepreneurs have relied on this group over the years.
You might just realize why groups like these have been a go-to resource for successful business owners throughout history.
Just go check it out right now.
And if you're looking for even more resources, you'll find a ton right over here.