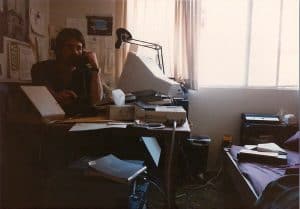 Friday, 12:30pm
Reno, NV
"I'm handy with the love and I'm no fool, I fix broken hearts, I know I really can…" ("Handyman", Jimmy Jones)
Howdy.
There's a lesson here somewhere: I use a certain well-known phone company for my Interwebs access, and over the years I've learned…
… not to trust them.
Their customer service is all talk and no action. Everything I've wanted done has required multiple calls to agents who sound nice, promise immediate action, apologize profusely for past transgressions…
… and who then proceed to fuck up the simplest of transactions.
I gotta believe some of them are doing it for spite, just because they're bored.
The others are simply incompetent fools.
Anyway, the better customer I prove to be, the worst it gets.
I pay my bills on time, and never bother to try gaming the system. Which means I occasionally get mired into obsolete billing models, where I'm paying more for less.
And when it's discovered by some agent while she's trying to un-fuck whatever the most recent mess is, they act like it's my fault I've been ignored and abused.
In their world, any customer who does not obsess over their phone bill, constantly fussing with the options and sucking up the deals, is complicit in any bad deal that develops.
Sigh.
I just want the phones and Web to work.
So, you know, I can do my job, and help civilization progress another iota along the slow crawl to oblivion.
I don't buy things on sale, because that's a sucker's game — I buy what I need, when I need it, and happily pay more for a fair value.
In other words…
… I'm a high-end, diamond-plated, near perfect customer.
Which, in the phone company's eyes, makes me a chump to be exploited, over and over.
Shame on me, I know.
I toss everything they send me, except the bill. I don't trust them to do the right thing in any deal they offer, and I will bolt for the first hint of a competitor who has better customer service…
… when and if such a competitor arrives. No luck so far.
I went through this in the 90s with first Gateway computers, and then Dell. I've bought a couple dozen computers in my time, and I always get the most hot-rodded model possible. Add on every gewgaw and dangling option they've got (and then add some of my own).
But I require good customer service. At first, Gateway rocked. Nurtured me through every new computer buy, and were there for me when the occasional problem rose.
Then they did some finagling with their model, and thought "Hey, why are we paying so much to staff the customer service division? Let's cut 'em all loose. That's the FIRST place to save real money." And they ditched their super-excellent customer service department. Sent it all overseas, where non-English-speaking folks struggled to even answer the damn phone when you called.
After a lengthy battle to get them to fix the shoddy-ass new computer I'd purchased, I was done.
Went over to Dell, their main competitor. And, for a few years, I got great service again.
Then, some shit-for-brains MBA weaseled his way into the hierarchy and gutted their customer service.
Not "cost effective", you know.
With a monopoly — like the cable company (which I hope is swallowed up by a passing black hole soon) — you can get away with Soviet-style customer service (or lack thereof). At least, until other options appear (like abandoning cable altogether and just finding shows elsewhere online) (or, God forbid, finding something better to do with your limited time on earth, and eschew TV altogether).
Meanwhile, don't you DARE treat your customers like the Big Dogs do. Entrepreneurs are closer to the action, and should know that finding ways to keep that sliver of a percentage of your best customers happy can bring in a fortune.
Chasing the mobs of looky-lou's who are dead broke and prefer stealing your content anyway is a fool's errand (which is all too common in biz today).
Know where your real wealth comes from. Hint: It's quality, not quantity.
Some of the more successful entrepreneurs I know have the tiniest lists imaginable…
… but those lists are stuffed with the best customers any biz could wish for.
And they trust each other.
They've earned it.
Just think about it, as you ignore customer service for another day.
That sudden draft of cold wind is another opportunity leaving your world for better prospects elsewhere…
Stay frosty,
John
P.S. For more insight to making customers get all excited about giving you money…
… be sure you're armed with the right info. Start here…
P.P.S. Yeah, the photo above is me, back at the beginning of my freelance career. First big computer buy. This was in the mid-80s, way before Gateway or Dell's computer-shipping concept was even viable.
I had this computer put together piece by piece — a bulky monitor (orange dots on a black screen only as the interface), two IBM floppy disc drives stacked (and we're talking REAL floppy discs, 5-1/4″), and a slooooooow dot matrix printer. I had to load DOS, then load the word processing software (MultiMate, now extinct)…
… and then load up a blank floppy to work on.
It was like being on the flight deck of the starship Enterprise, though. Just amazing technology. The prior day, I'd been writing my ads on an IBM Selectric typewriter. If I wanted copies made, I had to drive to the "copy making place", usually a small printer. Nobody had Xeroxes in their home office at that time.
You laugh, now — but back then, this was the height of computerized entrepreneurialism.
I've been around the block a few times. It's been a blast, but also very disorienting at times. I mean, my iPhone has more computing power than NASA used for the moon shots in '69. Stunning…