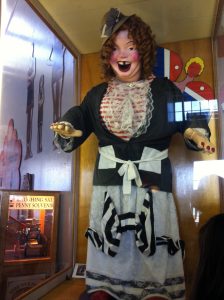 Friday, 2:33pm
Reno, NV
"Get away from me, kid, ya bother me…" (Tom Waits, "Step Right Up")
Howdy.
So, let's take on the entire advertising model of western civilization, what d'ya say?
Here's a good place to start: It's the end of baseball season, playoff fever in the air. I've been watching the SF Giants stumble-bum their way through a summer swoon (barely making the last NL wild-card spot)…
… and generally enjoying the age-old process of heartbreak and joy. I followed sports religiously as a kid, but paid less and less attention to it as the real-life adventures of adulthood took up all my time… and now, having a wee bit more time to indulge, I've returned to the fold.
But I record the games, and watch them after-the-fact.
Because of the mind-numbing commercial breaks.
I'm not alone, of course. Across the country, grown men and women run screaming from rooms when someone inadvertently turns on the evening news, for fear of hearing the score in a game they're recording for later.
And being forced to endure the entire broadcast — including the endless, mind-melting commercial breaks — in, say, a bar or a friend's house is pure torture.
The SAME commercials will play over and over, sometimes twice in the same break. Some of the national ones are mildly clever (at best), but hardly classic films that deserve repeated views. And the local stuff is just awful. (The locals can be excused, of course — tiny budgets, no insight to how persuasion actually works, and they're at the mercy of clueless ad agencies or a brother-in-law with a camcorder. There's even some charm in the awkwardness of homemade spots… sometimes, anyway. Mostly not, but you might get the flavor of the area at times.)
But the national spots have no real excuse. Yes, there is value in repetitive views — the average buyer sees a late-night cable infomercial something like 7 times, in pieces lasting a few minutes, before pulling out a credit card. There's a process to the art of long-form, chew-up-the-wee-hours commercials.
However, the model of jamming a single pre-recorded commercial into every break in a sporting contest just begs to be ignored. Any thinking creature knows to check out mentally during the break, and go do something else. If you're welded to the couch (say, in the midst of watching a blowout, weighed down by one too many beers), you still do not "watch" any commercial for the 20th time…
… you just exist while it flickers on the tube, a vague irritation forced on you while you wait for the fun to continue.
Why do advertisers do this?
Fear, first of all. Fear of making a mistake, of offending viewers, of risking the wrath of clients or shareholders or CEO overlords. And fear of being held accountable — the top Madison Avenue ad agencies never make true direct response commercials, because that would require measuring results…
… which, oops, might expose them for the charlatans they are. As long as they make high-production-value commercials with lots of explosions and special effects, while celebrities intone nonsense slogans with Shakespearean urgency, and never ask for a response from viewers…
… well, there can be nothing to measure. Thus, the ad becomes a "success" if the client "likes" it. Never mind if it actually brings in sales or not. (And the few car commercials that actually do push special sales events keep everything vague enough to cover the agency's ass with plausible deniability.)
Second, few large corporations allow real sales-savvy folks to rise in the hierarchy. The decision-makers have no clue how to create effective advertising — that's why they hire "the best" agencies money can buy.
But my experience over the decades is that real salesmanship remains a scarce commodity even in award-heavy ad agencies. They like to pretend they understand selling, but their love of white-bread humor, strange metaphors ("buy this car and you'll be a super-cool secret agent!") and logic-defying slogans gives them away. I mean, "We're the best. Period." WTF?
Total rubes in the selling game. Frauds. (Man, did I just say that out loud?)
Lastly… the big advertisers continue to bore and irritate their best potential customers because…
… they are ignorant fools.
Even a cursory knowledge of the history of commercial success in television gives them the easiest possible answer to this problem. And they're too self-involved and dismissive of classic salesmanship to even realize what damage they're doing by refusing to even consider this answer.
Here's my suggestion… and please, tell me where I'm wrong:
1. Start by hiring a spokesman who is interesting, knowledgeable, perhaps sexy (or so unsexy they're fascinating), and… I dunno… maybe even a fan of the game. With just a wee touch of actual salesmanship in their blood.
2. Instead of shelling out big bucks for a slot to run your tired old useless pre-recorded commercial…
… just go live during your spots. The technology is there, isn't it? Tell me you can't set up a camera on a set that delivers a live feed, on call, during breaks in a game. Explain to me how Johnny Carson did exactly this with live commercials on The Tonight Show fifty years ago, with great success…
… but you can't do it now, because why?
3. The trick is, you ENGAGE viewers, in real time. You're watching the game, you understand the passion and the occasional irritations of live sports… AND you've got a simple sales message to deliver. Be a mensch, be that guy the viewer welcomes into his world, who just happens to also have a small, understandable agenda regarding selling some product now and then.
4. There is no shortage of just-fine actors, or masters of salesmanship with some personality and wit. And ANY halfway-decent marketer with direct sales experience can think of a thousand ways to make this live break work.
The main problem is this: Viewing television is a PASSIVE behavior. As is reading the newspaper, or surfing websites, or listening to the radio. Your job, as a marketer, is to bring your prospect OUT of that passive state (garbage in, garbage out)…
… and ignite an ACTIVE state in him. Your advertising should strive to be the most exciting thing he encounters all day long.
Sure, not everyone wants what you offer — but that's the default case in marketing. You're after the dude who IS in dire need of what you're selling.
So focus on him. Make the spot about him, and his needs, and his state of awareness.
This ain't rocket science. It's fundamental direct response marketing.
5. Why be scared of something as simple and straightforward as a live spot, rather than a boring "seen it 50 times already" commercial?
In 30 seconds, I can make any sales message better, live, off the top of my head. So can most any experienced, self-respecting marketer. You engage, you keep it real, you know what's going on (cuz you're watching the game), and you have a simple, measurable response you request of your viewer.
6. Mistakes are GOOD, even. People will actually watch more intently if they believe a train wreck might occur.
Melt-downs are fine. Heck, get drunk, if you can still do your job. Reveal some humanity.
Messy desks, and non-perfect discussions are great — the best TV communicators have always had a knack for connecting with the audience by being a "regular guy". By being flawed… but possessing just a small bit of insider knowledge, or a lead on a better bargain, or being a trusted resource for advice.
Yes, this is like the shopping cable shows. With sales-savvy live representatives bonding and engaging and selling the bejesus out of stuff.
Did YOU need to be persuaded by a fancy high-production Hollywood-style commercial to buy the car you're now driving? Or did you seek out advice and info from trusted sources, drive a bunch of cars around first, take all the salesman's blather with a grain of salt… and come to your own best conclusion?
The cliche is that middle-aged dudes with thinning hair and bulging bellies buy Porches in order to reclaim some sense of sexy youth. Maybe that happens every so often.
More often, middle-aged dudes lust after those sports cars their entire life, and can only afford one when they're older. Sure, they'll listen to Classic Rock while zooming around downtown, and indulge in memories and feelings of power and attractiveness they thought were lost forever…
… but they bought the car the same way you buy cars. You shop, you fool yourself about your budget, you rationalize, you seek out good info to support what you already want to do, etc.
But you are never hypnotized by a sleek, CGI-infused commercial. That's not what sells you.
7. Finally… sports fans are not imagining that commercial breaks are getting longer and more frequent. That is actually happening. When you see a game live inside a stadium, it's stunning how much time is wasted waiting for the national feed to finish up the commercials. Players just standing around, waiting for the okay to start playing again.
TV is losing eyeballs every year. The new generations coming up are appalled at the mindlessness of commercial television, and are finding new ways to get the entertainment, news and social connectivity they crave.
So the vanishing audience of TV gets smaller, older, and more frustrated with the endless repetitive commercials. And desperate marketers can't think of an alternative to bombarding them with the same old shit, over and over and over again.
The live spot has already proven itself, many times in the history of television. The older audiences are already used to it, and any newer viewers trapped into watching a game live can be charmed and woken up by deft handling of good, raw, live salesmanship.
It's a dance of death on a sinking ship.
I'm just sayin'. If you're a huge company, and you bought 20 spots for a big game, why not use two or three of those spots to experiment a bit?
Cuz your audience is tuning you out when you run the same commercial over and over. You're paying to be white background noise while a new pitcher comes in from the bullpen.
No one will ever listen to me on this, of course.
Savvy marketers have always been the minority in biz, and that is our strength. If the rest of the capitalist world ever caught on to how successful direct response can be (when done right), we'd lose our competitive advantage.
Most people are sleep-walking through life, bored shitless and not very good at their jobs. This includes the vast majority of decision-makers in business and in advertising. They do not understand salesmanship, they're frightened of ballsy, aggressive direct response tactics, and they just want to please the client (who's even more clueless than they are) and go have a martini.
But it's fun to tackle these problems with some creative "what if" thinking, isn't it. Especially when you get trapped into watching a game that hasn't been recorded, and you can't fast-forward through the breaks.
Brr. Worst torture there is for an adman. It just offends you at the cellular level.
Okay, rant over. That was fun.
Stay frosty,
John
P.S. By the way… we're having yet another mastermind meeting this October, and I'm stunned you haven't looked into joining us yet.
Yes, it's exclusive, and not cheap. But the intensity of the focus on your biz, and solving your specific problems, using the vast resources and experience of the experts and fellow marketers in the group is something you've got to see to appreciate.
Go here to get a taste of what so many current and former members say about this rare mastermind.
It's great stuff. I love hosting it, and I love getting to hang out with the guest experts I invite (like Joe Sugarman, Jay Abraham, Dean Jackson, Joe Polish, Rich Schefren, Bond Halbert and others). You get to rub elbows with all of us, cuz this is a small, intimate, and total "get things done" meeting.
Just check it out already… click here to see what's up.