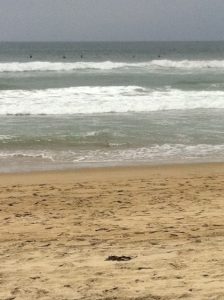 Saturday, 3:26pm
Rancho Cucamonga, CA
"Hot fun in the summertime…" (Sly Stone)
Howdy.
I've been doing some Critical Think (trademarked term, by me) about one of the main keys to "real" communication with your fellow humans:
Empathy.
Not sympathy.  Empathy is a very different animal — it's where you essentially walk a mile in the other guy's shoes.  You start, conduct, and end all conversations with active knowledge of how the other guy is perceiving your side of the tale…
… and you actually give a damn how he's reacting.
Empathy is not just a secret weapon in your tool kit…
… it's the freakin' nuclear bomb of high-end communication.
And it's so powerful, because most folks simply do not possess it.  The vast majority of your neighbors and brethren think, speak and act from inside a confining little echo chamber where their own prejudices, beliefs, notions and cockamamie thoughts completely dominate.
And there is almost zero chance of anything contrary penetrating that white noise in their brains.
Thus, marketers get mad at customers, entrepreneurs ignore opportunity and pitfalls with equal obliviousness, and biz owners with superior products are passed over by prospects.
---
Don't get mad. Get knowledgable! Lots of business boosting, life-enhancing secrets in my free report, you know! Get it right here.
---
You know who always seems to win?  Savvy politicians, con men, and psychopaths.  The dudes who cynically know how to turn on the charm and say all the right things to get what they want.
By far the hardest thing I've been trying to teach people over my career…
Is that good salesmanship is a tool.  
Like a hammer.  A hammer works to pound nails into the foundation of your dream house… just as effectively as it can pound holes in the head of your mother-in-law when you finally lose it.
The hammer doesn't care who's using it, or for what purpose.
That's why, when I teach high-end salesmanship, I express the fervent hope that anyone using what I teach to push unethical shit will die and rot in hell.
Using good salesmanship tactics will vastly improve the bottom line for ethical, honest businesses.  
The tactics that work to persuade people to vote for corrupt politicians, or sleep with smooth-talking psychos, or buy into scams…
… also work to deliver good policies, find true love, and fill your life with excellent products that do what they're supposed to do.
It's just ironically harder to convince decent folks to USE these tactics. The con-men jump on it, because they pay attention to the bottom line (and often only get one shot at convincing their victim to come aboard… so they're not interested in anything that doesn't persuade, and persuade quickly). 
Wanna see some of these tactics in action? Check out my post When "Trust Me" Is A Red Flag.
My goal is to force people to realize what's going on… so they don't get fooled, and they understand how to sell and influence others through good salesmanship practices.
And smack at the top of the list of good salesmanship tools…
… is empathy.
So how do you boost your empathy muscles?  How do you go from being oblivious of your fellow humans, to actually understanding where they're coming from?
Easy.
You simply stop reacting to life as it swirls around you…
… and start looking critically at how you, and others, deal with stuff.
How about some real-world examples from the real world laboratory we all live in, examined critically:
Real World Lab Example #1:
Recently, I was pretty much molested by TSA while going through security at the local airport.
It pissed me off.  I copped an attitude.  And I very did not enjoy being:
(a) manhandled…
(b) ordered around by someone whose prior job was flipping burgers, who robotically repeated consoling words in a threatening manner (obey or die)…
(c) exposed to x-rays I didn't want…
(d) given no alternative choices…
(e) all in a futile piece of badly-performed theater that I knew did nothing to make me safer in that airport.
The normal reaction, of course, is to put a muzzle on your fury, just get through the gauntlet without being profiled (or hauled off to the interrogation room), and move on to the next indignity of modern air travel as quickly as possible.
Ah… but for the student of salesmanship, this is an excellent opportunity to Critical Think (trademarked) the situation…
… and catalog both your own emotional reactions, AND the ongoing mental state of the TSA employees.
That's hard to do, at first.  Because your instinct is to be victimized by your own responses, and, at best, not to dwell on them.  Most folks truly believe we have no control over emotions, and it's our lot to just float on the surface of Life like flotsam, bounced about and drifting with the tide.
Which isn't so. It's a shock at first to realize that you actually have TOTAL control over your emotional state… including all adrenaline dumps.
But you do have that control available to you.  It's not part of the default setting in your system, however.  So while you gotta work to master it… it can nevertheless be done.
And you start by cataloging what you're feeling when overtaken by emotion.
Where are you feeling it?  Did your stomach tighten up?  Did your shoulders hunch, while a jungle-level snarl curled your lip?  Did your eyes narrow, fists clench, chin jut?
How infuriated were you?  Would you rejoice if one of your abusers suddenly curled up in a heart attack?
Or would an honest apology from one of them have dissipated your rage like a sponge soaking up a spill?
Don't let this opportunity to examine and catalog your state pass by.
Even better… try to see it from the other side, too.
TSA employees, most of them, are just doing their job.  They don't make the rules, and most of them are embarrassed and just as not-happy as you are about the whole mess.
Others are Little Hitlers, and love their power over you.  And will use it in a heartbeat if you piss THEM off.  It's a war of pissed-offed-ness.
For all of them… you're somewhere between a fellow human just trying to get through security, and a blob of nastiness they must deal with until lunchtime.
How does this help you as a salesman?
Are you kidding?  Have you never dealt with an angry customer?  Have you never gotten mad yourself with prospects who refuse to see the logic of your offer, or who use your product incorrectly, or who lie to get a refund?
A sales transaction, at its most fundamental form, is an inherently hostile act.  Both the buyer and the seller want the best possible deal.
Happiness ensues when it's perceived as a bargain, yet yields profit.
However, even happy deals can turn nasty when something goes sideways.  As a customer, you can become enraged if you believe you were "taken", or have buyer's remorse, or expected results do not happen.  
And your fury is righteous, because you're completely right, and the seller is an evil troll.
As a business owner, you can get your panties in a twist if you have to bring in a collections agency, or face refund requests long after the clearly-stated deadline, or bend over backward to create a killer bargain that leaves you with scraps of profit only to have the idiot customer complain or otherwise ignore your good deed.
And your fury is righteous, because the buyer is an evil troll.
For most folks, the process stops right there, with each party seething and believing they're on the side of the angels.
A world-class salesman, however, never gets into a head-butting duel when he can just as easily use empathy to see all sides of the story and thus also see the opportunities available to smooth things over… and even enrich the buyer/seller relationship.
You know how to gut the rage directed your way? You empathize.
For me, I felt the pissiness drain instantly when a single TSA employee said with utter earnestness "Sorry about all this.  I hope the rest of your trip goes really smooth."  I was disarmed of my fury, and even smiled.
And I put the experience in my mental notebook, cuz I know it'll come in handy.
Real World Lab Example #2:
While leaving the plane at our destination, I noticed that the guy ahead of was about to lose his wallet because the bottom of his back pocket had split.
No, I wasn't looking at his ass.  I was just navigating the jet-way.  There weren't any asses in that motley group of fellow passengers worth looking at.  Sigh.  Not like that time I flew into Miami in a plane loaded with a women's volleyball team…
Where was I?
Oh, yeah.  So I excuse myself to the guy as I pass, and say "Dude, you're about to lose your wallet."
He looks at me in confusion, having been jostled out of his travel daze.  He quickly puts a hand on his wallet, which is still there…
… and then levels a gaze of pure suspicion and budding anger back at me.  An immediate WTF reaction to someone talking about his wallet.
"Your back pocket's split open," I said.  And suddenly, as he felt the pocket and realized I wasn't a gloating thief, he was all thankful and apologetic…
… and feeling like he owed me a favor or something.
The difference between him thinking I was up to something no good… and thinking I was a good guy just trying to help…
Was two seconds worth of communication.
If I hadn't explained the situation — and left it at the first comment — he may have called over a cop.  With another breath of explanation, however, I was a hero.
Something to consider as you make your sales messages lean and mean.  There's a point where you can strip it down too far, and lose the meaning you intended.
And all hell can break loose if you do.
Real World Lab Example #3:
Finally… during my trip, I hung out with my grand-nieces and grand-nephew at both the hotel pool, and later at Huntington Beach.  (And yes, I went down the water slide head-first, and took a boogie-board into the surf.  The most satisfying, raw summer fun imaginable sober.)
At the pool, there was a woman sunning herself, who avoided acknowledging anyone else's presence.  A gang of alcohol-addled dudes wandered up, spoke briefly with her, and she waved them off happily as they left for more debauchery.
I decided to work my communication skills… and asked her if she was in town for a school reunion.  Because, I continued, those thugs she was with looked like buddies who hadn't partied together for a while.
That main thug, she said, was her husband.  And nope, they were from Minnesota and here for a wedding.  She just wanted to soak up some California sun while the boys pretended they were back in college again.
This woman, who a minute ago was oblivious to my existence, was now a Chatty Cathy eager to know what our story was…
… and (this is important) just laughed when I called her husband a thug.
That could have gone the other way, you know.  
But I was pretty sure I understood her situation — like a good detective (as all great salesman are), I put together multiple clues and figured out (almost) what her situation was.  And by applying my own experience with both being out-of-town for an event, wanting to do something different than everyone else (sun by the pool instead of drink beer to the point of vomiting)…
… and not minding a little conversation with strangers.
Calling her hubby a thug could have started a brawl.  But in the context — by applying the smallest amount of bonding by showing insight — it got a laugh.
This was carefully applied communication.
Later, at the beach, our group — 6 adults and 3 kids — was asked to move by a lifeguard… because a vicious riptide was dragging people out to sea at the spot we had just set up.
As we picked up our ridiculous load of blankets, towels, food, umbrellas, boogie boards and other beach paraphernalia…
… I noticed another large family just beginning to settle down.  So I went up and told the mother about the warning from the now-gone lifeguard.
She looked at me in near-despair.  And I realized that she was thinking "Oh great… NOW where do we go?"  I hadn't given her the complete story.
So I told her that the lifeguard had said the riptide eased up just past Station 6, right down the beach about 50 yards.
This simple exchange of specifics took her instantly from knowing there was a problem, but not knowing what to do next…
… to having a clear roadmap of what to do.
Essentially, I "sold" her on not being a victim to a problem she hadn't even known existed… and gave her an easy solution.
These examples may seem small, but I assure you the vast majority of your fellow humans botch it up almost every time.  They half-communicate, and cause misunderstandings and hurt feelings and suspicion.  They mumble, they're vague… and they're smug when they win and pissy when they lose.
Living life fully aware gives you communication tools that will change your life… and the lives of people you deal with.
Work on your own chops.  And never let a good chance to explore both sides of a situation go to waste.
Stay frosty,
John
P.S. All comments welcome.  Cuz I know what you're thinking…
P.P.S. If you really want to be a pro at this communicating with humans thing, check out the Simple Writing System. It's my complete formula for every kick-ass sales letter I've ever written, and now it can be yours, right here.