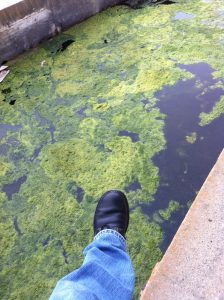 Wednesday, 9:04am
Baltimore, MD
"Don't follow leaders, watch the pawking meters…" (Bob Dylan)
Howdy.
Do you like change?
You know that most folks hate and fear change, right?  It's all so unpredictably messy, and rudely forces you out of your comfort zone.
Bleah.  Yuck.  Keep it away.
Well, guess what?  Successful entrepreneurs love change.
More specifically, they love the opportunity to alter the way things are… both within their market, and in their lifestyles.
If you're limping along on anemic sales, and suddenly a new tactic or project jacks response through the roof… that's a good change.
If you roll out a hot, fresh campaign (aimed at demolishing competition and hoarding all the market share to yourself), and it bombs… that's a bad change.
However, you can't enjoy the first without risking the second.  Which kinda defines entrepreneurship in a nutshell:  You do something, there's a reaction, and you deal with the gains or losses.
Maintaining the status quo is never a valid option in biz.  You keep moving and adjusting, like a parade negotiating twisting streets and weather changes.
You set up camp and settle in, though, and you're like the Donner Party.  I've seen many businesses eat themselves alive, trying to avoid change.
There is stress inherent in both situations.  When you resist change, the anxiety and internal turmoil builds and festers.  When you engage with change, you are constantly flushing out the bad ju-ju, keeping your system in good working order.
It's kinda like early dating.  I viscerally remember staring at the phone with Susie Q's number in my hand, completely freaked-out over the looming possibilities.  Still, it was better to dial her up, mumble and fumble the conversation and face the consequences…
… than to walk away and pretend this trial-by-hormone-fire wasn't something I had to deal with.
And I did both, over the course of a lifetime.  Engaged, avoided, sort-of-engaged, and sort-of-avoided situations loaded with consequence.  You win some, you lose more, you get a lot of ties.  (You can take this metaphor of dating-to-biz a long way, too.  I, for example, successfully asked some very attractive women out… and had epic horror-story dates.  And, my courage failed on other attempts to pick up the phone, and I later discovered — like, at the 10th reunion of my graduating class — that a truly sordid, amazing adventure in sure-thing sex had been missed.)
(That's easily the greatest danger in going to your reunions, you know.  Susie Q walks up, gives you that upside-down pity smile, and asks why you never called her, because if you had, well, OMG she would have so jumped your bones and…
… well, it's too late now, of course, but jeez, you shoulda called…)
Becoming an entrepreneur initiates an alarming increase in the number of decisions you must make in life.  Where your buddies, who are working in a regular J-O-B with The Man, can space out the big decisions and coast a bit…
… you now are faced with a never-ending To-Do-List of choices, each crammed to bursting with consequences.
If you're in business, you are not gonna get around this fact o' life.
However, here's a piece of hard-earned advice that may help you out: The most fundamental decision you need to make, as an entrepreneur…
… is simply how you're going to play the game.
It's "Step One", and everything else that happens flows directly from it.
You basically have 3 options:
1. Choose to know nothing about your market and how to succeed in it…
2. Or choose to know something about it all, and see what happens…
3. Or… and this is not a trick question, folks… you can choose to become an expert in what you do.
This includes being the most-informed and knowledgeable dude among your competitors… in what you do and how you do it.  Creating product, providing services, conducting campaigns, managing resources, building alliances, raking in the moolah and everything else that happens or doesn't happen in the successful high-end part of your niche.
I will share a secret with you, which I learned in the course of consulting with boatloads of clients over the decades:  Most biz owners never get past Level Two here — they know "something" about their market, prospects and competition… but don't go deep on any of it.
And it's fine to live in the shallow end of the pool.  Lots of company there.
But choose to do so, if that's what you're gonna do.  Don't let it just happen.
If you insist on winging it with your biz, and the stakes are low (as in, you are not investing your life savings, and you didn't quit your day job yet)… then you can come away with an experience and adventure to tell your grandkids about when the project fizzles.  No shame there.
And I've known many biz owners who escape disaster despite being pretty much complete-freaking-idiots.  They use money in place of knowledge, and hire experts to run the joint.  This can actually work, if you have enough capital to ride out the rough spots.
Again, though, just be conscious that this is your plan: To act like a spoiled rich kid, buying everything and everyone you need to get anything done.
And if that realization creeps you out…
… then make the very simple decision to become an expert yourself.  The details of doing so are easy, once you've made that initial commitment — you figure out what you know and what you don't know, and set about filling in the gaps while gaining mastery over the steps.
I haven't had to call anyone for a date in a while, since I'm in a very happy long-term relationship.  But even back in my wild-ass bachelor days, the decision to ring a lady up or not never approached the red-line anxiety of those early attempts in my teens.
Years of raw experience, trial-and-error, plus a healthy sense of humor about the absurdity of it all had turned me into a grizzled master of the process.
The hard part was just deciding to do it.  To change from being that shy kid who couldn't pull the trigger… to becoming that guy dedicated to figuring it out.  I shared notes with friends, interviewed women to get their take on the experience, read everything I could find on the subject and road-tested advice to see how if it actually worked or not.
Making that decision to just get hip changes everything.  Each fragment of info builds and sets up deeper understanding, and your mastery builds quickly when you have opportunities to implement stuff.
That's important.  Being an expert in the intellectual theory of relationships won't get you a date for the prom.  Putting things in motion is the difference between the successful entrepreneur and the info-junkie who can't let the curtain go up.
This may seem like common sense, but the actual practice of it — going deep into the mastery of what you're doing — is rare.  So it ain't so common.
And making the choice to become a master will open the floodgates of change in your life, in the best way possible.
Love to hear your thoughts on the subject.  The comment section is open.  (And sharing of dating horror stories is encouraged… surely there are further marketing lessons to be gleaned from the tales of woe we all have…)
Stay frosty,
John