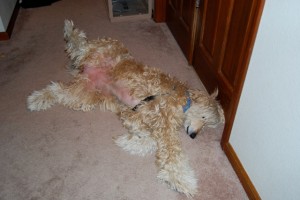 Saturday, 7:14pm
Reno, NV
"Out of 9 lives, I've lived 7…" (The Band, "The Shape I'm In")
Howdy…
I almost called this post "Web 2.oh no!"
And I know I'm just gonna scratch the surface here…
… but a few rules need to be laid down by somebody concerning this "Brave New World of No Freakin' Privacy Left At All".
Now, I've never noticed much "common sense" actually being very common among my fellow humans…
… but Jeez Louise, the arrival of social media and smart phone cameras has turned us all into ethically-challenged TMZ-level paparazzi.  No sense of right or wrong, no sense of crossing a line or going too far.
And people are gonna get hurt.
Do we need a collective and not-very-subtle whack upside the head here?  Metaphorically speaking, that is.
You decide…
Slap Some Sense Into You Rule #1: Just because you have a camera and recording capabilities on your smart phone, doesn't mean you have a license to USE it.
Yes, the rest of the world is hurtling toward a Zuckerberg-envisioned future where "privacy" will be a quaint notion that strangely only irritates geezers… sort of like how we now view petticoats, doo wop and basic manners.
However, I would caution privacy-anarchists that this "nothing you do is a secret to us" mindset is how Stalinist Russia maintained control over citizens (see also "1984", by George Orwell).
Now, what you do in your own sordid life is up to you, of course.  Including allowing basic privacy rights to be dismantled and shed.
However, as a professional, you've got to recognize boundaries.  Because there's a lot at stake here.
We may need to amend The Professional's Code.  The original (and I'm pretty sure this is my phrasing):  "You show up where you said you'd be, when you said you'd be there, having done what you said you'd do."
Now, we gotta add:  "And you won't take a freakin' photo without getting permission."
The reason I think we need this new rule is directly related to a couple of incidents at After-Hours parties during seminars.  I love hanging out with other writers and the strange breed of entrepreneur now dominating the biz world.  These cats are fun, smart, and brimming with fascinating tales of Life In The Marketing Fast Lane.
They also tend to play as hard as they work.
Which means the "insider's only" after-hours parties can look, to an outsider, like one part college dorm bacchanalia, one part Special Forces hazing, and one part Electric Kool-Aid Acid Test.
Now, I assure you that — as far as I know — the parties only look like this to an outsider.
Except for a few truly-insane individuals (who I suspect are headed for the hoosegow anyway), these after-hours celebrations are just collaborative ways to let off steam.  And share war stories with pals.  And laugh heartily and with gusto at M*A*S*H-level puerile humor.  Maybe pull a prank or two.
Okay, and maybe a little singing too loudly, off-key.  Until hotel security shows up.
The thing is, you're hanging out having fun with people you like…
… and trust.
And I'm pretty sure that snapping photos or recording conversations with the idea of embarrassing someone is a pretty basic violation of that trust…
… and rises to the level of assault when it can harm someone professionally.
Okay, fine… if you're a licensed detective out to catch a cheating spouse, you're excused, I suppose.  (And you — why the hell are you cheating, anyway, you no-good louse?)
But if you're not packing a gumshoe ID, then why are you snapping shots of anything that could be seen as compromising the integrity, or the reputation of a colleague?
And before you mimic the Google buzz-brain CEO who said (on CNBC) "… if you don't want anyone to know, maybe you shouldn't be doing it in the first place…"
… just check out the latest round of career-ending gaffes among celebs, politicians, biz owners, and innocent students.
In most cases, they tweeted or texted or said something stupid… and everyone would have long since forgotten about the faux pas IF IT HADN'T GONE FUCKING VIRAL.
You can argue that stupidity is a perfectly acceptable reason to lose your job, or your social standing, or even your self-respect.
However, one glance at the astonishment on the faces of the virally-crushed victims shows you that — minus the Web — they were absolutely not anticipating global blowback from their casual asides or what they mistakenly thought were cute posts.
We're talking about tasteless jokes from professionally-tasteless comics (Gilbert Gottfried)… clueless coeds who just need a reality check (the UCLA student who posted a rant about Asians talking on cellphones in the library)… and kids getting nailed with sex offender records for sexting each other.
And that's just in the last couple of days.
I dunno know about you… but even after multiple decades making my way through society, I still say more stupid things than smart things.
And I can think of a hundred times, right off the top of my head, where I said or did something offensive or insulting or tasteless… and immediately wished I could take it back.
That's what humans do.  Make mistakes.
Hopefully, you're doing your best to clean up your messes, make real amends (not just mumble "sorry, dude"), and strive to become a Zen self-actualized person.  So you limit the damage you do caroming off the culture as you blunder along the best you can.
Just keep the Golden Rule in mind at all times, if you get confused about the appropriateness of what you're about to share on the Universe-Wide-Web:  Do unto others, as you would have them do unto you.
And if you really, really, really don't care if that shot of you picking your nose goes viral…
… because you have no boundaries or sense of privacy…
… then at least get in the habit of asking people if it's okay to take a photo or record a moment.
And take "no" for a final answer, dude.
Slap Some Sense Into You Rule #2: Self-inflicted idiocy is not permission to pile on.
The 3 examples I used above are all of tweets, posts and texts that were voluntarily launched into the ether.
In our freshly-soiled world of TMZ-paparazzi-rules, you're ripe for public flogging and humiliation if you do nothing more than step into view somewhere.  Or "allow" yourself to be caught by a camera (with or without audio).
So self-inflicted embarrassment offers no immunity at all from global shunning.
Nevertheless… at the end of the day, you — as the person helping something go viral — gotta live with yourself.
One of my favorite ways of dealing with assholes is to remember that I can walk away and get on with my life…
… while the asshole has to go home, go to bed, and wake up as the same pathetic loser jerkwad he was the day before.
So while he may have won a skirmish with me, overall he's trapped in a living hell.  I wouldn't want to spend 5 seconds inside his skin, dealing with whatever demons have made him such an insufferable wanker.
What's this got to do with forwarding a photo?
Think about it.
A real pro doesn't just consider the stuff he might get caught doing.  He also cares when it's simply a matter of anonymously doing the right thing or not.
There IS karma in this world.
And even the smallest act of piling on makes you guilty as hell when someone gets hurt.
Slap Some Sense Into You Rule #3: "PWC".
That means "Posting While Compromised".
Don't do it.
Like angry emails, the best advice is to get cold before hitting "send" whenever your inhibitions have been doused with liquor, strong emotions, or anything else.
Just don't do it.
What may seem like just the coolest friggin' thing to post on your Wall at the moment…
… is — if you're pickling your brain — probably not cool at all.
And you shouldn't be sharing it.
Tomorrow, looking at it with a clear head (but blood-shot eyes), you still have oodles of time to post, hit "send", or upload.
We shouldn't need basic rules like this.
But the evidence shows we do.  Especially as professionals trying to have a little mildly-inappropriate fun after working hard to create solid, ethical and high-quality deliverables under deadline.
A very old, and very excellent piece of advice for living well is:  "Dance like nobody's watching."
It's a metaphor for living life on your terms, not somebody else's.
It's just damn hard to pull off when you realize there are fifty cameras aimed your way, ready to immediately upload hilarious evidence to the cloud if you screw up.
And here's a note to Zuckerberg: You're gonna miss your privacy when it's gone, dude.
Hey — you got a different take on all this?
Let's hear it in the comments.
Stay frosty,
John