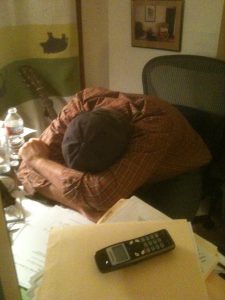 Saturday, 2:33pm
Reno, NV
"When I look back on all the crap I learned in high school, it's a wonder I can think at all…" (Paul Simon, "Kodachrome")
Howdy.
Someone recently asked me to offer a clue on how to nurture critical thinking.
It's a fair question.  And while I'm no neuro-scientist, I talk about critical thinking a lot, because it's the foundation of great writing, killer salesmanship, and engaging the world with your throttle wide open.
However, it's not an easy subject to grasp if you've seldom taken your brain out for a spin around the Deep Thought Track (as most folks have not).
So let's explore it a little bit here…
Critical Think Point #1:
Yes, I know the headline on this article is a grammatical car wreck.  It should be "how to think critically", or at least "how to critically think".
But this botched phrasing is actually part of the lesson I'm sharing here.
Consider:  The vast majority of people sleep-walk through their lives and careers, never going beneath the surface of anything.  They process, at most, a small fraction of the information they see, hear or read about.
It's pretty much GIGO.  Garbage in, garbage out.
So the first job of any good marketer is to deliver some level of brain-rattling wake-up call for the prospect.  To literally jolt them out of their semi-permanent reverie, and initiate a more conscious state of awareness.
---
Have you taken the Pint 'O Beer Ad Challenge yet? If not, you're missing out on some killer marketing know-how. The best part is you can sign up absolutely FREE right here.
---
Cuz you can't expect a somnambulant zombie to be proactive about following through with your request for buying something.  Or opting in.  Or even just continuing to read.
Thus:
Good ad writers make full use of the incongruous juxtaposition of compelling sales elements.
Or, for short, the "hook".
Ideally, you want the induced "WTF?" reaction strong enough to unleash a splash of adrenaline, or even physically make 'em bolt up and take notice.  (As in, "That can't be right! This violates my entire sense of what's real!")
However, you'll also take a milder reaction, as long as you get a reaction.  And a little slang, or some nifty grammatical tweaking can sometimes do the job.
Now, a word of caution: To jumble up common phrases or to use slang in something important for your bottom line — which is the definition of any ad — requires you to consider the consequences.  And to completely understand the reactions you're going to trigger.
This should be an easy step for any marketer.  Just think about your audience, and get in touch with how they're going to receive the message you're sending out.
And yet, most marketers just won't do it.  They base expensive, long-term campaigns on vague ideas of how the message is gonna resonate (or not resonate) with prospects.  It's not even "ready, fire, aim".  It's "just throw it out there, and pray it works."
So the first step to developing a "critical think" mindset: Start walking a mile in the other guy's shoes.  Really consider what your prospect's life is like, what fuels his movements in the world, why he does what he does.
You can't do this casually.  You've got to elbow your own ego and belief systems aside, and deflect snap judgements before they take hold.
---
Looking for even more FREE tips to keep your mind and marketing skills razor-sharp as we enter the age of bots and artificial intelligence? Then hurry up & get on my email list already. Sign up here.
---
Critical Think Point #2:
In short…
… you've got to start thinking like a salesman.  And see your prospects (and the world in general) not as you wish they were…
… and not as you believe they should be.
Instead, you start looking at people and things as they ARE.  
The raw reality, minus all spin.
Opinions, common sense, long-held beliefs, even principles and convictions…
… it all has to run the gauntlet of your internal Bullshit Detector.
This includes both the other guy's actions and thinking behaviors…
… and your own.
You gotta clear your brain of a LOT of nonsense before you can even begin to approach the "truth" of any situation.  
As a human, your default setting is to believe that your thoughts, actions, codes of honor, and beliefs are the real deal.
And you measure everything else against that rock-solid bastion of truth and goodness that hogs all the attention in your mind.
So, first: Realize that the other guy has the SAME default setting.
He is positive beyond question that he's right, and you're an idiot.  Just like you were thinking how much of a moron he is, and how lucky you are to be so righteous and close to the "real" truth.
This gets heavy, quickly.
You also need to run your instincts (and gut feelings) constantly through your BS Detector, especially when you start out…
… because we're all front-loaded with piles of unchallenged assumptions, erroneous notions you mistakenly think is "common sense", and vast rivers of lingering Big Lies and propaganda that has been fed to you for decades by teachers, the media, your parents and The Man.
Basically, you just gotta get over your bad self… and then get past the surface layers of the market you're in (and all the people populating it)…
… and get clear on how people actually behave and act.
For example, they will SAY they always buy "quality" over cost, when asked…
… and then consistently choose bargain-priced crap over the slightly more expensive well-made stuff when it comes to opening their wallet.
That's just the tip of it, but it's a clue.
When you start adopting critical thinking, you are scuba-diving deep into the seldom-explored hidden realities of The Adventure Of Humans In The Asphalt Jungle (otherwise known as The Big Soap Opera We All Live In).
You can no longer be like the typical oblivious neighbor of the recently-caught serial killer, who always says to the TV crew "He seemed like a regular guy… kinda shy, I guess, but he kept the yard looking nice…".
Oblivious marketers get eaten.
Critical Think Point #3:
Finally (for this session, anyway)…
… start actively re-examining everything you read and hear.  (Everything, including news articles, data, info-rich books, email, all of it.)
Here's a simple trick: Re-word what you read if you aren't "getting it".  You can do this in your head, or write it down if that helps.
When I wrote "critical think" instead of "critical thinking" for the title of this article, I was reconstructing a common phrase that usually goes into one ear and straight out the other.
Tweaking common language is like a big stop sign for your brain.  
Try it, next time you're reading something you feel is important.  Reconstruct the concepts, sentences, and ideas into new language.
Have fun with it, too.  Consider how the concept might be interpreted in street slang, or translated for an 8-year-old.
Force your brain not to just be a passive "intake bucket"…
… but to examine stuff to the point that you can rephrase it without losing the meaning.
Even if it's nonsensical.  (In fact, you'll remember nonsensical phrases better, because they're strangely memorable.  The first poem I ever learned, which I still remember, was from a Roger Miller song: "Roses are red, and violets are purple, sugar is sweet and so is maple surple."  Memorable.)
To sum up:
The initial steps of developing some critical think chops are…
1) Wake up and start thinking like a salesman.
2) Tune your Bullshit Detector up to high, permanently.  Use it on yourself, first, and then blast the rest of the world with it as you go.
3) And, practice absorbing info to the point of being able to translate it into something an 8-year-old would understand.
We'll explore #3 more later.  The act of deconstructing ideas and plans and sales messages is THE main tool in any good marketer's kit.
For now, let's hear if you think I've missed something with these first steps.
Cuz part of being awake is to take your ideas out for a walk in the cold, cynical world every now and then, and invite pot-shots.  See if the little buggers can withstand scrutiny and abuse.
So have at it in the comments.
Stay frosty,
John
P.S. I'm wondering who's gonna be first to name that Roger Miller song?
P.P.S. You'll find a whole lot more valuable resources where you can immerse yourself into timeless marketing principles right over here.