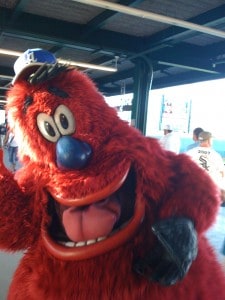 Wednesday, 11:56am
New York, New York
"Truckin', like the Doo Dah man…" (Grateful Dead)
Howdy…
Sorry for the little vacation here from the blog.  I've been hunkered down in "launch mode", on the road, and ministering to various biz projects…
… all of which have messed with my "sit down and write, dammit" time.
I'm actually handwriting the first part of this post in a hotel room, just before heading to La Guardia to fly home after a week in the Big Apple.  (Those of you following me on Facebook may have seen pics of the dispicable weather display we braved to watch the Jets b-slap the Vikings on Monday Night Football.  We spent 4 solid days in meetings, while the city basked in perfect Fall splendor… and the one time we ventured outside, thunder and lightning and a deluge of biblical size dumped on our sorry asses.)
(Still, it was worth the drenching.  Great story to tell whenever anyone needs one-upping on weather disasters…)
By the time you read this, I'll be back in exciting Reno, catching my breath.
I am one bone-tired road dog, I'll tell you what.
And I can't wait to be sitting back at my cluttered desk, writing.  Dammit.
So…
… quick post here, just to get the blood moving again.
I was thinking about this subject while reading up on the gossip whirling around the online entrepreneurial community.  It's starting to jive with the blistering political attacks dominating the mainstream news cycles…
… and it's scary.
The details of the gossip don't really matter.  Rumors come, rumors go… same as political movements and all other fads and moments of temporary insanity.
But there is an overriding theme here that will never go away:  A rabid distrust of intellectualism.
In plain English:  Americans are suspicious of folks who claim to be "the smartest dudes in the room".
Now, I understand the righteous anger many people feel toward the high-paid quasi-felons in our culture — arrogant Wall Street psychopaths… brainiac political wonks… pundits and guru's who seem to enjoy talking down to people who aren't hip to their insider privileged knowledge… and anyone who sneers at you because they deem your opinion to be dumb.
But here's the thing:  I've spent decades hanging out with idiots and geniuses…
… and I can tell you there is both real wisdom in simplistic worldviews, and real doofus-moron-dipshit cluelessness in Mensa-type thinking.
And vice versa.
In other words… smart isn't always smart.  And dumb ain't always dumb.
Where folks get confused, I've found, is in figuring out the intellectual credibility of the other guy.
This took me years to figure out, and it might help you, too… when you're trying to judge whether someone deserves your attention or not.
Here's the breakdown of what I've learned:
Intellectual Credibility Factor #1: Some people arrive in life front-loaded with raw intelligence.
They have a high IQ, a bloated cerebral cortex, feisty synapses, or whatever it is in the brain pan that allows a small percentage of the population to excel at thinking about complex stuff in ways that leave the rest of us gasping in awe.
Intellectual Credibility Factor #2: Some people gorge on education.
They are walking libraries and resource centers on facts and figures and historical implications.
Intellectual Credibility Factor #3: Some people earn street-level savvy from serious time in the trenches.
No theory for these dudes.  They know what they know, because they learned it from doing it.
Intelligence.  Education.  Street savvy.
Which do you think wins out in the game of life?
Go ahead, think about it.  And think back on the times you've encountered someone you either wanted to trust, or had to trust…
… and how you decided to move ahead, based on your assessment of their brain/resume/experiential mojo.
I'm betting a lot of readers here would pick "savvy" as the most important.
And I'm here to tell you that I've known street-wise guys who — within their world — could absolutely demolish any outsider.
But the key words there are "within their world".  It's way too seductive to believe that because you're a stud in one area of life… say, in a specific market or business model…
… then you will be just as studly in any other area of life you choose to invade.
And it's just not so. Surgeons who fearlessly root around people's essential organs, saving lives and kicking butt against disease… are often the most vulnerable patsies to financial scams.  Wildly successful biz owners get their heads handed to them when they venture into politics.  Sports heroes can't keep a decent relationship together.
Just for example.
One the primary things I look for when consulting with clients is how much ego they have invested in their personal myth.  If they believe they "should" succeed at something, because they've succeeded at something else…
… we got problems.
Same with raw intelligence.  For whatever reason, many of my closest friends growing up had IQs in the stratosphere.  They chewed through school like a tiger devouring prey, and I marveled at their capacity to think Big Thoughts.
However, not a one of them has accomplished much in life.  Several are struggling to make a decent living, and they're really trying, too.
I remember a study many years back — can't find a trace of it on Google right now, but it was a big conversation point for a while in the late 80s — that claimed the "ideal" IQ for an entrepreneur was somewhere above average and below Mensa-level.
It's easy to see why you'd need a certain level of intelligence to comprehend being in business.  It's less easy to see why more brain power doesn't translate to more comprehension.
What I've seen in my friends is that too much IQ-wattage muddies practical thinking.  It's not even getting bored with the day-to-day necessities of running a biz… it's more like an inability to see the simple path to success.
I'm not saying that you're doomed if you're super-smart.
It's just not a guaranteed Ticket To Ride to the good life.
Same with education.
One of the core pieces of advice we give to budding entrepreneurs…
… is to STOP educating yourself at some point.  Often, you don't need to read another book, or take another class, or get another degree.
Instead, what you desperately need to do is put what you already know into ACTION.
I'm a voracious reader.  I will never stop the self-education process, and there are parts of my college years that still come in handy.
Nevertheless… there were only 3 books that fueled my own launch into the entrepreneurial world: Think And Grow Rich (Nap Hill)… How To Win Friends And Influence People (Carnegie) (also known as "the salesman's bible")… and Tested Advertising Methods (John Caples).
All other books — while still providing insight, advice, new skills and useable tactics — were just sub-categories of those three.  My self-education was transformed instantly when I discovered those classics.  (Published originally in the 30s and 40s, no less.)
The Big Dog entrepreneurs I've worked with shared a common idea about over-educated biz experts.  The joke was that you could hire someone with an MBA (a master's in business)…
… but they wouldn't be of any use until after you knocked the nonsense out of them.
No.  Education alone can just load you up with stuff you can't (or won't) put to use.
Intelligence, alone, can turn simple implementation strategies into obstacles.
And savvy, alone, can blind you to new realities.
The best place to be?
Having all three in the mix, of course.
This seems like one of those "duh", super-obvious observations, doesn't it.
And yet, I'll tell you that the MAJORITY of clients I've counseled and worked with over the years have been befuddled by it.
It's natural to look for partners, colleagues, advisors, friends and allies who bring something essential to the table.  And to search for the voodoo fueling the success of your competitors.
For me, judging credibility finally made sense when I realized how intelligence, education and savvy all fit together.  The combo is not a guarantee of success…
… but it sure puts all the right elements in your favor.
The remedy for fuzzy thinking remains simple:
a) Wake up. Examine your life, and soak up reality.  Use critical thinking to learn from your successes and your mistakes. (Critical thinking is nearly a lost art in modern business.  Putting it to use can instantly erase any lack of measurable intelligence.  A frosty, hyper-aware and open-minded person trumps "genius" every time.)
b) And then apply what you've learned, as you build up experience. Theory stops when you start actually trying to create results.  Drop all bullshit belief systems that hold you back (like magical thinking and anti-intellectual bias).  "Truth" may be hard to nail down in this complex world, but "reality" in business can be measured in results and resilience in the market.
c) Read. You are responsible for your education… and it's your job to go outside the box to get the good stuff.  School is fine, as far as it goes.  Devouring libraries and interviewing experts and going deep with research (by never allowing any single book or author to define what you know about any topic) is infinitely better.  But do your reading while you…
d) ACT on what you discover and learn. You don't win by having the most books on your shelves, or the highest tower of notes on your desk.  Implementation is King in business.  Movement is rewarded in the universe.
e) And a little mentoring can trigger massive leaps in figuring shit out.
The goal is to be intelligent, educated, and savvy.  These elements moderate, boost, and compliment each other.  Without all three, there are gaps in your ability to get stuff done.
Part of allowing reality to govern your pursuit of goals is to counter-act the limitations that come with intellectual isolation.
Alone, we all start obsessing on our faults.  We all have moments of doubt (sometimes looooong moments of it)… we all screw up… we all are blind idiots at times.
If, in your head, you have some BS belief system cooking that insists you're a terrible person for fouling things up occasionally… or you're unworthy of success… or you're being punished for some vague trespass earlier in your life…
… then part of your education is to corner that belief system, beat it to a pulp, and bury it somewhere it will never crawl back from.
If you're scared because you keep encountering situations where you don't know what to do next… then building on every moment of experience you have, and learning from it, is what constitutes the kind of savvy to be competent and confident.
Be eager to attain competence and confidence, but don't panic while you're in the process.  Be patient, and keep pushing.  The tipping point will arrive sooner than you ever dreamed possible.
And if, while examining yourself, you come across gaps in necessary knowledge…
… go forth and fill those gaps in.  With coaching, mentoring, specific courses or books or memberships… whatever makes sense and gets it done.
The "knock" on Internet information marketing is that too many people are trying to make money pedaling lame info.
That's one way to look at it.  Focus on the bogus shit out there, and smear the entire market as worthless.
The other way to look at it…
… is to marvel at the abundance of legitimate knowledge, insight and personal access to mentoring available.
Yes, there are charlatans in abundance.  So what?  Life is a smorgasbord of choices, some bad, some so-so, a few that are spectacular.
Put together what you've got, fill in what you need, work the system for more and better experience as you continually examine the entire ride.
Get hip, get knowledgeable, and use the intelligence you have.
No?  You don't agree?
The comments are open for ranting, opining, and arguing.
For those of you who missed me while I've been gone, it's nice to be back.
For those of you complaining that the blog went a couple of weeks with no action (yes, I read your "crickets chirping" comments)… well, just remember that this is a FREE fucking blog, okay?
And I missed your belligerent musings, too.  Seriously.  One of the great things about this blog — and what keeps me coming back for more — is the interaction in the comments section.
The threads that sometimes get going here are just mesmerizing and evil raw fun.
So have at it.
We'll do another Quiz soon, too.
Hope you're enjoying autumn.  My favorite season, you know…
Stay frosty,
John