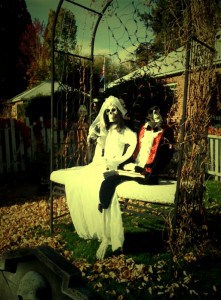 Saturday, 2:35pm
Reno, NV
"Rommel, you magnificent bastard! I read your book!" (Gen. Patton, ambushing Nazi's before they could ambush him)
Howdy…
Early Halloween memory: I'm getting ready to go extort candy from the neighbors with my older sister (cuz while I'm starting to suspect that Santa Claus ain't real, I'm still pretty convinced that ghosts and witches are out there, thus requiring a bodyguard)…
… and, putting my worldly experience to work, I choose the biggest bag available to carry my haul in.
Dreams of endless sugar-rushes have my 5-year-old brain twitching like a junkie as we join the throngs of vandals and kids outside, and I'm raking it in.
However, just before calling it a night and heading home, I realize that my bag was a little TOO big… and I'd been dragging it along the ground, and all that glorious booty had fallen out in the street somewhere behind me.
The horror.
It was unfair.  It violated every code of how kids should be treated by the universe that I knew about.  It was a memory-scarring traumatic event.
I felt…
… cheated.
And I'm pretty sure that was my first lesson in empathy.  Because it sucked to feel like I'd been cheated out of something.
Sucked, sucked, sucked.  I'd headed out that evening snickering to myself about being so clever with the big bag… and… and…
Well, I can't even talk about it anymore.  It's just too painful a memory.
And from that moment on, I have nodded in solidarity and sympathy whenever someone else was cheated.  "Yeah," I'd say to myself.  "Been there."
In fact, there are three lessons here:
Losing All Your Candy Lesson #1: No one wants to be cheated.  The burning shame and humiliation of realizing you've been gypped, or taken for a ride, or fooled never loses its intensity.
In fact, I think it gets worse as you get older.
As a kid, you cry and sink into despondence.
As adults, folks have been known to even scores with violence.  (Think "road rage"… cuz someone soiled your honor by cutting you off in traffic.  You want 'em dead.  Doesn't matter that they're a nice little old lady who just didn't realize she pulled out in front of you.  The complete and utter Wrath Of God wouldn't be punishment enough for their trespass.  Grrrrr…)
Here's how this manifests in marketing: Perhaps the biggest, baddest, and most hard-to-beat obstacle you will encounter when trying to persuade someone to take you up on your very fair, very generous, very drop-dead bargain of an offer…
…. is that many people would rather miss out on a killer opportunity…
… than risk being cheated.
All the wonderfulness of your completely ethical, over-delivered and super-cool product…
… is no match for even the remote possibility of being pitied, humiliated or laughed at by a spouse, gloating buddy, or asshole neighbor.
This is why good salesmen spend so much time shoveling benefit-laden sound bites into pitches.
You need to "arm" your prospect with simple, memorable come-backs that deflect the hail of shame he fears might be tossed at him.
Because, you know, it's no secret that ALL advertising is bogus bullshit, and anyone who buys anything online is a fool, and I cannot believe you FELL for that marketer's obvious nonsense.
What're you, a complete sucker?
This is why "the more you tell, the more you sell" remains such valuable advice.
Let prospects know what other people's experience was after buying.  Confirm your credibility with endorsements, and make each feature come alive with benefits that resonate and nail the sweet spots of raw need.
Help him put the price in perspective, by clearly explaining how your offer stacks up against other options and the competition.  Tell him what to expect in terms of results, and when to expect them.
Give him a well-lit road-map to follow to get moving as quickly as possible.  If it's a bargain, tell him why.  If it's an investment in his success, tell him why.  If there are risks, tell him what they are, and how he can mitigate them.
If there are flaws, reveal them.  It will only make your case stronger by being honest and forthcoming.
Make your guarantee shockingly generous.
Pile up the bonuses so the bargain is both real and tangible.
In short… BE that marketer you wish other biz owners would be when you deal with them.
Heck… if you can, arrange it so YOU'RE the one at risk of being cheated.  You take all the risk.  You over-deliver.
You give him every opportunity to take advantage of you… and rely on the strength of your product or service to convince him (through action and results) you were worthy of being given the chance to prove yourself to him.
Give him the unfair advantage in this deal.  Allow him to realize, on his own, that this really is a smart shopping decision and a genuine not-to-be-missed opportunity.
Losing All Your Candy Lesson #2: Don't expect "logic" to win the day.
People are so sensitive to being on the losing end of a humiliating experience, that they will spin facts, truth and reality to back up their actions.
Everybody spins.  You spin.  I spin.  Mother Teresa and Ghandi spun.  We spin to our good friends, to our enemies, to strangers, lovers, pets and inanimate objects.  ("C'mon," I've said to my car on a cold morning.  "Start, just start today, that's all I ask… and I'll wash and wax you and spit-shine your chrome and…"  Total spin.  I've never waxed a car in my life.  I just want the damn thing to start.)
But the biggest spin of all… is the spin we deliver to ourselves.
That's why I chose that quote from Gen. George Patton up top.  He was a student of The Art Of War, and also devoted to the idea of "honor" among combatants.
So when he learned that Rommel was going to ambush him, he snuck his tanks into the desert and ambushed Rommel first.
In the movie, this comes right after a big Patton-esque blowhard speech about him wishing he and Rommel could just duel it out alone, the two of them shaking hands and then fighting… and whoever won, won the war.  Very honorable.
Then he goes out and ambushes the dude.  And is near-orgasmic as he crushes the Nazi columns.
Everybody wants the best possible deal.  Everybody.
And that makes it logically impossible to create a deal that satisfies everyone…
… UNLESS you know how to enable the other guy to spin things inside his head so he believes he scored huge.
Truth is often a casualty.  I remember, long ago, witnessing another musician selling his guitar to someone he knew… these guys KNEW each other… and the axe was worth ten times what he wanted for it.  But still the buyer negotiated hard, working him down until it wasn't even a bargain any more… it was financial slaughter.  But the seller needed the bread, so the deal went down.
And both guys worked it out in their minds that it was fair and satisfying.
You have to just let go of logic when you're finalizing a sales process.  A genuine good deal will be ignored if the prospect cannot square up the price and value in his head, outside of rational equations.
Smart salesmen know that you can obliterate every obvious objection in a prospect's mind, and still lose the sale…
… if you somehow miss what may be an unconscious objection that defies logic.
This is why the great copywriters have always shoveled massive payloads of bullets (explaining feature-benefit stories) into pitches.
You just never can predict which bullet will trigger that "Okay, what the hell, let's do this deal" response.
Losing All Your Candy Lesson #3: It should be abundantly clear by now that people will often act against their own best self-interest.
Salesmen have known this for ages.  So have politicians.
Academic types who study this stuff have proven, over and over, that people will consistently avoid immediate loss or pain… even at the expense of long-term gain (in health, finances, love, all of it).
Pay attention to this: You may have the most generous offer in the history of business, a killer bargain that will have your accountant yelling at you for giving away so much…
… and you can lose the sale if your prospect feels any kind of discomfort or pain — even a slight twinge of it — at the crucial moment of decision.
Humans are just perverse creatures.  Built for the jungle, but scurrying around society and civilization constantly at war with our own brains and desires and fears.
I've seen great products bomb and wonderful businesses wither and die…
… because no one understood how to deliver a sales message that dealt with the screwy suspicions of prospects.
We're ALL vulnerable to this stuff.  Knowing that you're being illogical about feeling cheated won't stop the feeling.  (As an aware, frosty Zen-type dude or dudette, of course, you will nevertheless confront these cockeyed distractions… but that's another story, for later.)
For now, don't judge yourself or your fellow humans.  We're quirky, but still lovable and fun (when not in full-on "road rage" mode).
As a marketer, just pay more attention weaving a message that can help your prospect feel illogically okay about pulling out his wallet.
Hope you got to keep your candy from trick-or-treating this year.
Stay frosty,
John
P.S. Side story: I come from a family that looks hard for the "best" deal out there on everything they buy.  My Pop's standard-operating-procedure, in fact, is to spend 6 months researching what he wants… buying it at a bargain so severe that tears well up in the seller's eyes… and then continuing to research for another 6 months after buying, just to make sure a better deal didn't get past him.
You gotta admire that kind of dedication to a bargain.
What's your story about being cheated? We all have them, and they set the tone for our adult objections to buying stuff.
Comment section is open for business…
P.P.S. Almost forgot… anybody remember where the title to this post (Dewey, Cheatum & Howe) comes from?
Seriously, guys.  Somebody should nail this precisely (without resorting to Mr Google, either, which is cheating)…