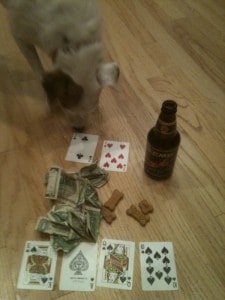 Sunday, 9:08pm
Reno, NV
"Hit me.  Hit me again.  Again.  Arrrgh…" (Blackjack dude going down…)
Howdy.
One of the truly fun parts of being in business are the Life Lessons you get to learn.
Or, rather, you're forced to learn (if you don't want to spend your career blundering down the same blind alleys time after time).
Early on, I took notice of the various quirks people exhibited running a business… especially the entrepreneurs, who were unencumbered with the rule books that franchise owners and traditional corporations worked under.
Now, you'll see startling examples of strangeness in any group of humans, doing anything, anywhere.  So the first lesson is probably to acknowledge that reality…
… and stop pretending we're a race of logical, rational, functional beings going about the business of running a civilization efficiently and sanely.
We're not.
And savvy, experienced biz veterans survive by learning to work within the limitations that come with dealing with other humans.
It's actually one of the more fun parts of entering the biz world, once you get a handle on the basics of how spectacularly humans can screw something up.
Don't get me wrong — I love people.  But I love them in spite of their near-consistent tendencies to botch things completely.  (I'm by no means above the fray).  (No one is.  Scratch the surface of the most "together" person you now, and you'll find evidence of shocking weirdness.)
The reason little insights like these are so awesome, is that they can help you stay balanced… especially as deals go down and projects catch fire.
Some of the better lessons are cliches… but you've got to remember that they ARE cliches because they're on-target (even though they may seem counter-intuitive).
For example, just yesterday I got to re-learn a fundamental lesson I've had to re-learn over and over again through the years:  No Good Deed Goes Unpunished.
Especially in business.  When you bend over backwards to help someone out… do not be surprised to have your selfless actions come back to bite you in the butt.
(In this latest episode, I over-delivered like crazy during a consultation with a rookie marketer… and just piled on the excellent advice, even dictating the exact copy he should use on his website.  Results: He asked for a refund for the consultation.  Just couldn't fit all that primo advice into his newbie brain.)
(It's like the old joke:  A woman approaches a firefighter who is drenched, shivering and huddled in a blanket.  "Are you the man who jumped into the freezing river to save my little boy when he fell through the ice?" she asks.  He nods.  And she says "Well, where are his mittens?")
Another nugget: When you're dealing with a client or potential biz associate…
… and he says "Money is no problem"…
… then you may rest assured that money is VERY much a problem.
In fact, every single time I've heard this comment uttered in my direction, it has been an omen of financial chaos to come. (And I've been doing this for decades now.)
To an experienced shrink (or an experienced cop), this is barely shrug-worthy, as far as revelations about human behaviors go.
Heck, ANY definitive statement offered by someone during a conversation with money on the line…
… elevates it to standard "mirror image" doubt.  (Fair warning given to freelancers, consultants, potential affiliates, people on the dating scene, and anyone making a bet: Take absolutely nothing said at face value in any conversation concerning moolah…
… and it's a good starting point to consider the very real possibility that the opposite is true.)
People fudge the numbers in almost every instance when their ego or self-image is in play.  When discussing income with Players, you can pretty much cut any initial number offered up by the other guy in half, right off the top.  (When discussing past sexual partners — so I've been told — you can divide what a guy says by 3, and multiply what a woman says by 3.  Is this true?)
None of this means you get to run around yelling "GOTCHA!" at people, and challenging them on fiscal data (or intimate scorecards).
Not at all.
Rather, like a good poker player, you just keep your own math and your own insights safely inside your head…
… and do what you can to verify.  (That was a clever Bill Clinton phrase: "Trust, but verify".)  (And he was talking about nuclear weapons treaties, I believe, not sexual dalliances.)  (It's still a great operative phrase when you're in a situation where you need to trust the other guy at least a bit in order to move ahead with the deal.)
Ah, poker.
Here's the big insight I just re-realized while watching The World Series of Poker (which got me going on this blog post in the first place):
I love poker.  First, it's a game of chance with multiple layers of skill, and that appeals to me.  Second, there's a HUGE amount of psychology to the higher levels of play…
… and that fascinates me.
Third: Like many things, poker is a sweet little drama that mimics life in general.
Winners and losers… hopes and dreams (both the crushed and realized types)… risks and rewards and dangers and traps… the glory and the agony behind every shuffle.
And not all of the insights are subtle, either.
In fact, the most FUN stuff is way up there with Shakespearean tragedy.
In the opening sessions of the 2010 WSP (on ESPN, and thanks, Chad, for keeping it interesting), we have been treated to SEVERAL of the so-called "best players in the world" getting bitch-slapped by Lady Luck.
It's worth stalking the reruns to see how this plays out in real time.
And just like the wise dudes long ago noted, "pride goeth before a fall".
You see these poker stars start out cocky (as well they should be, since they are the best in the world, and the rest of their tablemates are mere mortals).
Then they get rueful, as the losses mount… but they don't panic.  Yet.
Instead, they double-down on their cockiness…
… and slip ever-so-gently into what card players call "Full Tilt".
Often within a very short period of time, the cockiness is replaced by a seething rage…
… rage at the other players, at the universe, at the cards, at everything within reach.
And once in the damp, nightmarish embrace of a Full Tilt, they go completely bonkers. And start betting wildly and inappropriately, acting much like King Canute ordering the waves to stop breaking on the shore (good luck with that, Kingie)…
… actually challenging the cards to go against Everything Good And Right (which includes them, because they are the best in the world), which of course the cards would never do, right, because, really, the only fair and correct outcome here is for me, the Recognized Poker Hero, to overcome the odds that afflict lesser peasants and win, win, win…
It's great theater watching the Full Tilt boogie in action.
Big ending, usually, too, with tears, the thrashings of now-impotent rage (cuz all their chips are gone), and that loooooooooong walk across the floor (with ESPN tailing you) to the Loser's Exit.
The first time I saw this in a poker tournament, I instantly realized how RELEVANT the entire Full Tilt menu was to business.  And politics.  And even interpersonal relationships.
The one big certainty that the "best" at anything tend to forget… is that when you're still playing, you're only as good as your last action.
The best copywriters, entrepreneurs, marketers, affiliates, launch managers, deal makers and heart-breakers in the world…
… can, and do, fail on occasion.  There are no guarantees in life, ever…
… and resting on your laurels is probably the WORST "action plan" you could have going into a project.
The most vicious humiliation I've ever witnessed was hearing a legendary marketer reduced to explaining to people how good he was… despite the little disaster he'd just engineered with his lazy cockiness and refusal to perform the due diligence required of the job.
NOBODY gets rewarded in this world because of "who" you are.
Nope.  Right up until that last shuffle before lights-out, you are only as good as the way you play the game in front of you.
Veterans talk so much about self-awareness — and a general Zen-like attitude to dealing with life — because it's the only defense against going on Full Tilt you've got.
Those pokers players do it, every year, like clockwork, on TV during the biggest games of their careers…
… because they're only human.
And it is our nature, as humans, to fly off the tracks under stress.
However, it is NOT your "destiny" to go on Full Tilt.  It is one of many options we can choose to take.
It's just that, unless you understand yourself on a deep level, you won't realize you HAVE a choice when the weirdness descends and your brain goes "boing, boing, boing".
Pay attention.  Learn your chops, get good at what you do, and soak up everything you can from the grizzled guys with experience.
And heed their warnings.
Cuz the next dance on your card may be one nasty little boogie.
I dunno.  What do YOU think?
(And isn't that just the cutest damn photo up top you've ever seen?  Get it?  Dogs playing Texas Hold 'Em poker with milk bones?  Staying in on a 2-7 against a blossoming royal?
Man, it was tough getting the little darlin' to pose for that one…)
Stay frosty,
John
P.S. Just a reminder, too… that I'm speaking at James Schramko's spectacular Web-focused seminar down in Sydney, Australia, in a few weeks.
I'm recommending you check it out, even if you have no intention of flying to Oz to catch the fiesta.  Click here for more info:
Your Excellent Australian Adventure

Schrak still has lots of awesome free videos up on that site (including a sizzling interview with me) on the truly essential secrets of making a biz work online these days.  (Cuz, you know the entire marketing scene has been going through earthquake-level changes for months now… and will continue to mutate until the ONLY way to really make the Web produce for you will be through the resources you discover now, during this period of adjustment.)
And if you can make it, do it.
The best resources you ever have will be the network you develop with like-minded entrepreneurs… especially those who are adept at making the fundamentals work (so you're never dependent on gimmicks or fads or schemes where you're a slave to anyone else).
That's why I'm headed down under.  I had zero hesitation when Schrak asked me to attend.  This is the good stuff.
Just check it out.  There's no obligation or anything.