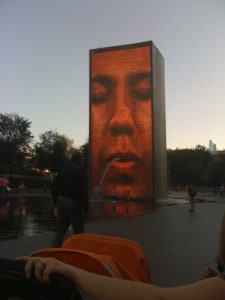 Friday, 1:48pm
Reno, NV
"Bring me the sultry wench! That one, with the fire in her eyes!" (Trapper John, M*A*S*H)
Howdy…
One of the single most important lessons I learned early in my career…
… a lesson so critical to success that I can easily say it's been worth a million schmackeroos to me…
… is something almost no one wants to hear about.
Like drowning men refusing an offered hand to be pulled into the boat… I've gotten used to seeing people stare back in horror and bolt out of the room when I've tried to impart this lesson to them.
Can you guess what I'm talking about?
Of course you can.  I put it in the freakin' headline.
If you're not enjoying life… or not experiencing the kind of success you feel you deserve from all your hard work…
… you probably don't have to look far to find the culprit behind your misery.
It's you.
Actually, it's your ego.  Which most people believe is who they are.  And you can live an entire existence trapped inside this illusion… from cradle to grave.
And never realize the prison you've encased yourself in.
I was very, very fortunate to stumble onto this lesson early.  The smidgeon of psychology I'd picked up in college alerted me to the ways humans "perceive" the world.
It's natural to believe that everyone sees the world  the identical way it "looks" to to you.
This is what causes most of the arguments in bars and marriages.
It's also what causes business owners to screw up "sure thing" sales with prospects.
This perception thing was immediately obvious to me.  I'm red-green color blind.  Throughout my school years, it was made abundantly clear to me that I wasn't seeing things the same way others did.  (In kindergarten, before I could read the crayons, I colored Little Boy Blue purple, the grass red, the lush trees brown, and the sun pink.  Our teacher, bless her heart, dressed me down in front of the class, implying that I was an idiot.  She'd never met a color-blind person before.  My career as an outsider thus began in earnest.)
I started paying attention to how people "saw" things.  People experienced the world in wildly different ways… not noticing certain things (like the fact Uncle Fred was drunk at Thanksgiving), focusing on details that eluded others (like the hickie concealed under Suzie Q's turtleneck), and processing input in ways that left me speechless (like falling asleep from boredom watching "The Exorcist").
(Who can sleep while Linda Blair's head is spinning around spewing pea soup, for cryin' out loud?)  (Turns out, Uncle Bob could.)
When I discovered a westernized version of Zen (via the Beatniks), it all started to make sense.
We are essentially blind in the universe.  We pick up sensory data from our eyes, ears, nose, touch, taste… and translate that data in our brains into something that makes sense.
The world outside our head takes shape, has depth and drama and a rich abundance of goodies and dangers.
And yet, it's all illusion.  You screw with the wiring, and it can all change.
Everyone understands how going deaf, for example, can impact the way you interact with the world.
As a business owner — and thus, as a salesman (since selling is the only way to keep your business alive) — you are doomed if you refuse to go further, however.
Just as real as being deaf interferes with incoming data…
… so does being encased in your ego.
Your ego can be heard in that cacophony of voices inside your head — it's the one getting pissed off whenever things don't go perfect.  Or whenever you feel threatened or challenged.
Most of the world stumbles around with their ego in charge.  They reject good advice, argue violently about topics they really do not understand…
… and see their Number One Threat as anything that dents or pisses on the image they have of themselves.
Great salesmen and saleswomen know that closing the deal requires a little sacrifice in the ego department.
You get your ego out of the equation, and suddenly it's easy to see things from your prospect's point-of-view.  Easy to walk a mile in his shoes.
Easy to tailor your sales message to fit into his head… rather than trying to bludgeon him with your idea of how he SHOULD be thinking and acting.
But here's where it gets REALLY interesting:
When you continue to lock up your ego (in some dungeon in your head where you can't even hear it grumbling)…
… the REST of your life also gets easier.
You're no longer processing everything through that cramped vision of "what's in it for me", or "how does this affect me".
You are… in essence… finally FREE to experience the world as it really is.  Not as your ego thinks it should be, or wishes it was.
This realization not only helps you see your market — and all the wonderful prospects in it — in ways that allow you to communicate more effectively…
… but it also greases the skids on everything else you do.
Your ego is like a snarling little yap dog.  Always pissed off, or looking for reasons to go into a hissy fit.
I'm telling you, after years of seeing all sides of this: Your ego is not doing you any favors.
It is, in fact, burglarizing your bottom line if you're in business.
How?
Well, the most obvious crime is the way it will hinder you from learning what you need to learn to put your quest for success on high heat.
"Learning?", your ego says.  "I don't need no stinking learning.  I've done all the learning I need to do…
… and if I can just find that Magic Button out there all those successful azzholes are hiding from me…"
And so on.
Your ego wants the world to bow down to you.  And finally realize how wonderful you are… and lavish fame, money and happiness at your feet.
Oh… and also give you that Magic Button that all the guru's and Big Dog marketers are using to get rich, but are hiding from you.
Well, guess what?
There isn't any Magic Button.
I know many of the most influential and infamous guru's and Big Dogs in the marketing game.   Some of them (being really smart salesmen) even make their living selling Magic Buttons…
… because it's so easy to sell that kind of voodoo crap to ego-shackled prospects.
Once you jettison your ego… you can clear your mind of all that nonsense about thinking the world really SHOULD have Magic Buttons you can use to just get rich fast, without having to break a sweat.
You know… like all those get-rich-fast schemes promise.
Your ego…
… is an idiot.
And it's robbing you blind…
… by keeping you from making the decisions that really will kick-start the adventure in wealth, success and happiness that can be yours.
If only you figure out the right steps to take.
Those steps are out there.  They're not magical-easy…
… but they're not difficult, either… once you find a guide you can trust to personally walk you through everything.
The first step is the simplest of all:  Just elbow your nattering ego aside…
… and make the choice to finally get the skills and mojo you need to transform your ability to make your business rock-out.
You may not be ready for the Simple Writing System at-home mentoring program yet.
It's clearly not for everyone.
However… if having a professional writer be your new best friend for the next 2 months…
… personally applying one-on-one coaching to help you learn and master the simple steps to creating all the killer sales messages you'll ever need…
… if that seems like the totally logical and correct thing to do…
… then you should consider something.
First: Your ego will hate the idea of "learning" anything.  Get past that.
Second: WHAT you learn in this system is the single most important thing in business — knowing exactly what to do to communicate with your prospects so they realize they want what you offer…
… and you're the guy they want to get it from…
… and, yes, they agree that it's time to close the deal right now.
Without this simple classic salesmanship in your toolkit, you will forever struggle… and risk being destroyed by your competition, no matter how well-funded, well-staffed, or well-supplied with software, warehouses and production lines you are.
If you can't sell… you are toast.
Third: Just because the Magic Buttons being promised out there are really bullshit…
… doesn't mean that — once you finally empower yourself with the cash-generating skills of being able to sell — you will not see results that pile up like magic.
Because once you absorb these simple skills…
… your ability to close a deal will be so smooth and effortless, your competition might believe you've made a deal with Satan to be able to pull it off so easily.
But any "magic" is really just a step-by-step system (or formula) that — finally, for most folks — reveals how killer sales messages are created.  For your ads, your websites, your videos, your email, everything.
This mentoring system doesn't pull any punches.
You go through the step-by-step system at your own pace… with a pro writer watching your back.  I'm in the mix, too — I often get into the interactive feedback and advice being ladled out in the online classes.
There are tons of other resources available, too.  Like networking with other students (who include every part of the business world, from rookie beginner to veteran biz owner).
And getting insider access to webinars I've done with Marketing Royalty like Rich Schefren, Andy Jenkins, Jeff Walker, Ed Dale, and others.
(Plus getting a free invitation to the next Action Seminar.)
We offer this Simple Writing System at-home mentoring system because it's the opposite of a Magic Button.
It's a real skill set.  Broken down into the most drop-dead simple step-by-step system you've ever seen.
Taught and gently force-fed into your brain by experienced teachers, like me.
We've transformed the lives of the most stubborn, reluctant, and ego-driven entrepreneurs the universe could ever create.
The process is not hard.  Not scary.  Not tricky.  And not boring.
It is, in fact… fun.
You can see for yourself what others have been saying about their experience in this unique coaching program by going here:
For the next few days, we are accepting students for the program that begins April 12.
Warning: There are NO current plans to ever host this program again.  It's extremely challenging to get this kind of professional faculty together.
We are not an institution.  We're just a band of pro's who know how to teach… and this Simple Writing System program is a near-perfect environment for doing exactly that.
You come in, with whatever experience or lack of experience you have…
… and you leave armed-to-the-teeth with the exact simple skills to go out and dominate your market.  By creating sales messages (ads, websites, videos, etc) that bring home the bacon…
… whenever you need them.
(Side note: Even if you outsource the creation of your ads and websites… you still need to know how a great sales message is created.
Or you will be held hostage, forever, by other people.  Who may, or may not, be worth the fortune you must pay them to do what is, essentially, very SIMPLE writing.)
Everything good that will ever happen to you in business…
… starts with the fundamental knowledge of closing a sale.  And "translating" that ability to everything you put out — all ads, websites, videos, etc.
No gimmicks.  No tricks.  No fads.
Just the raw ability to bring in the Big Bucks.  All by yourself.
Just consider this, all right?
Without your ego getting involved.
This isn't about your ego.
It's about you… finally being in control of how successful your business becomes.
I'll see you in the program, if you decide to join us.
Just hurry, all right?  We'll stop accepting new students in just a few days here…
Love to hear what you think about this — both the subject of ego-interference… and the opportunity for getting this kind of coaching.
While readership of this blog remains huge, we haven't had much interaction in the comments lately.  I miss those long threads.  (Last month, we had comment threads going 60-deep and longer.  We'll start back into that interactive phase once the Simple Writing System program gets started again…)
For now, let's hear what your thoughts are on ego (which we've discussed before, and will again — it's that important)… and on the mentoring available.
We're serious, you know, about not having another SWS mentoring program planned.  Do not assume anything here.  This may be the last one…
Stay frosty,
John