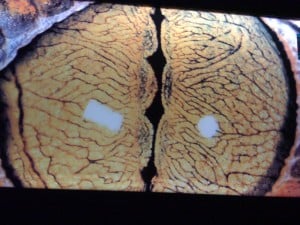 Friday, 1:04pm
San Diego, CA
"First, learn your craft.  It won't stop you from being a genius later."
Howdy.
Quick little note today, to take you through the weekend (while I'm down here in Baja La-La Land speaking at the star-studded "Paid For Life" seminar).
If you — like me in my mis-spent youth, and like the vast majority of folks out there who "can't get started" — feel a sense of satisfaction over your ability to Think Deep on Big Thoughts…
… you'd be doing yourself a favor by murdering that satisfaction right now.
The best quote I've ever seen on this was by biz legend Peter Drucker:
"Brilliant men are often strikingly ineffectual.  They fail to realize that the brilliant insight is not by itself achievement.  They never have learned that insights become effectiveness only through hard systematic work."
In other words…
… you will never get shit done — no matter how smart you are (or think you are) — until you get MOVING on your ideas.
I, too, was a lost and wandering soul… until I discovered (by accident) the concept of goal-setting and — just as important — the trick to actually putting your goal-achievement plans into action.
That trick?
Get off your butt.
Figure out what you need to know or possess to move to each new step in the plan, and then go acquire it.  Mentoring, information, tools, funding, partners, whatever you need.
Many a fabulous dream has been crushed by the realization that the world will NOT beat a path to your door if you invent a better mousetrap.
Nope.  In this universe, you must breathe life into your dreams, and get the word out.
That requires elbow grease, and the unpleasant reality of needing to work at it.
I grew up with dozens and dozens of smarter-than-me dudes with razor-sharp minds…
… and all but a few of them are slowly curdling in dead-end jobs that never came close to fulfilling the dreams they dreamed.
This is not a crime.  Unless you feel it is.
In which case, you have no one else but yourself to blame.
In this country, in this global economy, in this wired world…
… there is very little standing in the way of achieving almost anything you plan for and set out accomplishing.
That doesn't mean it's "easy" to follow your plans.
It's not.  It takes discipline — which is still a dirty word to most folks.
And it takes a lifetime of paying attention and staying focused and digging in when things don't go your way.
It is a daunting recipe for most people to even consider.
However, here's the big secret no one's hiding from you: Once you engage with life at this level…
… you'll never go back.
Most of the wealthy entrepreneurs I know and hang out with are lazy.  Or, rather, they're "selectively" lazy.
When they get after a goal, they are as passionately engaged as a bulldog going after a squirrel.  They enjoy it, they revel in the process, and they gain strength, energy and wisdom (especially self-knowledge) as they progress.
Setting goals, going after them… and achieving them… is more addictive than heroin.
And the side effects are life-changing.  And even disorienting at first.
Your friends will, for the most part, not enjoy your departure from the world of sloth and deep-thinking-without-action.  You may have to leave some of them behind.
You may encounter crushing loneliness… until you discover other like-minded pilgrims on the less-traveled paths of goal-attainment.  (This is why entrepreneurs continue to haunt seminars long after they've mastered their business — a huge part of the fun in this journey is in the people you encounter along the way.)
(A finer group of nut-jobs and wacky characters you will not find anywhere else.)
So, just consider "brilliance" as successful entrepreneurs do.
It's simply not enough.
One decent idea, taken to completion, beats the crap out of a thousand brilliant insights never acted on.
Something to think about, no?
Stay frosty,
John
P.S. If you're ready to start moving, and you know one of the gaps in your tool kit is being confident about your ability to communicate through writing… you know, for your websites, email, video scripts, ads and everything required for a decent marketing campaign…
… then check out www.simplewritingsystem.com.
I'm not gonna push on this.
When you're ready, you'll get over there.
I'm just saying… the tools are waiting for you to decide to get off your duff and get in the game.
Enjoy your weekend.