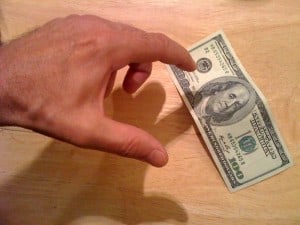 Sunday, 7:36pm
Reno, NV
"A thief believes everybody steals." (E.W. Howe)
Howdy…
For those of you bugging me about the next Quiz…
… it's coming, it's coming.
Soon.
Tonight, though, I've gotta get something off my chest.
And so, a Rant.  By little Johnny Carlton:
Ahem.
There seems to be a parasite bug infecting the brains of many marketers out there.
Let's call this bug… "Theft".
It's not going away anytime soon.
In fact, the very word has been mutating for a long time now… so that what would have easily been labeled "stealing" in the bad-old pre-Web days…
… is now considered smart and brave and even ethical.
Which means that the word "ethical" has also required some definition surgery, as well.
Okay, I gotta take part of all that back, right off the top.  (Note:  Rants often take sudden swerving turns like this.  Just relax and go with it.  You'll be rewarded for your patience soon…)
This attitude — that taking something of value from someone else is not necessarily "wrong", and may even be completely cool — has shown its ugly head before in my lifetime.
Remember Woodstock?
Forget about all the feelings brought up by that festival.  Boomer hippies assign the event iconic holiness, while later generations mock what they see as hypocritical bullshit from their elders.
Me? Still love the movie.  In fact, every year or so I line up "Monterey", "Don't Look Back" — Dylan's '64 tour of England — "Woodstock", "Isle of Wight Festival" — the '70 edition — and "Gimme Shelter".
It's a mini-film festival covering exactly 6 years — 1964 to 1970 — where things changed oh-so-dramatically in the world.  Innocence to grim chaos, told through the soundtrack of the time.  Lovely unintended documentary, these films…
It would have been great if the "spirit" of peace and love really had taken over the universe, and we all evolved into a groovy mind-meld of far-out angelic transmogrification.
Didn't happen, of course.
The uncritical idealism of the time turned me, for example, away from the entire philosophy of idealism.  I loathe idealism now.  It's counter-productive and rots minds.
And, as an older-and-maybe-wiser business owner, the most striking part of all these movies for me — aside from the music, which still astounds — is the way the "average" person saw no reason why everything shouldn't be "free".
Woodstock became a free concert because of shit-poor planning and bad fences.  They were forced to do it.
The bands were not consulted.  Nor were they happy about it.
And if you know the story, you know that the producers of the concert refused to declare bankruptcy, and eventually paid all their bills (though it took the organization many years to accomplish this task).
That's old school.  Take your lumps, clean up your mess, and fulfill your obligations.
One year later, at the first Isle of Wight festival, a mob of angry socialist counter-culture types harshed everyone's mellow by demanding that this concert be "free", too.
Through a slo-mo riot.
It's free, or we'll kill you.
By the time the Stones offered a free concert at Altamont (documented in "Gimme Shelter"), things just got completely out of hand.
While the music still shines, the Isle of Wight film captures the chaos and confusion from the bands' perspective: What?  Somebody's gotta pay for putting this thing on, getting us here, and providing electricity for my gee-tar and Keith's Bee-Three.
You think this shit all happens by magic?
I find this unresolved battle between clueless people waning a free lunch… and the practical folks who understand how lunches actually get made… fascinating.
Folks (including many biz owners) have been getting confused about capitalism since the first trade of something-for-something between cave men, lo, those many eons ago.
It's particularly gnarly when prosperity collides with reality.
For example: I was a vandal as a kid.  Not proud of it, just saying.
I had no idea who erected the streetlights, or who ran the trains chugging along the tracks behind our house.  Stuff just happened, because that's the way the post-war world operated.
So, when we took out the streetlight bulbs with BB guns, or derailed the noon Southern Pacific with a pile of railroad ties… there was no connection in our feeble brains about what consequences we were igniting.
We were bulls in the china shop.
Education was provided "free" to me, growing up.  Water came out of the tap, magically.  And, as far I could think it through, free.  Same with the radio, the TV, the mail, all all the other stuff that contributed to this "free" life for me.
It was a rude awakening to discover that, to buy a car and keep the tank full so I could take Suzie to the Who concert, I needed to generate "money" from a "job" to grease the machine of capitalism.
"Free" was so much more fun.
The World Wide Web was created by an unholy alliance of the Armed Forces and elite academia… both of which operated largely outside the demands of capitalism.   (Grants and Congressional budgets are not equal to a paycheck from a job.)
So the concept of "free" took root easily.
If you were among the early adopters of Web marketing, you must remember the snarling resistance to capitalism among the Web-heads dominating the landscape back then.
All software should be open source.  Selling stuff — any stuff at all — "polluted" the promise of a New Way Of Doing Things Online, where everything should be free (as God and Al Gore surely intended).
When non-techie-type people — your neighbors, for example — started flooding online, and finally got over the fear of using their credit card on a Web site, that "free" ethos collapsed in earnest.
Except for the really cool stuff… like music and intellectual property.
Hey — I don't like the Big Music Moguls any more than you do.  They raped artists and kept a corrupt house since the first needle hit vinyl.
And the Grateful Dead/Coldplay model of allowing rips (and making their real money through touring) is a great tactic… except when it isn't.
Okay, time out again.  I'm not gonna enter the fray of whether all movies and music should be available free on bit torrent sites.
No.
I wanna get more specific.
I wanna discuss the notion that ripping off another marketer's ADS is somehow cool and hip and righteous.
This is where I was heading the entire time here.  A slight detour through Woodstock, down the side alley of my vandal past, across the lawn of the Internet, and finally into the parking lot of Marketing And Advertising.
When I was coming up through the freelance ranks, there was not another copywriter alive who thought it was okay to directly rip another writer's stuff.
Seriously.
It was a sin to copy someone else's stuff word for word.
You just didn't do it.
There was theft, of course.  Thieving bastards who thought they wouldn't get caught would be so brazen as to clip ads from newspapers, white-out the address in the coupon, type in their own address…
… and then submit the altered ad, as is, to their local paper for publication.
This happened to clients of mine.  A lot.  Ads I wrote were nicked in Australia — where US law couldn't touch them, at the time — and run exactly that way.
These were not copywriters doing the deed.
These were thieves.  The lowest form of life in the food chain.
No one pretended it was otherwise.
As business on the Web progressed through the early years of this century, however…
… a curious thing happened.
Suddenly, it was okay to rip off another writer's copy.  Word for word.
My fellow "old school" writers were appalled.  But powerless to change this re-definition of the word "ethical".
I even decided to help the rippers out.  I gave a now-infamous workshop called the "License To Steal Seminar"… where I taught people how to rip 5 of my most successful ads.
Why did I do this?
Because everyone was ripping my ads incorrectly.
It pissed me off.
And so, I took it upon myself to teach budding writers what the swipe-file process actually entailed.
The key: Don't blindly copy.
Instead, figure out the essence of how the sales pitch has been constructed in a good ad…
… and adopt what you learn when you write your own ad.
When I started out, I stalked Gary Bencivenga's direct mail pieces because his writing "spoke" to me.
I would literally tear his packages apart, and mark them up with notes as I dissected his bullets, his word choices, and the way he guided his reader through the pitch.
But I never copied any of his bullets, or headlines, or even "close the sale" wording.
It was like studying Eric Clapton's solo in "Crossroads".  Sure, learn how he constructed it.  Learn how to emulate it.
But don't go out and play it, note for note, in one of your own songs.  That would be rightly ridiculed.
Instead, "channel" Eric's style if you must… but be original.
There are only a handful of notes (plus quarter and half-note bends) in the classic blues scale.  That "Crossroads" solo (correct me if I'm wrong) uses just A, C, D and E, up and down the neck, with bends.
Think about that.  A smattering of notes, arranged to send chills and thrills through a Clapton fan.  He has no legal or moral right to claim those notes as his, and no one else's.  All musicians share the same scales.
And yet what he did was original, and easily identified.
Same with copy, people.  No writer can claim to "own" words like "how to", or "absolutely free", or "here's what I have for you", or anything else.
But an entire piece of copy…
… a successful ad really can become a work of art.  Worthy of emulation and inspiration.
However, you are CHEATING yourself if you rip mindlessly.
Look, I advocate swipe files.  They're a great tool.  I include extensive swipe files — of my own stuff — in the packages I offer.
And, as I said, I offer insight to using these swipe files to help spur your own original creation of a good sales conversation.
Just plain old copying, though… it's like taking your sister to the prom.
It may have all the appearances of a "real" date, but it's not legit.  It is not a foundation to build anything on.
And this kind of mis-wired thinking produces a lot of hokey "They laughed when I sat down at the piano… but then I started to play…" kind of knock-off marketing.
It will look and sound silly if you don't understand WHY that John Caples headline and copy worked.  (For the record: It's a before-and-after type of head.  The key words are not "laughed" or "sat down", but the juxtaposition of being put down with the "and then I started to play" tease, promising a story of redemption and new-found respect.)
I am now calm but still rueful about being perhaps the most ripped-off writer in the game these days.
It is not — as some might say — the highest form of flattery.  It is, in most cases, intellectual theft.
And it's become accepted, without apology.
I've had books sent to me by folks who should be ashamed that they've copied large sections of my stuff… and pawned it off as their own.  And they are not ashamed at all.
I've witnessed speakers go on before me at an event… and tell my stories as their own (which sends me scrambling to adjust my own talk to get around the infraction).
This kind of shit leaves me baffled.
The real professionals in marketing never copy directly.  They may quote other writers, but they are lavish in praise while doing so, to ensure there is no confusion.
And they strive to be original at all times.
There are only so many commonly-used words in the English language.  The rich body of slang is refreshed constantly as we toy with phrases and cultural definitions.
If you can hold a conversation with someone, you can write what you need written for your biz.
You don't need to steal blindly.
You can have a real date for the prom — all you need to do is get hip to the simple, easy process of doing what needs to be done to attain what you want.
Understanding why a good ad IS good gives you insight to what you must do in your own writing.
It's not rocket science.  It's actually easy to get into the groove of being original, once you've had just a touch of mentoring.
And when it finally clicks, you are off to the races.  You are no longer a slave to your swipe file, because you know how to have a sales conversation that gets results.
And that kind of knowledge just automatically fuels original thinking.
If you're hot to embrace the freedom, independence, and wealth-generating mojo of knowing how to write everything you need written to make your biz rock…
… you can check out the Simple Writing System package I've made available.
I'm not gonna pitch you on it here.  You can decide for yourself if it's what you need by going here to kick the tires: http://www.simplewritingsystem.com
It truly is a fun ride.
I'm also in the process of interviewing an astonishing array of marketing wizards — including a number of movers-and-shakers you may not have heard of yet (offering you an obvious advantage by learning their secrets before your competition).
These interviews will be released in just a few weeks from now.
And they will be free. No theft is required to access them.
So I'm just saying… you may want to keep your eyes peeled for the announcements of these free content-stuffed interviews.
It's all part of my devious plan to help you get past your sticking-points and problems with writing your own fast, easy sales conversations that bring in the moolah.
Thanks for letting get all this off my chest here.
Especially the Woodstock stuff.  Been 40 years now.  Still a hell of a party, regardless of whatever else you might think about the event…
Stay frosty,
John
P.S. Really… what IS so funny about peace, love and understanding?