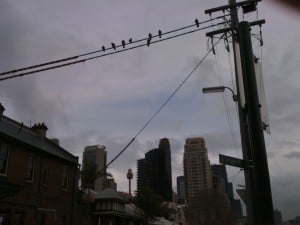 Tuesday, 8:54pm
Reno, NV
"You can check out anytime you like, but you can never leave…" (Eagles, "Hotel California")
Howdy…
Today, let's explore a little-discussed part of running a biz…
… using a couple of enlightening (and very brief) anecdotes from my recent (and continuing) "Adventures With Hotels".
Let's call this lesson: The Faded Lady and the Trump.
With all due apologies to Disney's classic dog-romance movie, of course.
See if you can spot how the following short story applies to YOUR business…
Ahem.
Each of the last two weekends found me in different cities, staying in hotels I booked online, sight-unseen.
In Sin City, it was the splendiferous Trump International Hotel Las Vegas.
In San Francisco, the once-famous, now-infamous Cathedral Hill Hotel.
Now, the Trump joint was built with luxury in mind.  Shiny, tall, imposing building with huge well-apportioned rooms and super-modern equipment like elevators and art.
As a "product", the building was great. (Though it seems idiotic not to have any gambling on the premises, as a wanna-be "player" in the Las Vegas scene.  I heard that Trump got skunked on getting his gambling license, but that's not the spin the staff offered.  "We just didn't want gambling here," is what they said, unconvincingly.)
Great price for the rooms, too.  (Most likely because of the lack of casino amenities and dearth of unit sales, which turned it from condo to hotel.)
I have complaints about the joint… but not because of the room, the rate, or the basic delivery of stuff like air conditioning, clean water, nice beds, etc.  (In fact, their pillow-top beds are amazing to sleep in.  Like being cuddled by angels.)
Now, back in SF, it was a completely different situation.
We hosted a gathering of writers, affiliates, and other mucky-mucks at the Cathedral Hill Hotel because we wanted to treat everyone to an evening with the world-renown "Beer Chef", who puts on fabulous dinners there once a month.  (You can read more about Bruce Paton's unique meals at www.beer-chef.com. )
You want the "Beer Chef", you deal with Cathedral Hill. (And yes, we very much wanted his magic.  He creates these shockingly-tasty gourmet meals there, with each course matched by a local micro-brew beer instead of boring old wine.  It'll knock your socks off, even if you aren't well-versed in pilsners, ales and lagers.)
We also started the day off with an afternoon-long brainstorm session in the hotel's main meeting room.  (I'm sure you caught some of the updates on Twitter from the luminaries and stars in attendance.)
However…
… none of us had ever stayed at the hotel.
And while it has a storied past (well-chronicled in San Francisco lore), it has, alas,  fallen on hard times.
Culminating in being bought out a short time ago and scheduled for the wrecking ball.
Ouch.
We made the most of it.  The stories and jokes we all shared about our rooms and experiences in the hotel are howlingly funny…
… but still, as a "product", there's no getting around the fact that the building was in serious disrepair.
Sort of like a once-beautiful lady who has fallen on hard times, and ended up sacked-out in a filthy alley, soused with cheap booze and a reputation heading south at light speed.
The price was actually a red flag: You cannot stay in the city, in a decent room, for anywhere near the rate Cathedral Hill was asking.
Kind of like seeing an ad for a luxury Caribbean Cruise in the paper for five bucks.  It sort of sets off your early-warning alarm.  (Five bucks and your kidney, maybe.)
So… while no one got robbed, or found a dead hooker in their room… the experience came off as part Overlook Hotel horror-show (from "The Shining"), and part David Lynch "29 Palms" surreal.
Good grist for hair-raising tales.  And jokes.
Not so good for scoring nice comments on hotel-rating sites.
Now…
… here's where the lesson comes in.
While the Trump shined as architecture… the hotel staff was a disaster.
They left us standing outside for half and hour in 100 degree heat while finding our valeted car… and got pissed when I raised a fuss.  I was told that pffft, of course I should have known it would take 20 minutes or longer to get a car from the garage.
Was I that naive?
Then, after charging me $9 for a few Advil in the tiny, inadequate store… I asked the desk clerk to hold the oversized bottle until I came back from my adventures outside.
And they stole it.  Or lost it.  And it was my problem.
Room service?  No one ever answered the phone when I called.  No message, no music, just endless ringing.  (I finally called the toll-free number for the hotel, got the manager on the line, and gave him my simple order.  Somehow, it actually got delivered some time later.)
Hey — I realize this isn't earth shaking stuff. Lost overpriced Advil bottles, snotty attitudes, phones unanswered, meetings missed because of long waits for the car…
… I don't really care all that much.
I'm actually amazed that anything works in this culture, ever.  Water coming out of the tap, planes actually flying, mail getting delivered…
… I find each act of modern life a mind-boggling miracle.  (The light came on!  I just flipped the switch like this… look! It came on again!)
But that's the point of this little story.
It's the little shit that actually leaves the biggest impression in business.
Over at the crumbling Cathedral Hill, the staff was like long-lost family.  The desk clerks fussed with clients, making sure we were as happy as possible.  Bell hops scrambled to help with luggage and directions (even though I know they were often stiffed from foreign bad-tippers).
The staff assigned to us during our brainstorm was attentive and eager to please.
And the Beer Chef's kitchen staff performed amazing culinary feats all night long.  (Yum.)
These were, almost to a person, nice folks tackling difficult short-ticket jobs in a hotel with a date for demolition.
This got me thinking about customer service.
Most online biz fall down on dealing with customers and clients.  It's just too tempting to treat people like numbers when everything is anonymous and digital.
Offline, you gotta look a customer in the eye.  Online, it's email, and maybe a phone call.
So it's easy to forget that after making a sale, the "real" work begins of creating a lasting relationship with a customer.
And the life-time value of a customer is what counts.
It's not that first sale.
It's all the following times he buys from you that builds a successful business model.
Good biz savvy demands over-the-top excellent customer service… all the way down the line.
It costs you to acquire a new customer.  It can be expensive, in cash laid out for ads, and in time spent communicating your sales message.
Once he's a happy current customer, however, there's an opportunity to bond deeply… which creates the kind of trust and bonhomie required to make back-end sales simple and easy.  (And this post-sale bonding can be accomplished for spare change.)
But there's a mix of factors here, too.
I probably won't stay at Trump's little condo experiment again.  What I saved on the room rate was gobbled up by extra cab fares and the overpriced drinks and food they served.
And it just pissed me off that the staff seemed to have taken classes in offending customers.
So it's worth noting that a great product, at a great price…
… can be nullified by rotten customer service.
And it's also worth noting that a poor product — like the Cathedral Hill soon-to-go-bye-bye Hotel — can still leave you with good feelings about the experience.
I won't be staying there again, mind you.  Because, again, the product sucked.
So the perfect mix is: Great product, great price…
… and great customer service.
It's not brain surgery.
I ran Marketing Rebel as a 2-person shop for years, earning a fortune and a sterling reputation.
It was just Diane and me… and both of us made post-sale customer service a priority.
Even now, with the staff burgeoning, everyone who deals with customer happiness is a single phone call away from me.
You got a problem, you're gonna get someone I know personally on it as fast as possible.
And each case is unique, far as we're concerned.  There are real people behind every email we send out for customer service.
We will never make everyone happy, of course.  We'll always have unpredictable problems that just crank some folks so much it damages the relationship forever.  It happens.
And we'll always see a very tiny percentage of pure rage-aholic customers who cannot be satisfied, ever, because they're batshit crazy.
Still, they will get replies, as fast as we can get on it.  For most customer service, in fact, my own personal assistant (the infamous Diane) is point person and chief handler.
You may, for whatever reason, become disenchanted with us.
But it won't be from a sucky product or bad customer service.  You will never be left dangling in the wind.
I came up through the ranks knowing that customer service can make or break a project.
Some businesses out there say "screw it", and accept 20% and higher refund rates because they just don't want to bother with good customer relations.
I don't recommend that model.
Truly resilient success is built on having a killer product… supported by equally killer customer service.
It's easy to ruin a relationship.  (Lord, don't I know that.)
And it's hard to follow through with doing the right thing, as a rule.  People can be assholes, clueless, and utter nuisances… often all at once.
But it pays off to hang in there, and take the high road.
The customer may not always be right… but that's the right attitude to start out with when dealing with someone.
If Trump was smart, he'd hire the Cathedral Hill staff as soon as they're all available… and send his current mob packing.
It's a huge lesson.  Great product, great service.
Any other combination just plain sucks, and will contaminate your success.
What do you think?
Love to hear your comments.  Maybe a horror story about dealing with a biz using professional assholes for customer service, or staying in Hotel Hell yourself.
(I loved that YouTube video about the cable TV guy napping on the job, and the other one about trying to quit AOL… while the representatives on the phone refused to allow it.)
Also… a couple of posts ago, someone put up a comment about being "ignored" by my staff regarding a complaint.  And I looked into it, and discovered that she had given us incorrect contact info, and ignored OUR reply emails on the matter.
I left that comment up (I've never taken down a comment yet, in five years, that wasn't spam) as a little exercise in seeing how our years of over-the-top customer service has affected our reputation out there.
The answer: Not a whole lot.
Folks who deal with us are happy.  The few who cannot be satisfied, no matter what, remain disgruntled.
And you simply cannot really brag about good customer service to prospects.  No one will believe you until they experience it firsthand.
So, be clear on this: You don't do it in your online biz because you score huge points with prospects.
You do it because it keeps happy customers happy.  And because it's just the right thing to do.
Over time, your reputation will benefit.
More important, over that same period of time, your bottom line will grow faster, because you're able to build on good will with back end sales to a happy list.
A small lesson, perhaps.
But critical to sustainable, honest success.
Please — share a horror story.
Stay frosty,
John