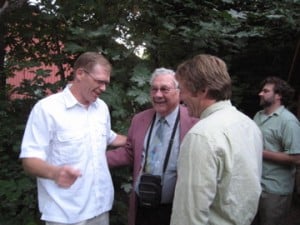 Monday, 8:24pm
Reno, NV
"… and in the early mornin' fog, I looked into those Mystic Eyes…" (Van Morrison, with Them, "Mystic Eyes")
Howdy…
Had a little extended email exchange with our old pal Shawn Casey today.
See, he's about to turn the Big Five-Oh… and I offered him the same gift that Gary Halbert offered me when I turned 50: An open invitation to hear about all the horrific shit he has to look forward to as his body slams full-force into official middle age.
Halbert used to absolutely delight in detailing for me some of the more evil indignities of waving bye-bye to youth.
Let's just say your days of indulging in a bar brawl, and sleeping it off so you can do it again the next night, too…
… are over.
(Bonus insight: However, you can still have fun minus the dangerous stunts and life-threatening bravado that used to cap a good night out.  Who'd a thought?)
I'm still laughing from that exchange with Shawn.
In truth, if you're healthy, it ain't all that big a deal sliding into your fifties.  If you've spent the last four decades thrashing yourself, then yeah, you may be looking at getting your ticket punched early.
But if you listen to your body, keep the stress under control, get some freakin' exercise once in a while, and avoid chunking out like Jaba The Hut…
… well, it's actually kinda nice being a grizzled, older ape.
The real pleasures of life are just as intense… and you've pretty much identified which ones you want to focus on.  (I spent my youth sampling almost every forbidden fruit in the feast… which I felt was my duty as a buddng writer.  Many of those experiences were just downright awful, and yet they'd looked so good from a distance…)
And — even if you dinked around a lot for the bulk of your youth (as I did) (and, boy, was I good at dinking around) — you can't help but have gathered a ton of experience.
And stories.
And whatever mangled philosophy of life that got you this far must have something going for it… or you wouldn't have made it.
Now, the reason I'm writing this post…
… is to soothe the fears of my younger readers.
Dudes: Your brain does not melt in your 30s.  Sex can actually get better (though it may require a little extra management).  And…
… wait for it…
… here's the Big News: Most of you won't even begin to hit your intellectual peak until you hit your fifties.
So, as smart and hip and nailed-down as you believe you are right now…
… it really can get even better.
Right after your second mid-life crisis, if my own experience is any gauge.  (I'm on Crisis # 4, by the way.  And I've thoroughly enjoyed every damn one of them.)
I am seriously at the peak of my ability to think clearly.
And my writing — if I can be immodest for a moment — has absolutely morphed into something killer these days.  Plus, I'm prolific as heck (notice the brilliant and yet subtle use of slang there).
And it's all because so much of the flotsam and jetsam of life's distractions have finally drifted away.
I am over being "cool".  It's a dumb pursuit, anyway… cuz, in most cases, the young man's quest for coolness becomes ideological, and deprives him of a broader appreciation of The Feast of Life.
I don't give a flying fuck what anyone thinks about my conduct, either.  Halbert used to say "You know you've earned a certain self-made status when you can look any maitre' d in the eye and walk him back."
And he was right.  I'm just a working class kid who clawed his way into the Good Life… and you can bite me if you think I'm intimidated by anything you bring to the table.
At this point — after 25+ years in the cutthroat front-line trenches of the business world — I've seen 'em come, and I've seen 'em go.
That perspective has taught me to be humble (mostly), and to appreciate life on it's own terms.
Cuz "life" always wins in the end.  The reality of moving through this world can be truly frightening when you finally leave the nest and meet the monsters.
The indifference of the universe just takes a while to sink in.
Who you are after a few years in the thick of it is a direct result of how you deal with the challenges.  It's easy to be a winner while you're winning.  It's more revealing, though, to see how someone copes with adversity and, yes, losing.
(There's an old saying that you'll never really "know" someone until you've seen them cold, wet, tired, hungry… and lost.  Nietzche would be proud.)
This is where living through a few more years comes in handy.
Both Shawn and I have had the same experience (and it's truly weird).
For nearly all of my career as a professional copywriter and marketing consultant, I was the Young Punk With Attitude in the room.
That was my job.  To afflict the other know-it-all's with better chops and edgier energy.
I did it well.
Then, one day (and I swear to you this happened literally overnight) I realized I was 20 years older than the rest of the group at the table.
And some of them were treating me differently because of it.
I understand the tendency.  A lot of folks bring baggage with them into adulthood — issues with daddy or older men in general.
And it can screw with your ability to deal with semi-geezers.  Which is a shame.
I recognize the younger guys who have no "age issues" instantly.  They treat me like an equal, and we get along without problem.
I escaped the confinements of my peer group as soon as I was out of high school.   I'd been lucky to have friends of different races growing up.  Next expanded awareness step: Hang with people of different ages.
My Pop was typical World War II guy:  Work hard, don't complain, don't explain, provide for the family and let 'em figure it out for themselves.
So my first real experience with getting into the heads of older folks was in college.  I had an anthropology teacher who forced us, for the grade, to go out into the community and collect stories from the most doddering, near-death oldsters we could find.
I'll tell you what: If I could force every young person to do anything in life today, it would be that exact assignment.
Because of the segmenting that goes on in our culture, we've been isolated from a wealth of stories, insight, advice and good vibes.
When you only deal with older people at work, or in situations where you're at odds with them (cops pulling you over, supervisors firing you, store owners suspicious that you're stealing) then of course you're not gonna get to know them.
This assignment, however, was specific: Get them to tell you a single story about what it was like to be young in their time.
Wow.
As we go through life, we tend to consider that everything is, right now, the way it's always been.  That tree has always been in the front yard.  The mail has always arrived promptly at ten on Saturday.
And Old Man Harrison over there has always been an asshole about kids on his lawn.
But things have NOT always been thus.  Harrison, in fact, was once a vibrant young buck, full of piss and vinegar, shooting down Japanese Zeroes over the ocean in his P-51 Mustang.  Back home after the war, with all that death and adventure under his belt, he was still just 22 years old.
And he didn't just nibble on life.
Naw.  He and his buddies gobbled up the experiences of being young and alive and in America in the post-war boom.  (Just a hint of post-traumatic stress in the old guy, self-medicated with tobacco and beer, but never so much he couldn't handle it.)
For most young adults, the only "glimpse" they get of Life Before You Were Born is from Hollywood.  And I'm here to tell you that's a piss-poor way to fuel your belief system of how things really were.
Books are better.  Biographies are best.
And raw stories, straight from the mouths of those who lived it, simply cannot be beat.
I have hung out with people with absolutely no regard to their age ever since that assignment.  Halbert and my now-biz partner Stan and I used to get together now and again… Halbert fifteen years older than me, and Stan twelve years younger than me… and we got along great. Total equals.
There are lots of excellent reasons not to like someone.
Being younger or older than them is not one of those reasons.
Look.  I'm not gonna play rugby with you anymore.  I would have a few years ago.
And I'm not gonna go to some nightclub where I'm the oldest dude in the room.
That's all part of the long menu of stuff I used to do, and have decided not to do anymore.
Instead, I'm focusing on doing the things I truly enjoy doing.  Turns out, I like to work hard sometimes, especially at writing.  And teaching. And playing the kind of music I like to play.
And learning new shit, like marketing on the Web.
This is a very cool time to be alive, and be part of the fast-moving paradigm that is the Internets.  (That's a joke.  Bush used to call the Web "the Internets".  He's a few years older than me, but he's a fellow Baby Boomer… and regardless of what else you may think of him, his true failing was to lose touch with modern life… which is, and will be for some time, centered on the Web.)
I consider most of the top online marketers out there to be colleagues of mine, and many are friends.   For some, I'm the first old guy they've ever hung out with… and while I'm hardly an average salt-and-pepper-haired dude, I appreciate the comraderie and sense of equality we share.
Bigotry has always been a stupid way to go through life.
You have no idea what value the other person brings to the table…
… until you hear their stories.
And I'll tell you this (from my perch in mid-life): You're never as smart as you think you are, and the other guy is never as dumb as you're convinced he is.  (He may, in fact, be dumber.  But your intuition, until it's been tested and honed in life, will be inaccurate more often than not.)
There is a very nice Zen middle-ground to living well… where you experience things as they are, and not as you think they should be or wish they were.
If I inherited my father's genes, I've got another forty to fifty years left of top-of-my-game living left.  (He is a sharp dude, at 89, with no signs of slowing down yet.)  (And I don't mean "sharp for an old guy"… I mean he'll clean your clock at critical thinking.)
I may very well outlive many of my compatriots who are still young enough to believe they will live forever.  This is neither fair, nor unfair.  It is how it is.
People shut down their brains and become sleep-walking zombies at all ages.
I've met many folks shy of 30 who might as well be brain dead for what little critical thinking they're capable of.  And I've met people of all ages who seem ready to cash out — fried, tired and exhausted by what they perceive of as a "hard life"… which around 4 billion impoverished and soul-crushed people elsewhere in the world would kill to trade up to.
One of the advantages of piling up some years is the perspective you attain (whether you want it or not).
My perspective: Life is complex, messy, and gorgeous, all at once.
You can lose sight of this, at any age, when you lose touch with the stories that fuel understanding and comprehension of what this strange ride is all about.
Stop relying on Hollywood for your stories.
Develop your own, and sample some from outside your little peer-group prison.
Life is a banquet.  And most poor suckers are starving to death…
Okay, rant done.
I'd love to hear some of your stories here in the comments section.
Here's a starter question:  What was your "best summer ever"?
What happened that made it a turning point for you, or what fueled the adventure you had?
For me, there are multiple "best summers".  I've been lucky.  And I can go on and on about what happened.
Often, it was nothing more than a transistor radio with great tunes, the beach, a new girl suddenly entering my radar, long days of catching great surf…
But that's me.
What happened to you?
Stay frosty, in the meantime…
John