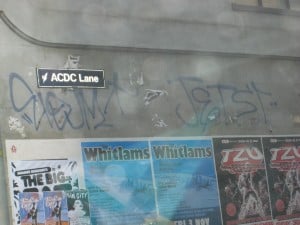 Thursday, 7:55pm
Reno, NV
"It was never part of our plans not to play well… it just happened that way." (Ron Barassi, Hall O' Fame footballer & Carlton coach)
G'day, mates.
In about 10 days, my biz partner Stan will morph into Road Dog Stan, and we'll both be off to the Land Down Unda.
Three weekends, three cities, three seminars to speak at.
We fly into Sydney… will drive up to Melbourne (where my old pal Ed Dale has previously shown me the amazing hospitality Oz residents offer)…
… then fly up to Brisbane ("Brzbin" to locals, I hear).
I'm kinda freaked just listing it all out. Fortunately, Stan and I have left our womenfolk behind many times before to go trudging off like Victorian explorers… into the dense, scary jungles of Seminar Land.
Armed only with laptops, Powerpoint, iPhones, wireless cards, Kindles, iPods, Dopp kits and a wad of clothes stuffed into carry-ons.
I'm telling you, it's almost barbaric, the way we have to live by our wits in luxury hotels and biz class jets.
I really empathize with Livingstone and Stanley. (Or was that Stanley and Oliver?)
We will be one step above subsistence on the Maslow scale.
So hey…
Here's a couple of things you can do for us:
Thing Number One: If you're a business owner in Australia… living in any of these 3 fine cities… and your dream has been to score a face-to-face consultation with me…
… well, here's your chance.
We'll have at least a day of down-time in each place, I predict.
And we're quite open to to meeting with clients.
If you're interested… or even just curious… just post a comment below. We can access your email from the comment, and my personal assistant Diane will get back to you immediately with more info.
No harm exploring the possibilities, is there.
Thing Number Two: Also…
… since we're strangers in your strange land…
… we could really do with some inside suggestions of places to eat, drink, and see in each city.
I spent a week in Melbourne with Frank Kern and Ed, and just loved the joint to death. Took the train to the coast, saw naked people on the beach, tasted local delights, hung out in the neighborhood eateries, and logged miles of long walks downtown.
Still, despite my dog-eared copy of Lonely Planet, I'd really love to get some input from locals on stuff to do.
Can't sit around draining Cooper's all day, you know.
Thanks, ahead of time.
And Ed — is Carlton playing at home while we're there? I'd love to see a game.
I've got a ton of souvenir gear from them here. I'm so proud to share a name with a once-great team brought to its knees by scandal and shenanigans… now rising again, Phoenix-like, to regain its rightful place as King of all they survey.
Or are they on another losing streak?
Let me know what's up, guys.
Restaurants, nightclubs, gathering spots, nude beaches, sightseeing, day-trips out of town, nude beaches, cool hotels, tips for getting around, game schedules, nude beaches…
… Did I ask about nude beaches yet?
Looking forward to returning to the Land O' Dropping Koala's…
Stay frosty,
John
P.S. The photo is from Melbourne. Ed and Kern and I were driving through town, stuck in traffic… and there it was.
An alley called "AC/DC Lane".
They must be so proud, the band…
(BTW: I just learned Angus's bitchin' lead on "You Shook Me All Nite Long"… wicked clever, that one…)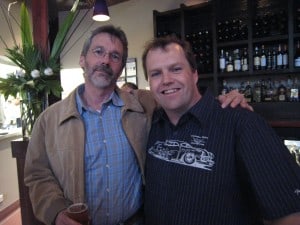 Me and the T-Nerd hisself…