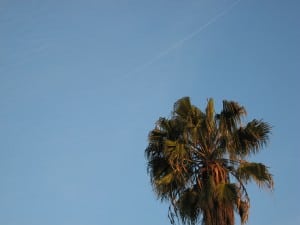 Thursday, 10:45pm
Reno, NV
"That is just too fuckin' pretty to be real." (Bob the drummer)
Howdy…
Sorry for the profanity in the above quote, but that's what he said.
It was around 15 years ago, in the midst of my 3rd mid-life crisis.
I'd dropped out of advertising for a while — wasn't sure how long I'd be floating, and gave no forwarding address to old clients — and was living off royalties and nurturing the power-trio rock band I'd formed over the prior months.
We were hanging out by the van — sober, if you must ask — after setting up in yet another filthy biker bar on one of the nastier streets in Reno, killing time until the joint filled up and we could start playing.
Mid-May here in the high desert — nestled in the bosom of the Sierra Nevadas, just below Lake Tahoe — can take your breath away.
The sun had just set, and the sky glowed with that special ambient dusk-glow that made the whole world seem like a dream from the bottom of the ocean.
We all stopped, mid-lies and mid-guffaws, and drank in that certain kind of alive-ness you can only access when you're outside during the sun-to-stars changing of the guard.
Friday late afternoons have given me a visceral thrill since I was a kid. For most of the culture, it was time to wind down, go home and settle in for the evening. For the rest of us — the night owls and the rebels and the wayward uneasy souls — the day was just getting good.
So we remained silent for a long time, just gazing at the sky and enjoying being exactly where we were, about to do exactly what was coming up.
I won't even try to describe the sky. Like I said — high desert, spring, mountain-filled horizons…
Bob the drummer broke the silence.
"That is just too fuckin' pretty to be real," he said.
And yet, there it was. As real as you or me.
I thought about that scene this afternoon as Michele and I roared down the highway to go grab some cheap Chinese food for dinner. We had the top down, and the gathering dusk swirled through the car and around my heart.
It might have been exactly this day in May, 15 years ago, that Bob said that.
But tonight, it feels like it was just minutes ago.
Why am I telling you this?
Because… that was A Moment. I've had a lot of Moments in my life… crisp memories that define feelings I can't otherwise begin to explain. Smells, sights, sounds, a whispered name… all kinds of random triggers bring these Moments rushing back to me, and I've embraced them like lost lovers every single time.
I'm not sure what life is all about. I have no clue what meaning — if any — there is in all the comings and goings, the worries and deadlines, the urgent opportunities and the grand victories.
I only know that — every once in a while — life arises and smacks me upside the head with a beauty so glorious, so deeply satisfying, and so… fucking awesome…
… that I am reduced to tears.
And I don't know what to make of it.
Part of me doesn't want to even try.
That Moment in time… kicking back with a couple of lunatic musicians, confident in our ability to soothe the savage beasts in that bar when we hit the stage, soaking up the visual delight that is Nevada at dusk in spring…
… somehow, deep in the ancient lizard-brain recesses, it all just felt right.
I don't want to feel like that all the time — it would kill me. I'd just melt into a puddle of grinning goo.
But I sure am glad I still get to have these Moments. Maybe they're little links in the chain of an individual life. Signposts into the past, with promises of the future.
If there really is a future and past. (Have to check with Asimov on that point.)
This, tonight, is what is on my mind.
I've been obsessed with business for months now. Speaking at seminars, launching the Simple Writing System, maintaining the Hydra heads of Marketing Rebel, planning for 3 weeks in Australia coming up fast…
… it can eat up all your neurons.
And yet, somehow, Moments sneak in. They always have, and I'm grateful.
So here's my question for you today: What's on YOUR mind?
Obviously, I just went into and then out of a reverie. All morning and afternoon, it was biz, biz, biz.
And then a Moment.
Wow.
I love the interaction in this blog. It keeps me grounded.
So, seriously — what's on your mind this fine, fine spring day as the Earth spins madly around the Sun in an expanding universe of Big Bang galaxies?
Have you had a Moment, too, recently?
Let's talk about something other than biz, just for today…
Stay frosty,
John