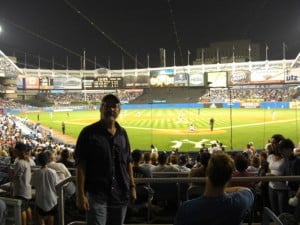 Thursday, 10:06pm
Reno, NV
"There are no rules for good photographs, there are only good photographs." (Ansel Adams)
Howdy…
I grew up in a photo-loving family.
Pop still has his trusty Kodak folding camera — a true antique now — and I cannot yet bring myself to dig through that box in the garage with all my old cameras (cuz I know it's time to start assigning them new fates somewhere else).
I swear to you I still have a box of Polaroid film in the butter drawer of the fridge. Might even be the last batch they ever made (and R.I.P. Polaroid, dear departed friend).
Mom was the photo archivist of the family, and even as other families gravitated toward 16mm film, I retained a purist's preference for the snapshot over the home movie.
(Side note: I remember meeting someone 20 years ago who mentioned that they were on video from the moment of their birth, and it was unsettling.
Now, it's rare to meet anyone under the age of 30 who isn't cataloged on film through their entire childhood. I can't even imagine watching myself being born. I have a hard time watching old seminar footage of me from ten years ago, for cryin' out loud.
Anyone out there hauling around a library of self-referenced film with them? What's it like?)
I believe I fell in love with photography the moment I saw my first photograph… and realized it was actually a moment in time captured forever.
And I formed some very intense ideas about what makes a "good" photograph as a third-grader thumbing through the still-amazing stack of Nazi photos Pop brought home from his stint as a rifleman during WWII.
(There's no way to tell for sure, but those two dozen shots seem to be a German officer's front-line cache of "Here's what I did during the War" snapshots. Fascinating subject material that forced us to imagine what the story actually was behind those uniformed men… especially the one with the open bullet wound in the dorsal lat.)
As I grew up, I would become captivated by very few photos in the piles coming back from the drugstore of family and friends and pets and outings.
I never questioned why I found those few snapshots so iconic.
Later, one of my first jobs in advertising was overseeing the photography for a computer supply catalog every quarter.
That job meant gathering all the equipment (cables, monitors, furniture, floppies, etc) and spending a week or so with a professional photographer in Palo Alto trying to make plastic crap look good.
(I won't bore you with the hassle that pre-digital photography presented — the need to refrigerate film, manually load it, and nurture it like a fragile duck egg until it could be color-separated and made "camera-ready", which means ready for the printer to fuss with during the offset process of applying wave after wave of ink until the correct color was achieved.)
(Okay, sorry, I think I just bored you there.)
Anyway… I learned a lot about the technical aspects of photography (like using mashed potatoes as a substitute for ice cream, cuz the real treat wouldn't survive under the required hot lights for a good shot).
Pro photographers in the ad field earned big bucks. They knew the voodoo.
But you know what?
I always thought they took shitty photographs.
Technically stunning. Yet somehow boring as hell.
It's one of the reasons I turned my back on a fortune writing for the huge mailers… and wandered off with the scurrilous Gary Halbert to go slumming with entrepreneurs.
The corporations insisted on boring copy and boring photos. Cuz they didn't (and still don't) want to "offend" anyone with too much fun.
Can't have that.
The cooler entrepreneurs, on the other hand (the ones we preferred to deal with), always looked like kids who snuck into the candy store after-hours whenever it came to hooks and photography.
Mostly, they played it safe… but sometimes, we'd talk them into saying "fuck it", and we'd run outrageous stuff in print ads and direct mail campaigns.
God, that was fun.
Yet, I still parted company with most of my comrades when it came around to snapping photos. If you look at most of my colleagues' "stock" photo of themselves, it's one suit-and-tie-with-make-up shot after another.
What's up with that?
For me, the best shots have always been like a stolen moment in time. No one is looking at the camera, no one is posing, no one is grinning like they think they're "supposed to" when a camera is brought out.
Good copywriting is like a real conversation.
And a good photo is like a real visual memory — what you see between blinks in real life.
I love "great" photos. I've got two Ansel Adams reproductions (Yosemite and a Big Sur beach shot) on the wall across from my desk right now.
But my favorite shots — the ones that I've looked at so often, they've been burned into my neurons — are mostly casual shots of people I know.
Some are posed, sure (Mom made everyone stand in the same spot by the fireplace for their pre-high-school-graduation photo).
But others were hastily snapped on the fly… and if anyone's looking at the lens, they haven't yet mustered their "camera smile".
I don't expect anyone to agree with me on this matter. I'm outnumbered 40-million to one — most folks are terrified of being "caught" on film in their natural slack-jawed state… because, I dunno, it might reveal something they're desperate to keep tamped down.
Like a personality.
Okay, I'm being harsh. That happens when you're such a reviled minority about something like this.
I cared about how I look on film for around six days back when I was 18. My self-esteem was still traumatized from high school, and photos seemed to amplify every confidence-scaring blemish to Mad magazine-sized proportions.
I soon learned not to care at all. At this point in my career, there is easily two solid years worth of film of me floating around the ether from seminars alone.
I find it hard to watch, because the disconnect of watching and hearing myself makes my head hurt. Do I really sound like that? Do I really look like that?
The photos, however… I still find ones (of me, and of my friends, and of places I love) that immediately retell a great story, complete with emotional nuance and side chapters and intriguing details that have yet to be explored thoroughly.
And I'm telling you right now — loud and clear — that the camera matters as little as the kind of pen you use to write your brilliant notes down.
Here — for your enjoyment and critical dismemberment of — are a few shots I just downloaded from my trusty iPhone. No Zeiss lens, no zoom, no adjustment for light…
… just an instrument for capturing a moment in time.
A crisp, pro-level shot of something boring… remains boring.
But even the fuzziest, most obscure-looking shot of something important to you… remains a treasure worthy of the Smithsonian forever.
So, in this spirit…
… here is a peek at some of the shots I've taken over the last few months with my iPhone.
Enjoy… or revile them, as you please.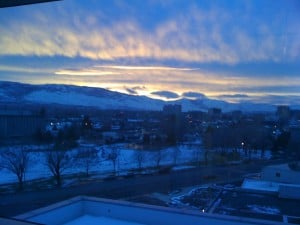 I don't care what anyone says… this shot of Reno one wintry evening is nice. Notice the pinpoints of light — a detail none of my old analog cameras could have managed this late in the evening.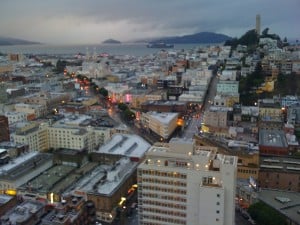 North Beach, dusk, from the top floor of the Hilton where we shot the Simple Writing System DVDs. A little Chinatown, a little of the old Beat hangouts, a lot of San Francisco, the prettiest city in the world. (Okay, maybe tied with Paris…)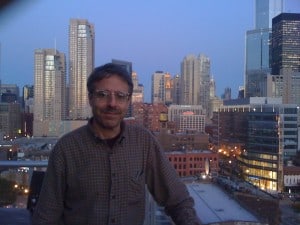 My good pal (and A-List Copywriter, with 6 controls for Boardroom right now) David Deutsch on the balcony of some gorgeous penthouse we were corralled into in Chicago last year by Tellman Knudsen…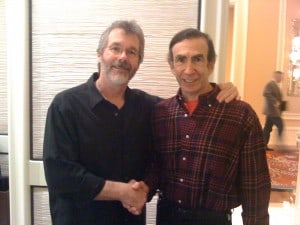 My cherished colleague and Hall Of Fame marketer Joe Sugarman, just last month in Vegas. (He insisted we shake hands and look at least remotely professional, after I'd mugged a little too enthusiastically in the first shot.)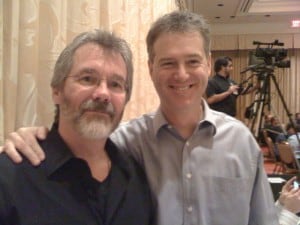 Launch King Jeff Walker and me, being serious for a second at the back of the room while Tony Robbins and Paula Abdul took turns on stage for the SANG event. (In the subsequent shot, I insisted Jeff "stop being taller than me", and he obliged by stooping. Unfortunately, that shot got murdered by trolls in the iPhone…) (Damn.)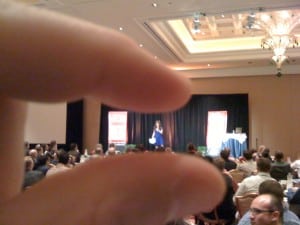 Crushing Paula Abdul with my fingers. I'll never grow up. (Almost made Jeff spit water through his nose, though.)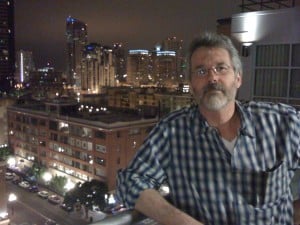 On the balcony of Frank Kern's luxurious penthouse suite at the Hard Rock, just before Mass Control. Andy Jenkins took the shot with my iPhone. (Kern had thrashed the room within hours of checking in…)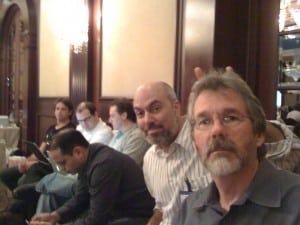 My biz partner Stan being clever in Dubai just before I went onstage. That's Mike Filsaime and Mike Koenigs sitting next to us. We still haven't told the story of that trip, have we? Whatever you've heard is a lie… (And yes, I'm holding the iPhone up and shooting myself like an idiot.  What's it to ya?)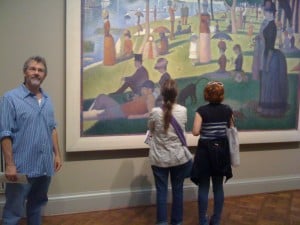 Okay, so I'm posing. It's a famous painting. I'm a fan of famous paintings. I get all weird and loony (like an adolescent Beatles fan from those early days) around classic art. I will adore this photo the rest of my days…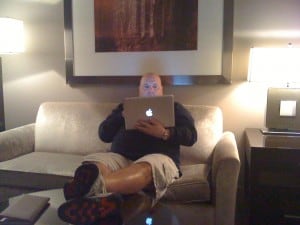 And finally, our old pal and golfing nemesis Dean Jackson, freshly settled in his Trump Tower suite in Chitown.
That's a taste of what I found in the little phone.
For anyone wondering what it's like on the inside of the Web marketing world, here at least is photographic evidence of something. Not sure what.
If this column goes over all right, I might — might, mind you — share my photos from Australia when I get back.
We leave for Sydney on Tuesday. Virgin Air. I'm gonna start snapping shots on the runway, and not quit until I've maxed out the iStorage capacity.
None of us take enough pictures. We just don't.
And much of the reticence is the hassle of posing and looking good and worrying about composition and all that crap.
My advice: Keep your phone or Casio locked and loaded at all times, and be merciless and unpredictable about grabbing moments in time.
For an entire year, Michele and I photographed most of the meals we ate when dining out. It was senseless, but enormous fun… and someday, I'm telling you, someone will be happy we took the 4.5 seconds to snap those shots.
What's your take on the sate of photography? You know, the whole technology is only a bit over 150 years old. There are NO photos of anybody farther back than my grandfather on my mother's side in my family. None.
Let the documentation of our days commence.
And let me know, in the comments, how you're doing with your own love affair with photography…
Stay frosty,
John