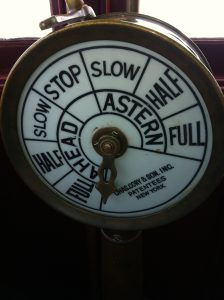 Friday 8:09pm
Reno, NV
"Just move on up now…" (Curtis Mayfield)
Howdy.
Quick post here to help you figure out when you should probably consider consulting with a respected, proven veteran marketing expert…
… and what your perfect consulting option is, once you've decided it's time to kick your biz or career into high gear.
Step One: As a small business owner or entrepreneur (especially if you've been going at it alone, or mostly alone)… if you have any kind of success at all… there will come a time when you're simply overwhelmed and need a little help. Or a lot of help.
For example:
[]
It may be time for you to move up a level in your marketing
… and you know that having a veteran marketing expert comb over your new plans can shortcut your path to increased wealth, while jumping over the unseen pitfalls that ruin so many other biz owners trying to expand. []
Or, you may have a problem that needs serious attention
… like sales going into the toilet, or new competitors chewing you up, or sudden changes in the marketplace that crush your bottom line (like a Google slap, or adverse rule changes at Clickbank, or the obsolescence of your product, or technological left-turns that disrupt your sales process). Even worse, what was working before suddenly isn't working anymore, and you don't see a clear reason why. []
Or, you're just working harder and harder, but sales are stagnant.
Time, perhaps, to bring in an objective, experienced marketing whiz who can help you restructure your biz plan… so you maximize results, and get your life back (by working less, not more.) []
Or, you may want high-end professional advice on your current sales funnel
… just to make sure you're not hemorrhaging money somewhere, or murdering potential sales through marketing blunders you can't even see. []
Or, you may be ready to start a new business adventure,
and just want to be positive you've got your ducks lined up and you aren't forgetting something critical. []
Or, you have copy that may or may not be working,
which you know could jack up your bottom line if a professional copywriter helped you with a total make-over.
Step Two: The best reasons to seek professional help from a veteran dude like me always have one main goal: To fix problems, and goose your bottom line into obscene levels of newfound wealth.
When your situation is urgent, the cost of hiring a consultant who can provide solutions is almost always "cheap", because you're extracting yourself out of a dangerous reality that threatens your business and peace-of-mind.
And it's a screaming bargain when that consultant can offer you simple fixes inside of a plan you can put into action immediately…
… without radically changing who you are or what you offer.
The more experienced and successful the consultant, the greater the shift you can expect from following their advice. And the bigger the bargain for the small investment you make by tapping into that experience and success.
The world of business is roiling with ways your product or service can be ambushed, sucker-punched and even crushed… by market forces, shoddy previous advice from questionable sources, and your own gaps in skills or tools to deal with it all.
No matter how brilliant you are, and no matter how much success you were enjoying at one time…
… if the game has changed on you, and you're struggling, your best first move will be to get help. Serious, experienced, proven professional help.
Step Three: Not only is there no "shame" in bringing in hired guns… it's exactly what the best and most successful marketers do all the time. It's often the most important resource they have, and they never make a move without consulting with the experts they trust.
I've been the "expert of choice" for a great number of successful entrepreneurs and small biz owners for three decades now. From my vast experience in the front trenches of the marketing world… I know where the most common problems are hiding, and how to fix them fast and simply.
I have yet to meet a business problem I can't solve, using the deep toolkit of tactics and techniques for creating killer sales funnels I've developed while working successfully in nearly every situation a modern business can encounter.
I offer a unique form of consulting we call "Be John's New Best Friend"… because, as a client, you will immediately get the same level of attention, advice and access that my closest colleagues and friends enjoy.
What's more, since my biz partner Stan Dahl is usually involved in these sessions, you get his 25 years of experience, too.
He's very hip to technology, software, and the structural problems that growing a biz creates (having run and consulted on multiple online businesses, including creating entire coaching programs… creating, filling and running large seminars… managing some of the most successful early launches ever… and created many virtual and real products. And before that, he was hired to consult with massive companies like Wells Fargo, Starbucks, and AM/PM mini-markets… to specifically improve their use of technology, streamline their biz procedures, and max-out profit funnels).
It's a one-two punch. I've been creating products and ads and marketing campaigns for decades… and Stan has been advising businesses on how to find and fix the problems of making a biz work for nearly the same length of time.
You can get access to us…
[] For an hour on the phone… [] For a day, in person… [] For a month, via phone and email… [] And for a year, by joining our exclusive (and very small) mastermind.
Here's how to think about which option best fits your situation:
1. In an hour on the phone, I can go over your current marketing in astonishingly deep detail – including copy, websites, and sales funnels.
You can easily come away from this single hour with hot new headlines and sales angles you hadn't thought of… fresh ways to make your website more user-friendly, so it brings in more sales… and fixes to your overall process that is killing sales.
We can go as specific as you want to go… or we can look at the "big picture", helping you deal with growing your biz, encountering new markets and competition, and adapting to changing conditions.
It's your hour, to use as you please. I am at your service, completely committed to solving every problem you bring up with all the tools and experience I have.
2. If you want the most intense kind of consulting, come meet with us for a full day. We can go deep into multiple issues, help you deconstruct entire biz plans (and restructure them as killer actionable plans with immediate results), make your copy explosively powerful, and solve all the problems now keeping you awake at night.
This one-day intensive includes email or phone exchanges prior to the meeting, where Stan and I will get completely up-to-speed on your business and situation…
… so there is zero time wasted before getting down to the nitty gritty of increasing your bottom line (for both profits, and your personal happiness).
3. The "Be John's New Best Friend For A Month" option gives you weekly hour-long phone calls with me, plus unlimited email contact between calls.
This will be one of the most intense months of your life, since the way we consult includes specific, well-defined actionable solutions… using your current resources, in your current situation, aimed at fixing what's broken, and kick-starting new results as fast as possible (with the least amount of work on your part).
The benefit of working with us for a month is that you have time to implement ideas and solutions, and see results as we go. It's like a month-long workshop. You are, literally, getting the maximum level of attention we're capable of providing.
4. Finally, when you're ready to make your move on future wealth and happiness over the long haul, our Platinum Mastermind offers you a year-long exclusive seat alongside a handful of other biz owners and entrepreneurs…
… all committed to helping you grow your biz, and watch your back as you put things into motion.
The mastermind is very intense (in the best possible way). In every meeting you have a full session where the entire group is laser-focused on you… and we like to get specific, even offering "homework" items you can implement in order to grow and change and move in the time between meetings.
Plus, there is a dedicated Google Group just for members (unique to our mastermind)… so we're all watching your back whenever you have something you'd like to get input from the group on.
We host four meetings a year, quarterly. This group is the fastest (and most raw entrepreneurial fun) way to go deep into our world.
Step Four: So, whatever your burning need is… from getting immediate help with a specific set of problems, or getting long-term advice on grand new ventures…
… we can help you. And if you've read this far, you are very likely in a position to profit from allowing us to do that.
It's time for you to move up a level.
Here's what to do now:
First Action Step: Figure out whether a one-hour consultation will meet your needs, or whether you're a good candidate for any of the more intense and involved options here.
If you're unsure, I highly recommend the one-hour consultation. We get a TREMENDOUS amount done in these hours — we can dedicate the time to finding solutions to specific problems you have…
… or we can explore, in great detail, your entire sales funnel (looking for leaks, sales-murdering problems, and other things you're too close to the situation to see yourself) and come up with workable solutions…
… or we can critique and fix copy (for your webpage, emails, ads, VSLs, whatever marketing you've got copy for)…
… or just dive into your business and help you get clear on the Big Picture (how you fit in your niche, against competition, the changing market, and advancing technology)… so you can get moving more quickly, with more confidence and more proven info on your side.
The thing is, it's YOUR hour. You control it, and we're here to help however we can. Our combined 55 years of in-the-trenches experience with business, marketing, copywriting, advertising and problem-solving is a very effective tool for you to have on your side.
OR…
… if you're already pretty sure you want more involved intensity, then the "Be John's New Best Friend" options (for either a month of phone calls and email, or one super-intense day face-to-face)… or the Platinum Mastermind are your best choices.
Second Action Step: So, whether you're positive of what you want, or you want to explore your options more fully, the next step is easy.
Just pop over to this page… take 5 minutes to fill out the quick questionnaire (which helps us direct you to the right decision on consulting)… and hit "send".
There is zero obligation on your part, at this stage. You're simply getting more info, based on your current situation.
Either Stan or I will get back to you as soon as possible — often, the same day. We are notified immediately when a new questionnaire hits the inbox. You will not be shuttled off to underlings, or put into "auto responder hell". We treat every request for our help seriously and professionally.
Special Note: If you decide to start with an hour consultation, and afterward decide to expand your consulting to the month- or day-long options… or you decide to join the Mastermind…
… then we'll apply the cost of that first hour's consultation. So you've got a bargain (and special treatment) going on right off the bat.
The details of signing up for any of our options are on this page. Including your costs.
For any entrepreneur or biz owner looking to solve the problems holding you back… or looking to solidify your biz plan and move to the next level up… or to maximize the sales-producing power of your marketing…
… the price of a consultation with us is simply a very small investment in short-cutting your time, money and energy spent in getting a solution.
If higher profits, less stress and more time off… plus the sheer joy of crushing your competition… is something that would please you, then getting personal attention from us should be an immediate priority.
Again… go here for the next step. It's a 5-minute questionnaire that simply helps us help you decide what your best next action will be.
We're not everybody's cup of tea. We're proven professionals, who take enormous delight in succeeding, and we devour life's opportunities with gusto, humor and serious skill. We do not tolerate bullshit or delusion, and our advice is based on real world solutions and time-tested tactics.
Go fill out the no-obligation questionnaire right now, while you're thinking about it. It will take you just a few minutes, and you can expect to hear from either Stan or me very, very soon.
It's the best next step you could ever take in your quest for wealth and happiness.
Stay frosty,
John