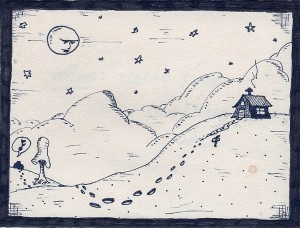 Saturday, 11:29am
Reno, NV
"She's so fine, there's no telling where the money went…" (Robert Palmer, "Simply Irresistible")
Howdy…
I've been counseling entrepreneurs (both rookie and veteran) for, oh, about 30 years now. They come to me when their progress, or dreams, or plans have been hijacked by events or forces seemingly beyond their control…
… and they need a hard-core reality check, fast. Plus a detailed list of steps to fix things, and get back on track.
Even if you get an MBA somewhere (and while studying the history of biz and learning the methods behind success are important, I have yet to meet an entrepreneur who was helped by getting a fancy degree like that)… you can't really understand the cycles, problems, surprises, horrors and pleasures of running your own biz until you dive in.
You can read every book ever printed (or watch every video) on what's it like to run a biz… but you won't truly understand how it all works until you're actually running ads, setting up deals, shipping product, hiring and firing and moving and shaking.
When you catch yourself looking over your shoulder at the competition the first time (or waking up in the middle of the night with angst over a new campaign), THEN you know you're a real entrepreneur.
I really enjoy consulting with entrepreneurs whose noses have already been bloodied. Life has already done the hardest part of my job for me… by kicking the idealism and dumb-ass belief systems to the curb. Your biz won't succeed because you're a sweet guy, or because dammit, your product is just the greatest thing ever.
No. Your biz will succeed because you learn the craft of making a biz work. You get into the head of your prospect, you package and price products with an eye on the competition, you use classic salesmanship in your advertising, and you run the joint like a professional.
And you'll STILL encounter problems along the way. But if you have your Big Boy (or Big Girl) pants on, you'll treat every problem as an opportunity to learn your lesson, fix your blunders, and keep after your goals regardless of obstacles until you hit paydirt.
My job, as a consultant and fixer, is to point out what you're ignoring, knock you off your erroneous assumptions, give you a step-by-step plan to clean up messes and get back in a success-groove…
… and, in general, shortcut your path through the trials and tribulations of making a killing as an entrepreneur.
And because I've worked with so many biz owners in so many markets, and already solved so many problems, and helped generate so much wealth over the decades…
… I haven't seen a situation I can't quickly fix in a very, very long time.
Heck, there are only a handful of marketing problems out there. What might seem like a totally unique, horrifically awful, unsolvable disaster to you… always boils down to a basic problem that has a simple solution.
Once you realize that, you stop panicking. There are answers to your questions, and fixes to the mess you're in. You may not know those answers or fixes yet… but the key word for any entrepreneur there is "yet".
You can learn your own lesson as you slog through and gain experience… or you can shortcut things by bringing in experts and consultants. Either way, there is a solution out there, and if you find it you'll thrive (and if you don't find it, then bad things happen).
But what a lot of folks are desperate to know… is how do you BECOME an entrepreneur in the first place. Because all this talk about overcoming obstacles and making the Big Bucks is irrelevant if you can't get started.
This is a topic I encounter almost every time I discuss biz with non-entrepreneurs. Taking that first step.
So, think about the entrepreneurial adventure waiting for you as a road. You start your journey by taking a step, and then another, and another and another. You get moving.
And on that road, there will be a shocking number of forks. You take one fork, your biz becomes totally different than if you had taken the other fork. You must decide which direction you're going. And once you've decided, you will have more decisions to make very soon, as another and another fork arrives.
Often, there will be no "right" or "wrong" answers. Other times, there will be glaring consequences for choosing one direction over another.
For example: Do you want to go after a large market (like, say, the weight-loss market, or the dating market)… or do you want to go after a smaller niche (like, say, helping teenage diabetics understand nutrition, or helping  divorcees in Modesto with kids hook up with each other)?
Big markets have advantages and disadvantages. There's a history of what's worked and not worked in ads, shark-like competitors have tested every possible nuance in product design and pricing, there are few mysteries on how to find prospects, and you can pick through the obituaries to see why other biz failed while stalking the winners for hints on what they've done right. You'll need legal advice (cuz the feds are all over the big markets) and expertise in the details of large-scale production. Etc.
Small markets also have advantages and disadvantages. They may be so underserved that your product is devoured regardless of price or quality. Or the prospects may be so hidden it's ridiculously expensive to find them. Or they may be super-reluctant to buy, hard to convince, impossible to please. Or you may happily become King of the market, welcomed and sought-after and beloved, even as you continue to work from your kitchen table, solo.
It's a myth that the world will beat a path to your door if you build a better mousetrap. The marketing graveyard is stuffed to bursting with superior products that died a gruesome death because no one figured out how to SELL them.
So that's the first fork to negotiate on your road. It arrives before you take your first step, too. Your first action will be in a direction that determines how your adventure proceeds.
And that's why most folks never become entrepreneurs. They can't make that first decision.
And guess what?
Your first decisions really don't matter all that much. You can always backtrack to any fork you've encountered, and take the OTHER road. You can adjust, even on the fly. You can change horses mid-stream, abandon failing efforts, even plow through the wilderness with no idea what you're doing to search for another road entirely.
In fact, this is how MOST entrepreneur adventures proceed. There are periods of chaos, of pure joy, of multiple "Come To Jesus" moments where everything changes, of epiphanies that end one adventure and immediately kick-start another.
Take any successful entrepreneur, and map out the path they took to get to that successful place. It will never be a straight line, never be a clean trip without problems or disasters or even major failures along the way.
And this is why successful entrepreneurs run a little different from the rest of the population.
The Number One asset they have… is a set of cojones. Not the physical ones, you moron, but the ones that define your ATTITUDE. (Some of the toughest, most 'onery and successful biz owners I know are women, who proudly agree they've got the required cojones.)
Most folks mistakenly believe that intelligence is the primary requirement for success in biz.
And it's not true at all.
Out of a group of wannabe entrepreneurs… the ones with cojones will beat the ones with high IQs every time.
You mix cojones with smarts, and that's good. Add experience, and you get what we call "savvy". (If any consultant you want to work with isn't savvy, run the other way.)
But even minus the "smarts", the ballsy dudes and dudettes will find a way to win. (Often by hiring starving brainiacs when a little mental muscle is needed.) (You can hire your way through many problems, in fact. But you can't hire an attitude.)
I know a lot of very smart people. IQs in the stratosphere, degrees on the wall, library shelves groaning with books. And nearly all of them are dead-broke, or stuck in dead-end jobs they despise. They've got ideas, oh yes they do. But they can't pull the trigger on starting their own biz. They're scared of the consequences of waltzing into the fray.
I also know a lot of dumb-as-bricks folks who dealt with their fear (we're all scared when an adventure starts) and acknowledged their shortcomings… and just went out and created a successful biz out of nothing but their burning desire to do so.
Bet on the guy with cojones. Double that bet on the smart guy with cojones.
And that first fork in your road? Flip a coin, and keep moving. In the modern online world, there are ways to cheaply and quickly test every hare-brained product or scheme you come up with. Clickbank, Adwords, affiliate marketing, even buying ad space in newspapers can be done without breaking the bank. For a small amount of moolah, you can efficiently find out if your product has wings or is a bomb… and that's all you want to do starting out. One step at a time.
Yeah, you gotta learn how the games are played. You don't want Google to ban you for life, you don't want federal agencies knocking on your door, you don't want to stack the deck against you by trying to reinvent the wheel.
So get hip as you go. Go through the tutorials, search archives and join groups. Make a list of all the things you want to do, and another list of all the things you don't want to do… and as much as possible, DO the things you want to do, and DON'T do the things you don't want to do.
It's a process. If you've never written up a list like that before, then you can't possibly be clear on what your real goals are in life and biz. Knowing what you want (and what you don't want), and having the cojones to get off your butt and start dealing with the consequences of movement… these things are NOT default settings inside you.
Most people stumble through life in a somnambulant daze, never choosing their own path. When that state of existence starts to rub you the wrong way, and you decide that maybe you really can create your own adventure in life and biz…
… that's when the road appears. The fog lifts, and that first fork looms. It's scary, and choosing which direction to take will make you sweat. But the WRONG thing to do is set up camp and refuse to choose at all.
You're gonna make mistakes. Nothing will go as planned. And the surprises the universe has waiting for entrepreneurs are myriad and devious.
And so what.
The real question is: Are you gonna get moving, or are you gonna avoid the adventure?
Here's to cojones.
Stay frosty,
John
P.S. This isn't a pitch for my consulting services, because I only take a few clients at a time. Still, if you're stuck on a problem, or just need a good kick in the pants from a veteran professional, a consulting session with me (or at least someone with my chops and experience) might be exactly what the doctor ordered.
As I said, there just aren't any unique problems out there. But you may not be able to SEE the real situation (cuz you're too close)… or you may be in a place where solving them without pro help requires painful, years-long experience and lesson-learning.
And that's when consulting is a tool. You go to the right guy, you can shortcut the learning process quickly by getting specific, useable advice.
I prefer to solve problems using only the resources you already have available. Sometimes, you won't want to hear the advice I offer. Sometimes, the reality check will take you far away from your comfort zone.
But all problems are solvable, as long as you've got the entrepreneur's attitude. There may be a simple fix you just hadn't thought of, or you may need to backtrack or abandon a path or even (gasp!) fire someone. (Sometimes, you may need to fire yourself.)
The important thing is to keep moving, and not let problems stop you.
If you want or need to talk to me, click here (or go to the "Consulting" tab above or in the right-hand column) to get started. No obligation or risk, of course, to just see what's up.
And no, I can't help you grow a set of cojones. That's the one thing you just gotta do on your own. I can only point out that you're stuck because of fear and inaction. This advice is free: Acknowledge your fear, then lock it away somewhere in your mind where it won't bother you. It's human to be scared. And it's human to not want to get moving… so acknowledge that, too, and take a step forward. If you need to learn something or get advice before taking the next step, do so. Immediately. Then apply what you learn and take the next step.
Choose wisely when you can, but choose anyway when you're confronted with no clear "right" choice. Keep moving.
Keep. Moving.
Hey, the comment section is open. Love to hear the story of your early entrepreneurial adventures…