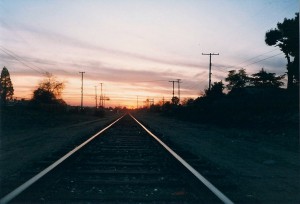 Sunday, 3:09pm
Reno, NV
"The shortest distance between two points is a straight line, unless you've got a black hole handy."
Howdy.
Nice, short post here today. In keeping with the theme "KISS."
Veteran entrepreneurs recognize this, of course, as an acronym of "Keep It Simple, Stupid"… easily some of the best biz advice I ever received in my long career. I carefully printed this slogan out, by hand, on a big notecard and had it taped above my desk for years (though, my sign was even more direct and vicious: Keep It Simple, Shithead. I wanted to get my own attention.)
I made good use of slogans during the early days. "Business before pleasure" was also huge for me, since I'd squandered my youth as a party-hardy slacker… and simply re-directing my energy first to biz (and having evil fun afterward, if I still had any juice left) instantly changed my entire existence. I made a vow to myself — my first real vow that I took deadly seriously — to follow that self-administered advice without hesitation or complaint… and to never apologize for basing my career on a hackneyed phrase that few people ever thought twice about. And that's when things started popping for me, success-wise.
That was a key realization: All those dog-eared rickety slogans, as mocked as they are, have earned their way into the culture…
… because they work, if you let them. "Action speaks louder than words." "First, be a good animal." "Don't sweat the small stuff." "No good deed goes unpunished." (I re-learn this one on a weekly basis. However, the caveat is: But you do good deeds anyway. Just don't expect to be rewarded.) "Listen more than you talk." "Do the right thing." "Anything you can conceive and believe, you can achieve." And so on. (The walls around my desk were thick with notes like these.)
But the Big One, for me, was always KISS. As my career blossomed, I saw — first in myself, and then in almost every entrepreneur, client and biz chief I worked with — a perverse tendency to complicate the hell out of everything, almost in knee-jerk fashion. And this often ruined very elegant original ideas.
Most good business ideas start out simple. A flash of insight, or a sudden realization, or a notion of something urgently needed in an underserved market. Then, because you're human and your wiring has some kinks in it, you start adding complexity before you even get off the ground: "Hey! We could gold-plate it! And add partners! And have thirty levels of management! And create a job for my worthless brother-in-law…"
This happens so much… on both a micro and macro level… that the slogan deserves to be tattooed onto the brain of every entrepreneur alive.
In writing ads, this translated often to another slogan (which I borrowed from Gary Halbert): "Just sell the damn thing." In other words, when you've assembled a selling proposition that's way long, bristling with tangents, and can't seem to get to the point… you just step back, and try to see what the shortest path might look like.
That's how I came up with my own simple formula for writing ads: "Here's who I am, here's what I have, here's why you want it… and here's what to do now." Try to take a linguistic beeline from the headline through the body copy to the close in a breathless, ruthlessly focused ride. Murder every tangent, every irrelevant story, every word that doesn't keep the reader zooming through the ad. (You may still end up with a long-copy pitch, but it will sing.)
In the primo mastermind I co-host with Stan Dahl, the most common advice I give is to simplify everything. The whole structure of a good Hot Seat is to break down all problems into component parts, which are infinitely easier to solve than the Big Damn Problem you think is holding you up. And the answer is almost never to make things MORE complex.
Nope. It's to simplify. Get to the heart of matter, with specifics, and strengthen the fundamentals.
Often, this simplifying process has to beat down what the biz owner thinks he needs: More elaborate product lines, a call center, a new sales force, maybe a big roll of the dice with an expensive informercial. And new investors, and a new membership site, and…
Stop. Take a deep breath. Let it out slowly.
Over the years, I've saved big lumbering companies on the verge of bankruptcy with a single (and, yes, very simply presented) sales letter touting a fire sale (to raise cash), or offering a mind-boggling deal loaded with must-have bonuses (to cold-cock the competition), or just waking up a bored list of past customers and making them fall in love with the client all over again.
Simple ideas. My goal was always to work with the resources that were already available, so nothing new had to be created (except maybe a fresh bonus or two). We'd have my ad out in front of eyeballs and bringing in results before the bloated (and untested) (and super-expensive) schemes of other consultants got off the drawing board.
When you're starting out with a new project or biz, you can always add complexity later on, after you've nailed down the simplest profitable path. When you move from the kitchen table to real offices, and start hiring employees instead of relying on independent contractors, and get busy expanding your marketing efforts… then, you have to embrace a certain amount of complexity.
However, early on (even if you've got employees and offices and a board of directors), you need to make sure your new idea will be welcome in your niche and can quickly make a profit. Until you've proven that, keep everything as simple as possible: Match your product to the specific needs of the market, deliver it efficiently and price it to sell. (In other words, offer a great deal, in a great ad, and get it in front of prospects. You want to find out if it's got legs as quickly and cheaply as possible.)
Okay, I promised a short post, and I can feel a whole bunch of stories bubbling to the surface, so I'll quit with this: Just check out the Issacson biography of Steve Jobs. Over and over again, the guiding principle of Apple's success was to simplify… products, delivery systems, user interface, design, everything. (My favorite quote is when Jobs asked one team to explain what a new — and failing — product was supposed to do. After hearing the list, he said "Then why the fuck doesn't it DO that?" Seems obvious, but the world is crammed to bursting with products that no one has a clue how to use properly.) (How many buttons do you use — or even understand the purpose of — on your TV remote?)
KISS. A very sweet slogan you may have to learn over and over again (as I do)… but it's worth it. Entrepreneurs with simple business structures that bring in simple fortunes lead simple, happy lives.
Do you have a story of how complicating a simple idea turned out for you? Let's hear it in the comments. Meantime, I hope you're enjoying your summer.
Stay frosty,
John