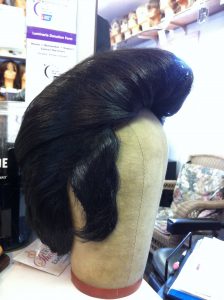 Thursday, 2:52pm
Reno, NV
"He was a one-eyed, one horn, flying purple people eater…" (Sheb Wooley)
Howdy.
In the spirit of screwing off as much as possible this fine July, I'm replenishing the blog with another oldie-but-goodie post from the archives.
So you've got something good to chew on, while I wander off to the beach to get pounded by merciless surf and fried by an uncaring sun. You know: Good times.
Anyway, I love meandering through the archives here… especially when I find a post that still packs some mojo.
Here's a nice short one from '07, on the non-scientific process of finding great hooks for your headlines. At the time, I was bummed that a favorite newsstand shock-rag was ending its run… however, the good news is that WWN is still alive and kicking (just like Elvis) online. (Today's headline: "Saturn Ready To Explode!" Um… okay.)
The ability to find a way to hook readers (and drag them into your story) is what separates the Big Dog writers from the wannabe's.
And creating hooks (especially from otherwise boring raw material) is an art form that needs to be developed. It's not a skill that comes with your standard brain equipment.
Here's some insight to how the best veteran copywriters do it, slightly edited, via the Archive Time Machine, from July '07:
Dateline: Miami, FL — The one-time juggernaut Amercian Media, Inc, just announced that they will cease to publish the Weekly World News tabloid in August, after 28 years of faithfully delivering the most delightfully outrageous crap imagineable.
I, for one, will shed a tear and lift a toast.
When I began my career, one of my copywriting-skill-strengthening rituals included frequent jaunts to the local newsstand…
I would pick up a stack of headline-heaven magazines like Cosmo, Reader's Digest, Playboy… and of course the Weekly World News, the National Enquirer, and any other tabloid rag that threatened to rattle my cage with weird, beautiful, titillating cover copy.
All the top copywriters I knew were devoted to these beastly publications.
We never had to read further than the headlines on the front page, either, to get what we wanted: Truly wicked phrases and Power Words artfully arranged to amuse, intrigue, delight and enrage… and drag you kicking and screaming into the story.
In other words: Hooks.
Anyone who has heard me lecture knows that I urge everyone with advertising dreams to adopt the same reading rituals. If nothing else, you'll learn about the power of finding a good angle no matter how unexciting your product is.
---

When the tabloids strike a nerve with a killer headline, the publications fly off the shelf.

---
Boring heads, however, mean slow death from being ignored.
It was — and always will be — a fundamental lesson that even the most cocksure writer needs to keep being reminded of, over and over and over again.
The staff writers at WWN were "money scribes"… meaning, they were deadly serious about goosing the American unconscious with their "Vegan Vampire Attacks Trees", "Man Bothered By Martian Telemarketers", "Abe Lincoln Was A Woman" (and killed by a jealous Booth), etc., headlines. Because there was cash on the line.
They knew where the soft spots in people's defenses were, and they knew how to skewer them.
Fabulous stuff.
For copywriters, there was no better lesson in delivering a verbal sucker punch that will not be ignored.
My favorites:
"Boy Eats Own Head", and "Preacher Explodes On Pulpit".
Super tight writing, almost minimalist haiku that tells a story you just gotta find out about.
I've been aiming at the very high bar set by those crazy headlines ever since I wrote my first ad with a real hook. (My ad "The Amazing Secrets of a One-Legged Golfer" has been running steadily for almost 20 years now, in print mags, in the mail, and now online. Just to illustrate how powerful and lasting a brain-grabbing hook can be. It's not the product — it's the ad. And, specifically, the headline hook.)
It's an insight that can create fortunes:
A great hook isn't always pretty… but if it inflames curiosity and desire, then you've done your job.
With a great hook, the rest of your sales pitch is just mop-up duty. Just like the actual stories in the tabloids seldom came close to fulfilling the promise in the headline.
Oh, you really didn't want to buy that tabloid while you were in a public store. It was just too embarrassing to be seen even picking one up. You couldn't hide it in your cart, and even the most jaded check-out clerk would glance up to see what kind of person you were, buying this crap. (Or, just as often, they'd stop the register cold so they could finish reading the entire front cover, mouth agape. I always knew there was a writing lesson waiting when that happened.)
Standing in line at the grocery, I know you've snuck peeks at it, maybe picked an issue up if no one was watching… but buy a copy?
Did anyone actually plunk down cash for the Weekly World News?
Yep.
In its glory days, hundreds of thousands of people paid good money for the ol' WWN every week (and its sister publication the National Enquirer had weekly sales in the millions).
Millions more ogled it while in line, or stole friend's copies. Rumor is, it outsold every other mag on the rack, consistently.
More than a few famous writers have copies framed on their office walls.
Ah, but all printed publications are having a rough time of it, now that the Web has won the attention-deficit wars.
And so, we bid adieu to probably the best-written trash in publishing history.
We hardly knew ya, kid.
You shall be missed.
I'm sure there will soon be sightings of Elvis reading a classic issue, perhaps while strolling through crop circles in the shape of Bat Boy…
Stay frosty,
John Carlton
P.S. Small bit of good news — apparently, the WWN will contine to exist in some form online. I hope that's true… but trips to the grocery store will never be the same…
P.P.S. Got a favorite headline you remember (or have framed on your wall)? Leave it in the comments section, will ya? Also, all other relevant ranting is always welcome…
---
---
Must Have Resources
From John Carlton
---
Want to get all of John's killer copywriting secrets?
John Carlton didn't become one of the world's highest-paid copywriters by accident. Over the years, he developed a system that he follows every time he sits down to write.
Once you get your hands on his methods, you can kiss writer's block goodbye as you write the best ads of your life. Find out more here.
---
Looking for Simple Shortcuts To Help You Create Spectacular Ads?
These techniques can supercharge your advertising even if you failed English class and think you're a terrible writer. Intrigued? Find out more here.
---
Build Your Swipe File
Every marketer and copywriter needs a kick-ass swipe file to help create killer copy. These ads from John Carlton have raked in millions for his clients, and you can get them all right here.
---
Still want more?
Check out John Carlton's book on Amazon right here.
---
Not by John Carlton… but Still Awesome!
High Speed Copywriting
The best way to increase your copywriting income? Create killer copy – FASTER. Anyone can be quick once they know the secrets revealed here.
---
David Deutsch Inner Circle
Get access to cutting edge copywriting secrets from a marketer with countless controls under his belt. It's rare that a top writer is also an incredible teacher, but David (like John) possesses those chops as well. Join his inner circle right here.