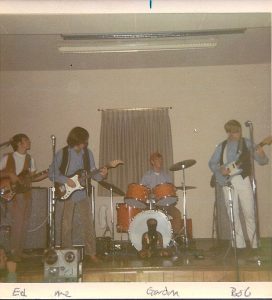 Friday, 1:48pm
Rancho Cucamonga, CA
"Cuz the thought that I coughed up my head is the event of the season…" ("Mr. Soul", Buffalo Springfield)
Howdy…
You like music, don't you?
And you like getting filthy-stupid rich in business, too, right?
Well, join the club. In fact, it's astonishing to me how many wily online entrepreneurs are not just music lovers (we're talking the "nutso" category of fan here), but also musicians. Some keyboards, a drummer hither and yon… but more often guitar. It's something we quickly bond over…
… even though I'm a totally old-school rocker, and most of the younger dudes are either speed-thrashers (who worship Yngwie Malmsteem) or Tone Monsters who embrace the technical side of digital music-making (with an engineer's-level command of effects).
Which just pisses me off. The story of my early musical career fits right in with other geezer tales of walking ten miles to school in the snow (and eating gravel for lunch). We were as close to analog as you can get and still be pumping noise through electronics.
Back when I started playing, the Beatles were still touring, and everyone plugged their guitars straight into the amp (which had actual springs for reverb). The only "effects" we produced was the occasional accidental squeal, or — if we were lucky — a gutteral growl from a blown speaker that was still alive.
My first stomp box was a simple one-button fuzz-tone that mugged the signal and distorted it like a mofo. (My pal Bob made it in Shop Class.) (It sounded like a Tyrannosaurus Rex trying to eat the building, and sometimes startled dancers near the stage.) Later, I bought a used Morley wah-wah… and even later I loaded up on Boss pedals and digital amps with sampled sounds and all hell broke loose.
But basically, I'm still that guy who was most impressed with Dave Davies of the Kinks (who slashed his little amp's speaker with a razor blade before recording "You Really Got Me"). Simple, non-technical abuser of equipment (and pentatonic modes).
So what's this got to do with making money?
A lot… at least as far as becoming a successful entrepreneur.
Because it's all about attitude… from my humble experience, anyway.
You hear a lot (from guru's) about the need to be passionate about your business. To get, and remain, excited with the process of fulfilling your dreams… so you can't wait to get to the office again and stoke the magic that brings in the bucks, fame and happiness.
And hey — if you got that kind of mojo in your system, go for it.
However… that image of constant, unrelenting bliss is kinda total bullshit. I know a lot of entrepreneurs… and none of them are swooning while going through bills, meeting payrolls, fixing a glitch on their website, or desperately trying to meet crushing deadlines.
They're not necessarily unhappy, either. But it's not like the 7 Dwarfs singing merrily as they head for the mines.
Being an entrepreneur means there's work to be done, every day. Overall, yeah, you're moving closer and closer to goals that mean something to you…
… and when you sit back and reflect on your career, you smile and your heart skips a beat. Because you've done, and are doing, something that very few people ever pull off.
You've created a biz out of thin air, and made it successful. You're the backbone of American industry.
Still… I get a little pissy with authors and motivational speakers who insist it's all about the passion, cuz it's just not. I know many multi-millionaire biz owners who get bored shitless with their gig, and constantly dream about the day when they sell the joint and do something else. Anything else.
Oh, they're intensely invested in what they're doing, and love to talk about it and commiserate with colleagues who understand and especially love to launch new ideas and make them work.
But it's the semi-drudgery of the day-to-day details, and the constant movement against resistance (both internal and external, as your brain and the outside world conspire to derail your plans) that delivers the moolah. And the moolah can buy you time, and in that time you can pursue your true joys. (And yes, sometimes that true joy means starting another project… but for most, it means indulging in the guilty pleasures of someone with many desires and dreams. And the bliss is real when you realize you suddenly have the money, the time, and the access to the right tools to make those non-biz related desires come alive.)
I think the motivational stuff serves a purpose… especially in the early days of any career where your confidence is shaky and you really do need to rally your emotions and energy and brain-wattage to the tasks at hand. I used to read a new Og Mandino book for every new biz book I devoured… to give my soul the "atta boy" it needed to rush once more unto the breach (while I delicately survived week-to-week on each incoming fee).
But there were actually THREE things going on there:
(1) I studied biz books…
(2) I absorbed self-help crap…
(3) AND I took it all out into the real world the next day and used it all to earn my bread.
For too many wannabe entrepreneurs, the process is stunted. It's just focusing on the motivational crap. And planning to, real soon, God willing, maybe take your show out on the road.
It just never occurred to me to dink around with learning from books and juicing up my mojo… and NOT waltzing out into the cold cruel world to see if I got killed or rewarded.
That attitude was the KEY to every trace of success I have. Basically, I can sum it up in one sentence: "What the fuck, let's go do it."
You wanna know where that attitude came from?
It came from picking up a guitar as a kid… right after hearing that slightly distorted kickass rock tune "You Really Got Me" on Mom's little Motorola kitchen radio one day (not too long after my first adolescent hormone-dump). Mom had always kept that radio tuned to the country station (KWOW), but inexplicably decided to see what was up on the pop station KRLA. I walked in, my heart stopped, and I nearly fell to my knees as British Invasion rock and roll penetrated every membrane in my system.
Done. Hooked. Let's talk Pop into buying me a gee-tar and see what happens.
Now, I didn't even know the word "entrepreneur" existed. (Heck, I had barely incorporated "bitchin'" into my vocabulary at that point, let alone big foreign words.) But there were a bunch of us who caught the fever around the same time (I was part of that huge Boomer glut of kids that blew up the school system in California, and I can't even imagine what it was like for our parents to behold this blossoming of rebellion amongst their offspring… who, weeks earlier, had been happily wearing Davey Crockett coonskin hats and ignoring the opposite sex)…
… and a percentage of us figured out "The Code": Get good enough to be in a band… get IN a band… and go play in front of people.
Seemed simple enough.
However, it was my first big lesson in entrepreneurship to discover that many of my cohorts just couldn't pull the trigger.
This included most of the truly talented musicians I knew. They were good, they were courted by bands… and they refused to get involved. Sometimes, they were just perfectionists who couldn't bear the thought of subjecting their talent to any kind of "test". Sometimes, they were too distracted by other things, like sports, or a special girl, or (shudder) a job.
And sometimes, they were just plain scared.
For me and my cohorts, it was "what's the big deal?" We pushed hard to master the basics… and I beg forgiveness to all the neighbors who had to hear us grind through "Gloria" twenty times in row in Pop's garage through that first clunky summer.
But we did push. I found a partner in Bob Stevenson, a kid my age who was ahead of me musically… and who took the time to show me barre chords, and help me break down the songs we thought we could pull off in a band. (Which meant listening to singles and albums over and over and over, wearing down the vinyl and needle to nubbins.) (And pissing off the entire older generation, who hated rock and roll anyway, and ESPECIALLY hated hearing "Good Lovin'" on a scratchy 45 leaking from my bedroom all afternoon.)
We found bass players, and drummers, and singers from among our friends… from word-of-mouth at other schools… and from other bands. And we ushered them into our band, and escorted them out of our band like we had a revolving door… trying to find that right mix of talent and responsibility and commitment to the cause. (Starting to sound similar to starting a real business?)
Then, without batting an eye, we auditioned for jobs even before we had a bass player who knew the songs. And got gigs at Sunday afternoon socials, at junior high dances, at private parties, at Battle Of The Bands, at supermarket openings. We were fearless. Yes, we were raw, screwed up often, and hacked up songs like chopped liver for an omelet…
… but by God, we showed up, set up, and pounded out four sets of rock and roll like heroes. Even in our nascent state, we weren't that far away from the best bands in the area (and this was just outside of Los Angeles, where the Byrds and Buffalo Springfield played high school proms before they hit it big).
Rock is a very forgiving medium. Major, minor and seventh chords will get you anywhere you want to go with sixties-era pop. And NO ONE had decent PAs, or Marshall stacks, or even monitors. Playing a gig from an unfamiliar stage (or, worse, crammed into a living room or in the corner of the banquet hall) meant strange acoustics… so we were like brave mushers heading into the wilderness, to live or die by our own wits. (I spent many a gig hearing only the drummer, and just barreled along, damn the torpedoes, assuming the bassist and Bob and the singer were in the same pocket.)
There were moments of sheer bliss… but those moments arrived only after weeks of hard work. We had to figure almost everything out from scratch, because the phenomenon of Do-It-Yourself bands was still new.
We learned that the average "full night" gig had four sets (of approximately 50 minutes, with a 10-minute break)… and that meant we needed a song list with at least 40 different songs. We tossed two or three songs for every one that made it on that list (either because we just couldn't pull it off, or because nobody danced to 'em). We sometimes had contracts that specified we'd play two fast songs and then one slow one, all night long. (The contracts also stipulated we'd arrive with fresh haircuts and a clean "look"… this was back when most bands invested in uniforms, to look like pro entertainers.) (We went with black slacks and white shirts with paisley vests optional. Which we already had in our closets — all our money went for gas, strings, equipment and the occasional six-pack hidden backstage.)
Here's the thing: We weren't the best musicians. We lacked polish, and experience, and we were doing it all on our own. No adults involved in any way, shape or form.
But what we lacked in fundamentals, we made up for with cojones and a commitment to making the band work. ("Sure, we can play at your dance Saturday night." Sotto voice: "Bob, can we get a drummer by Saturday, and find a PA with mikes?")
This was pure, raw, unadulterated entrepreneurship, in blazing glory. The guys who wouldn't commit… or who couldn't get on stage without wetting themselves… or who never felt "ready" to take on a gig…
… gone.
No time for 'em, no matter how talented they were.
This is important: It never occurred to me to NOT be in a band. I loved playing, it was a gas doing gigs, and I suspected that meeting Bob and finding a rhythm section that shared our attitude was a rare thing we should take advantage of while it was hot.
I had zero clue how to do ANY of it before we started.
We were motivated up the yin-yang. We paid attention to the needs of a live performance — equipment, songs, practice/practice/practice. And we took every gig offered, no matter how small, weird or scary.
Years later, when I decided to become a freelance copywriter, I just booted up the same mojo. Motivation, dedication to getting good, and taking my act out into the world.
The bliss, when it arrives, will drop you to your knees (just like the Kinks dropped me in the kitchen).
But there's a good bit of drudgery and work required, too. Overall, it's the kind of experience that delivers a never-ending, ongoing thrill that most people will never know. Because, even if they have the urge, they can't get past the requirements to move beyond "really, really, really wanting to do it"… but never acting on it.
Which is where most motivational guru's will leave you, stranded and flapping around like a beached fish.
And that's the truth, Ruth.
Rock on… get your butt in gear… and…
Stay frosty,
John
P.S. You got a good story about playing in bands as a kid? Love to hear it. Also how you earned your entrepreneur stripes… it's all related, you know.
P.P.S. I'm visiting the town I grew up in (and had all these music-related epiphanies) — Cucamonga, right on Route 66 — for Pop's 92nd birthday. He's still as active as he was in his sixties, still a great guy, and I still owe him big-time for buying me that first Vox guitar…
… and for putting up with years of us making a racket in the garage. He remains an essential part of who I am, and how I got here.
I love ya, Pop. Happy birthday.
P.P.P.S. Final note: If you're interested in knowing exactly how I put together my now-legendary career as a freelance copywriter… from scratch, figuring it out as I went, and coming up with a solid "shortcut" plan that any writer can use to leap past your competition and get your own career going on high heat…
… then check out the re-release of my classic "The Freelance Course":