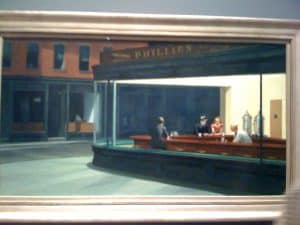 Saturday, 2:24am
Reno, NV
"If you see my little red rooster, please send him home…" (Howlin' Wolf)
Howdy…
Just a quick dispatch here to let you know all is well, and I'll be getting back to regular blogging soon.
I got waylaid by some things, including my first serious sports injury ever: A major boo-boo in my rotator cuff. Which is a marvel of biological engineering, but nevertheless prone to problems in people who insist on abusing it over a long lifetime.
So, while it doesn't really qualify as a Shakespearean tragedy (yet), it has still consumed a lot of my time with MRIs, x-rays, doc visits, and now long painful ("Ow! Ow! Hey, that hurts, mofo! Ow, you did it again!") physical therapy sessions.
Stuff like that can take over your brain for a few weeks. I'm not complaining — I have too many friends with more dire health problems (and I've been through other surgery dramas with people close to me many, many times) that puts this in perspective.
In fact, tonight — after another round with that sadistic physical therapist (the bastard) — I'm relatively pain-free, and able to type without problem.
And I've got several blog posts mapped out in draft form, waiting for my attentions. (With titles like "The Sociopaths Who Are Eating Your Lunch", and "Learning How To Brag"… really fun, and essential stuff for anyone looking to live a better life and make more moolah without guilt.)
But it's already Superbowl weekend, so you're gonna have to wait a little longer for a real post. I've got an old, cherished college pal and his son (to whom I'm kinda like an uncle) coming up for what is now our rock-solid tradition: We find the sleaziest sportsbook in downtown Reno, settle in, and enjoy the chaos and pompous nonsense of the grand game amongst the weirdest set of characters this side of a Fellini movie.
God, it's fun. And I expect Madonna's halftime show to rile up the geezers in the crowd (and we can only hope for a few wrestling matches between blowhards and bums as people take the game personally).
This is our seventh year doing this. It's a tradition. A day of futility, bowing to the corporate overlords on TV, sharing an American rite of bacchanalia unrivaled in other countries. For one glorious day, we get to let our classless Freak Flags fly among our fellow citizens, and stare at the same show for several hours.
It's a little like when the Beatles were on Ed Sullivan. (That was a still-not-broken record crowd of 73 million, back when the nation's population was HALF the current size. Boggles the brain.)
And I don't even have a dog in the race. G-men, Pats, whatever. I lost interest when the 49ers got bumped. But I'll work up a lusty howl for one of the teams anyway, and get my game on.
WARNING: Though I advise against it, I may (key word: may) post on Facebook during the melee. My rule is Don't Drink And Post, of course… but it's the Superbowl! C'mon, man. Loosen up a little. Life's short.
If you're not a "friend" on my Facebook page, then first: Shame on you.
And second: Go here to see why a few thousand people make it a regular pitstop in their day: www.facebook.com/john.carlton
I bounce between insightful business advice (the stuff you never hear about elsewhere, like the psych tricks behind great salesmanship) and casting a jaded (but usually amusing) eye on the culture at large.
I expect any posts this weekend to be in the latter category. But you never know! I might have a money-making epiphany while watching Madonna bellow at halftime.
So, okay… I'm outa here for now.
Again — I'm fine. I've got multiple hot posts coming up… and also some great news for entrepreneurs.
Meantime, stay frosty.
John