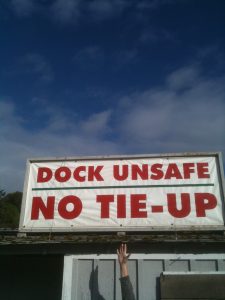 Tuesday, 7:35pm
Reno, NV
"No no, no, no no no noooo no, no, no, no, no no no no!" (The Human Beinz, Nobody But Me, circa 1968)
Howdy…
Well, that was a nice virtual brawl in the comments section, wasn't it.
We do have a winner, whom I shall reveal in a bit here.
First, though, let's get straight on the answer to the Quiz question:  What is the "Magic Word" that can work wonders for your productivity?
There were a lot of great answers.  Quite a few answers that totally sucked.  And a bunch of awesome critical thinking on the subject, which of course was the goal of the quiz.  I think Lisa Wagner wins the "Most Creative Answer" category, hands down, with her "strong coffee" response.
Damn hard to argue against strong coffee being an productivity enhancer.  But that wasn't the correct answer.
Those of you who perused the comment threads already know there were a couple of flurries down the "focus", "clarity" and "movement" rabbit holes.  These are not bad guesses.
But they miss an important rule of being productive:  How does your theory play out in real life?
I have a personal vendetta against success-oriented theories that are, when put to the test, complete bullshit.  This includes a lot of the "spooky" stuff out there that claims you can mind-meld your way to the Big Bucks by just concentrating on forcing the universe to give in.
Now, I'm all for using the universe's mysterious powers for personal advancement.  I've seen it happen too often to ignore.  And my own career was built on a foundation of written goals, visualized in detail, and constantly fussed over so my brain was clear on what I wanted.
Which, when I added movement — specifically, planning out the attainment of my goals and going after each step with disciplined dedication — it nudged the universe to reward me with opportunities I would otherwise have never noticed.
However, there are important distinctions here.
Distinction #1. None of the elements will work alone.  You need everything in place — goals that you've spent time crafting, visualization of what your life will look like once you get moving… and then, of course, movement itself.
Distinction #2. If you're a rookie at setting goals, your first attempts will often be very, very bad.  If you have a burning desire for something concrete, great.  But I'll tell ya — when you're a raw rookie at goal setting, the whole concept of being able to want something, plan for getting it, and then put that plan into action…
… is like being shoved into the cockpit of an F-15 tactical fighter jet.  You might need a little time to figure out how to even start the beast.
Distinction #3. Eventually, if you stay with it (and get a little veteran guidance), you'll get the hang of good goal setting.  Zoom zoom.
But it DOES require some effort.  And that pisses many people off.  They want voodoo, and they want it now… and they do NOT want to work at it.  Not even a little tiny bit.
And there just happens to be an endless mob of folks out there willing to sell you the "big damn no-sweat secret" of attaining your goals… you know, that special mysterious mind-over-matter secret that requires no effort, no planning, no movement, no nothin' except a little snuggling up with your dreamy desires.
And it's just total crap.  Books don't get written magically, products don't get produced with fairy dust, and businesses don't grow from wishful thinking.
The universe will help you out… but you gotta do your part first.
And that means you gotta take goal-setting seriously.  And if you need help putting your plan together, you GET that help… and if you get hung up over moving forward, you get help for that, too.
Being productive is a function of a lot of things.  Like, for example: (a) knowing why you're doing what you're doing… (b) being proactive in overcoming obstacles… and (c) steadily increasing your savvy and understanding of the process.
So, yes… many of the answers to the quiz were not wildly off-base.
But they tended to be elements of the theory of being productive.  And I tried to show how people can get hung up on things like "focus", and actually BE really, really freaking focused…
… and still not get anything done.  (I know a great many folks who can laser-focus on stuff, but can't finish even the simplest project.)  (Same with motivation, setting deadlines, using timers, all of it.  Your brain is a GENIUS at finding ways around the best-laid schemes to force your lazy ass into being productive.)
So, the answer to the quiz is about the foundation of your attitude, when it's time to BE productive.
The Magic Word is…
"No."
Learning to use this word the right way is how you set yourself up for success.  This word will allow you to finally use all the other words — focus, motivation, discipline, work, gallons of coffee — to dig into your goal-oriented projects…
… protected from all the evil crap out there that yearns to destroy your productivity.
Why "no"?
Because few people recognize the power of the word, or the best way to use it.  Humans tend to be either spineless about it, or raving sociopaths.
We'll discuss the sicko's at some other point (and you DO need to be aware of them, and know how to deal with them, if you're gonna be successful in biz).
Right now, however, I'm concerned with entrepreneurs and business owners who have a dysfunctional relationship with the word "no".
Here's the thing with "no":  You do not have to be an asshole to use it.
In fact, especially in business (and affairs of the heart), you are an asshole if you DON'T use it.
Saying "yes" to something you have no intention of doing… because you don't want to hurt someone's feelings, or appear to be a "negative person"… is just cruel and selfish.  You actually goose the coming heartache to higher levels…
… and in business, you can cause irreparable damage.
There are consequences to saying "yes".  You enter into a verbal contract front-loaded with social and financial obligations… plus all the required energy and time commitment to follow through.
I came up with something I call "The Professional's Code" long ago.  I will not work with you if you cannot honor it:  You will be where you said you'd be…
… when you said you'd be there…
… having done what you said you'd do.
This applies to meeting your deadlines, as well as honoring your agreements at every level.  Yes, even the small shit.
Hard core?  To the average slacker, hell yes it's hard core.  How dare anyone demand that you be responsible for your words, actions and promises?
That's… that's… that's just MEAN.
Well, lemme tell you why it's actually not mean:  I've seen businesses go belly-up because of promises breached.  Partnerships shattered.  Projects sunk, and futures mangled.
You wanna talk about being mean?  Watching a good person's livelihood get crushed, because some bozo didn't follow through on his promises… now THAT'S mean.
Screw the bozo's feelings.  This is the adult world, folks.  Money is on the line, payrolls gotta be met, and debts paid, and profits secured.
And you know what?
While all that may sound like scary, un-fun stuff to the non-entrepreneur…
… the fact is, if you have what it takes to start your own biz…
… all this hard-core pro-active "get 'er done" attitude stuff IS fun.  Once you get a handle on it, and put it into action…
… you quickly discover there is no other way to live your life. Being responsible, following through, and meeting your obligations transforms you, almost immediately, into a person of real power, mojo and respect.
And THAT'S the kind of dude or dudette the universe LOVES to help out.  Get your real-world act together, and the spooky stuff will swamp you with rewards.
And "no" is a big part of the game.
There are 3 elements to using the word correctly:
Element #1. Know when to use it.  Never use it casually.  Take a moment (or longer), when asked to give a yes-or-no answer on something, to consider the consequences of agreeing or not agreeing.
When you have your goals straightened out, this becomes easy.  For example, if you're an entrepreneur, finally creating your own biz and headed toward clear goals, step by step…
… and someone appears and offers you a J-O-B for big bucks somewhere…
… it won't matter how nice the benefits package looks, or how sweet the view from the corner office is, or how much your spouse wants that steady paycheck.  Because, once you get a taste of working for yourself, going back to working for The Man would be like drinking sewage.  Screw the easy way out — you're going after a clear goal as a entrepreneur.
(On the other hand… if that offered job lights up your heart and makes you sleep easier, then that might be a sign you need to readjust your goals.  There's no shame in taking a job.  There is only shame in making a wrong decision because you didn't take the time to get clear on your goals.)
You've heard the phrase "your word is your bond."  For most folks, that's all it is — a phrase.  It's not taken seriously, and the average person believes they are entitled to interpret words like "yes" and "no" as they see fit.
Success junkies know better.  Words like "yes" and "no" are, for true professionals, gateways to fresh paths in life.  "Yes, I'll do it," means you'll do it.  "No," means no, you choose not to do it.  Two different paths follow.  And the pro chooses, and commits, and gets moving.
Element #2: Know how to use it.
Again, you do not have to feel like a negative or mean person.  Just realize that it is a very potent word, with implications for future actions, and loaded with emotional vibrations that will set other people off in batshit ways.
You can sheath your "no" with appropriate nice thoughts, and even use variations of the word… as long as you're being honest and direct.  "Bob, I understand you want me to drop everything, and dive into your problem here.  No shame in asking.  No."
Do not leave room for negotiation.  Don't say "but I just can't do it"… because that implies you would do it, if only the situation could be fixed.  It's a weak position that invites an argument:  "Well, why not?  What's keeping you from agreeing with me here?  C'mon, man, I'm just asking for one tiny little special favor… please, please, please, pretty please?"
For most of the world, "no" is just the beginning of the process.
For the pro, it's the end.
Element #3: Make it stick.
Once your reputation is solid as a person who means what you say, "no" will mean "no".  Until that rep kicks in, however, you'll have to log some time building it.
Once you've said "no"… after doing your due diligence of considering your answer carefully… all further discussion is over.  (If you've been using "no" to mean "let me think about it", then stop — and start saying "let me think about it" when that's what you mean.)
Don't get mad.  Don't berate people.  NEVER say "what part of 'no' do you not understand?"  That's sarcastic… and you're being a prick.  This isn't a game, and you're aren't trying to "win" anything.
You're just setting up boundaries on your time, energy and commitments. You can actually SMILE when saying "no" each of the many times you may need to repeat it.  You're not arguing, and you're not taking the bait of entering further discussion.
"No, Bob.  What else is on your mind today?"  And you move on.
All the productivity tricks in the world won't help you if you can't master the art of saying "no" when you need to.
And you know who MOST needs to hear "no" from you?
You.
You need to be able to tell yourself "no" when it's time to sit down and get to work.  No to checking email first, no to answering the phone, no to surfing the web just for a few minutes…
… no to everything but the task you need to get into.
You are one stubborn beast, too.  You don't want to hear "no", especially from yourself.
But that's how you get shit done.  The "no's" set up the internal and external space to finally sit down and get busy.
Make sense?
Okay…
… the winner, remember, was the 7th person to get the right answer.  And the answer, as I framed it, included giving your reasons why.  A lot of folks skipped that part.  Shame on you for skimming the quiz.  Bad habit, skimming.  It'll get you in trouble, and screw with your ability to win these quizes.
So.  The winner is…
… drumroll, please…
Kelly Exeter, from down under.  Answer number 96.  And she almost blew it, in answer number 95, by not explaining her reasoning.  There were a lot of folks who just posted "no", without explanation.  That wasn't the rule.  So, no, you slackers didn't win.
Congratulations, Kelly (and nice save).  My personal assistant, Diane, will be contacting you to get a mailing address for your signed copy of "Kick-Ass Copywriting Secrets of a Marketing Rebel".  Could life get any better?
Let's do another quiz soon, what d'ya say?
Stay frosty,
John
P.S. We're down to the short-hours leading to the Action Seminar.  It's February 25-27, down in beautiful San Diego… and we've got a stunning crew of marketing wizards and top copywriters and killer "behind the scenes" experts prowling the event…
… eager to meet you, answer questions, brainstorm and help you get moving on making 2011 your best year ever.
I can't even begin to understand why you'd miss this.  I have zero plans to ever host something like this again.  We did it last year, and it was the seminar of the year, and we're set to top that mark this time out.  (I've been fielding calls all day from insiders and experts who cannot WAIT for the seminar to start.  The anticipation is palpable…)
Get details on the Action Seminar here.
I'll see you there.