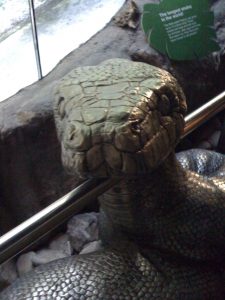 Friday, 3:33 pm
Reno, NV
"When the world is a monster, 'bout to swallow you whole…" (R.E.M., Can't Get There From Here)
Howdy…
Quick post today (I promise).
It's about a HUGE freakin' disaster lurking behind many entrepreneurs right now…
… like a snarly ugly googly-eyed monster sneaking up on your ass with fangs bared and claws clutching.
Some of you, right now, can feel its hot fetid breath on your neck.
Boo!
You know what this beast is?
It's the Great Unknown Future that most marketers are facing right now, as 2011 comes galloping around the corner.  And there are no fangs sharper, and no evil hunger more devouring than a recession-addled economy (licking its chops as it creeps up on you).
Now, here's a free piece of advice from a grizzled veteran of 30 years in the biz world:  I've successfully navigated at least 3 huge (and at least 3 other less-huge but still extremely painful) recessions since I began my career as a marketing expert.
I've done it alone…
… and I've done with the help, mentoring, and insight of folks who had been down that road before.
And I gotta tell you:  It SUCKS to do it alone.
And having a little solid, experienced help watching your back can almost immediately transform your progress.
In my consulting practice, I see a lot of lonely cowboys wandering the marketing range, trying to figure everything out on the fly. They have no one to shuck and jive with… no one to bounce ideas off of (so they never get honest feedback)…
… and no one to shine a light as they stumble in darkness, or warn them of dangers down the latest gimmick-rabbit-hole, or help them find, test drive, and evaluate the vast pile of resources out there (some of which are okay, some of which are evil-nasty-bad-for-you, and some of which are drooling cousins of that monster still sneaking up behind you).
No one to trust.
And gosh, that can suck worst of all.
I know that entrepreneurs and small-biz owners frequently list "being overwhelmed" as their biggest obstacle to success.  (Finding simple ways to be more productive is Number 2 on that list.)
But from where I sit…
… and remember, through this blog, my little social media empire (I use the term loosely, of course), and my decades-long experience consulting with and helping clients…
… the most fundamental problem out there is feeling isolated.  Lonely.
With no one to trust.
In fact, that's just about the ONLY question I need to hear from anyone seeking help… to realize they're in big trouble.
There's plenty of advice out there.  Oodles of direction, ladled out by self-appointed guru's and experts grinning from ear-to-ear, beckoning you hither.  A virtual CandyLand of resources, where sure-thing opportunities, slick deals and wondrous avaricious dreams abound…
… if you will only let down your guard and trust them.
To which I say:  STOP!
Take a deep breath.
And apply a little critical thinking here.
Do you really believe that a fad… or a gimmick… or a single "hot new secret" is gonna transform your life?
Hey, it's fine if you do.  It's a free world, thank God.  Go for it.
However…
… when you're finally ready to grow the fuck up and quit fighting the reality of the business world…
… you've got to make some fundamental decisions.
Fundamental Decision #1: Do you want to build a REAL business, and install a solid foundation for generating ethical wealth and happiness that you create, yourself?
Or, are you just gonna hope for a magical solution to your problems?
If you're into magic, you may want to split now.  I'm just gonna harsh your mellow here.
Fundamental Decision #2: If you ARE ready to build a real business…
… are you also finally prepared to put your ego aside, and admit you need a little honest help finding the right path to success?
Yeah, I know… your ego is already squirming and fussing, trying to get you to click off this page and go check out some porn or a free game site or something.  Gotta distract you, in case you actually TAKE a freakin' step to change your life.
Just put the little bastard in a strangle-hold for a few minutes.  Shut him up.
And listen:
ALL of the successful entrepreneurs and biz owners I know…
… have built up teeming networks of like-minded colleagues, friends, partners, and associates.
Even more precisely: They surround themselves with winners, and hungrily share in the resources of this "inner circle" of success-junkies.
Because trying to make a business work all on your lonesome doesn't just suck…
… it also will murder your ability to find your own best (and fastest) path to wealth and happiness.
Your drinking buddies don't count, either.  Your family… nope.  Even your pal with all the grand schemes and plans… unless he's actually DOING anything to bring in the big bucks, he's an anchor around your neck.
What you want…
… is live, face-to-face access to people who share your quest for a thriving business, and for the rewards of committing to the demands of creating your own damn path in the world.  As a successful, passionate and kick-ass dude (or dudette).
And you particularly want to rub elbows with folks who ARE successful. Who have come from where you are now… conquered similar demons and obstacles… and secured their own seat at The Feast Of Life (the only place to be if you're serious about enjoying this ride).
I know you've heard this story before.  Every single successful person I know has a similar version of it:  Things didn't start popping… until they reached out for help, and followed through on the advice they received.
No exemptions.  You see a successful person… you can bet they didn't arrive alone at the Gates Of Good Times.
It's not a "detail" of your journey.
It's the foundation of everything else you do in life.
And I want to help you kick your dreams in the butt… so you can finally crash through the obstacles and sticking points, and get MOVING.
We're hosting a live event in late February, down in gorgeous San Diego.  We've only done this one other time, around a year ago…
… and the results of letting people into a room we front-loaded with our favorite go-to-experts and success-wizards…
… will simply take your breath away.
The best part: We're doing it one more time…
… and you're invited.  If, that is, you can keep your ego (and your natural default laziness) at bay long enough to get involved.
This event is called The Action Seminar.  Go here for the complete scoop:
You have a number of decisions to make as the new year rolls into town.
Just imagine not having to face them all alone.
And, instead, actually strutting into 2011 armed-to-the-teeth with plans you can implement immediately to start achieving everything you're after in life and biz.
We're all about planning and implementation.  Not piling more theory and more bullshit advice on you (which will only make you feel more lonely and overwhelmed).
No way.
What I love about this event is the emphasis on ACTION.  It's not a "talk AT you" kind of event (which I hate just as much as you do).
Rather, it's a "work with you" seminar loaded with everything (EVERYTHING!) we know about getting your act together…
… as fast and efficiently as possible.  So you can go from wherever you are now… to wherever you DESIRE to be…
… in a well-planned, step-by-step process.
Just like the already-successful folks you'll meet there do it.
These are people you can trust.  They've PROVEN it, over and over again… by helping others, by sharing the good stuff generously, by knowing — really knowing — how important trust and experienced advice is for entrepreneurs itching to move forward.
Look… make up your own mind here, of course.
But get all the info first.  And don't kid yourself, if you're even wishing a tiny bit that "somehow" you'll survive the next year without chucking your desire for magic, or without getting down to business doing what works.
The key to success, usually, doesn't involve changing too rapidly at first.  You don't need more staff, or a bigger office, or infusions of cash from investors.
Naw.
The essential thing you need… is a plan.  And a little honest input from some folks who've been successful already, and are willing to share the process with you.
Just see what the fuss is about, okay?
Both time and space are limited, so I'm urging you to hurry.
Pay particular attention to what others reveal about the last one of these we held.  (You may see echoes of exactly what you're going through now.)
The breakthrough that will change your life forever may be nearer than you think.
Stay frosty,
John