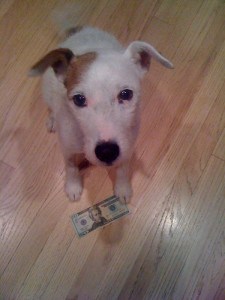 Wednesday, 8:40pm
Reno, NV
"Money, money, money, money, money, money…" (Cabaret)
Howdy…
Hope you enjoyed the last post, where I offered up 3 observations about moolah.
For this current post, I promised to reveal the 4th observation…
… which is so powerful, it can instantly change the way you move and get things done in the world.
However…
… I've just had a sudden urge to get all Socratic here, and ask readers to do some critical thinking before I reveal that 4th observation.
It's too easy to just toss the really hot wisdom in your lap… and the retention level when you don't have to think about it first is abysmally low.  I do you a grave disservice by not using the most powerful teaching methods available when I'm sharing the good stuff…
… and the Socratic method — which ignites critical thinking skills by asking questions (and never, ever just gives anything away) — is a proven way to juice up the ol' brain cells, while being able to see what other folks come up with from their perspective.
In fact, let's make it a real Quiz.
The first person to chime into the comments section here with the answer I'm looking for… will get a brand-spankin' new copy of "Kick-Ass Copywriting Secrets of a Marketing Rebel" (complete with audio CDs) as their prize.
That manual (which absolutely belongs on your shelf, if you don't have it yet) has been used and praised by most of the Big Dogs now operating online…
… and it's selling, right now, for $299 at www.marketingrebel.com.
That's a bargain, considering how much life-altering mojo is contained in that thick (but really freaking fun to read) tome.
So… that's the prize.
Here's the quiz:
In the previous post, I described this Big Damn Observation #4 as…
… "a cool little tactic that seriously changed my life almost immediately…
… allowing me to become one of the top freelancers in the game…
… and opening up amazing new opportunities (like mentoring with Gary Halbert) that would have never happened otherwise."
All of that is true.
But here are some more hints:
Big Obvious Hint #1: You probably never heard of this tactic before… unless you've known a professional who took you aside and shared it with you.  (I have written about it several times in this blog… and it's the FIRST "order of business" I share with any copywriter who comes to me for advice.)
This doesn't mean you can't figure it out, however… especially with the rest of these hints.
Big Obvious Hint #2: It involves making money work for you after you've earned it… but NOT in the way most people think money is "supposed" to work. (Important hint.)
Stew on this for a bit.  And realize that not everyone has similar attitudes toward money.  And that I'm referring to a secret that is used by the best in the biz (but almost completely off-the-radar of most folks).
Big Obvious Hint #3: The amount of money we're talking about is not chump-change, either.  However, the precise amount depends on you.
To get to the correct answer (if you want the prize), you're going to have to think hard about the role money plays in your life right now.  About the power it has over your behavior…
… and especially how it influences your life when you're flush, and when you're broke.
These are HUGE hints, folks.
I'm just giving the answer away here.
The vast majority of people go through entire careers never understanding how this simple tactic can transform their lives in a heartbeat.
And this is important, too: Most professionals who learn about this tactic…
… dink around and never implement it.
And suffer.  And never attain the high levels of respect and fame that the Big Dogs wallow in.
ALL "A List" professionals use this secret as the cornerstone of their reputations.  Most never discuss it.  Yet, it's as critical to their career as breathing.
And… that's enough hints.
Here are the rules of the quiz: Post your answer in the comments section below.
Everyone is invited to give it a go.  There is no limit on submissions.
The first person to nail it gets the prize.  (I'll have my long-suffering assistant, Diane, contact you for shipping info and we'll send it over as soon as we can.)
Heck… I'll even sign the manual.  (That oughta boost the value of it by another dime or so.)
We'll let this play out for approximately one week.
I'm on the road (hosting our awesome Mastermind Group in San Francisco, if you must know) starting early tomorrow…
… and when I get back, I'll post the winner, and a few more of my own thoughts on this crucial (and almost ridiculously-powerful) secret of using money to change your life.
While I'm gone, I've asked a close colleague of mine — the esteemed Robert Gibson — to hang out in the comments section as my representative…
… to monitor things, and to maybe drop a few teasing hints as he interacts with everyone.
Robert is a veteran teacher in the Simple Writing System coaching program (and has participated in every session we've hosted).  He's smart.  He's wicked funny.
And you should feel free to interact with him as much as you like.
These quizzes, when they work, are loads of fun…
… and they can force some serious critical-thinking processes to sizzle in people's heads.
That's a very good thing.  Strong critical thinking is one of the casualties of the modern world, as too many people insist on always taking the easy road (regardless of how far away from their goals it takes them)… and never developing the discipline required for turning your brain into an asset.
Consider the hints.  Face up to your own relationship with money…
… and see if you can't figure out what this potent tactic is.
You "win" just by going through the motions, you know.
However, if you're first with the right answer, you also win the prize.
Ready?  Go…
Tip for getting the most out of this exercise: Think about your answer BEFORE commenting.  Then post your comment… THEN read the other comments.  That way, your thinking won't be influenced by what other folks post.
I'll be back here next week with the winner and the answer.
Stay frosty,
John
P.S. By the way… I'll be alerting the folks who follow me on Facebook and Twitter right now, and we'll send out email alerts as soon as we can about this post.
God knows how long it takes email to show up in your in-box… so if you crave early notification for stuff like this, stop screwing around and join me on Facebook (John Carlton) and Twitter (johncarlton007).
Like most of the hip marketers I know, I'm using Facebook more and more, cuz it's so easy and immediate and satisfying. (Did you see my photos from the Little Feat concert?)
Anyway… good luck with the quiz.