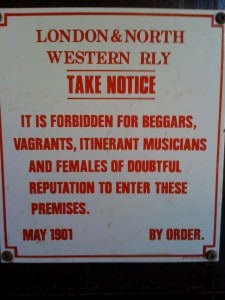 Sunday, 4:24pm
Reno, NV
"… keep your hands offa my stash…" (Pink Floyd)
Howdy…
Let's talk about money.
Do you have enough?
Do you know how much "enough" is, for you?
Most folks are pretty clueless about moolah.  They desire it, they fear it, they respect and hate and love it… and they assign all kinds of magical powers to it.
So here are a couple of observations… from a dude who's been broke, been rich, and seen the awesome potential as well as the destructive nightmares that money can wield:
Big Damn Observation #1: Money really can't buy you happiness.
But you know what?  It's still more fun to find this out for yourself, rather than take someone's word for it.
For me, it was well worth keeping this nugget of wisdom on a note tacked to my office wall.  Because happiness was definitely on my wish list of life-long goals… but so was success.
So I kept track as I moved up the socio-economic ladder from slacker, to decently-paid freelance writer, to obscenely-paid "A List" professional.
And guess what?
It's true.  Making a ton of money didn't turn on the Happy Faucet.
However, it didn't turn on the misery faucet, either… which, for me, was a moment of enlightenment.
Happiness is in your head.  It's a state of mind, which doesn't require cash… unless the lack of cash moves you off your game.
Which lead to the one big realization that helped me clarify what "success" really meant, for me:
Big Damn Observation #2: Money will only solve those problems that not having money creates.
People usually blink back at me the first time I share this with them.  It seems too obvious to qualify for "wisdom".
For me, though, it's freaking profound.  The problems that ate me up during the first half of my life… when I was lost, directionless and kept ending up sleeping on people's couches (because the business world kept spitting me out) (and my girlfriends kept leaving cuz I was such a loser)…
… were all specifically related to not having enough money to get a toehold in life.
Rent was a problem.  Getting a speeding ticket was a major financial blow that could crush my entire budget.  Any adventure that required new clothes or new equipment or a long trip was completely out of the question.
And that was okay for a while… I fancied myself a carefree bodhisattva living off the land (so to speak) while cruising through the culture unblemished by having to bow to the The Man.
Then it got real old, real fast.  And I realized it was time for me to find my place in the world, and go for the gusto.
At that point, I finally understood that not having enough dough to cover the basics (and the fundamental luxuries that made life worth living, like concert tickets) was a major sticking point.
The answer, for me, was to figure out the age-old wisdom behind the professional's concept of a "nut" — that specific amount of cash necessary each cycle to allow you to operate without worrying about missed payments or sudden expenses.
Everyone's nut is different.  But it's basically your rent, food, transportation and other bills, along with a certain allowance for clothes and whatever else you need to live your life.  Including dating costs, bowling league fees, piano lessons, a night at the opera, whatever tweaks your notion of a good month.
Most folks never figure this out.  They lurch from paycheck to paycheck, regarding each incoming expense as an alien invasion ("What? Another phone bill?").
Saving any money for a rainy day is out of the question.  (Americans are among the most clueless savers in the world.)
I've been there.  Floating just above the baseline of Maslow's Hierarchy of Needs (that infamous low-end list of necessities, like food, shelter and safety)… so I technically qualified as a civilized person.
However, the constant desperation of being one lost paycheck away from living out of my car again kept me from daring to dream beyond whatever fun I could squeeze out of a weekend binge on cheap booze and easy virtue.
It sucked.
So money was constantly on my mind.
Figuring out what I needed to cover my monthly nut relieved me of aimless worry.  I had a number to use as a goal.  I could finally get a handle on what extra money might do for me.
As a budding freelancer, I now knew how many jobs at a certain fee I needed each month.  And I knew when I was finally getting ahead of my nut… so instead of month-to-month, I actually had the next three months' nut covered.  And then the next six months.  And then the next year.
This knowledge of my financial situation allowed me to move up a few rungs on the success ladder, too.
But I did it following…
Big Damn Observation #3: Pay in full as you go.
Now, I have a mortgage.  It was a calculated decision, and I'm happy with it.
But it's the only debt I have, or have had for the last 25 years.
I pay cash for all my cars, guitars, trips, computers and everything else.  The credit card gets paid down to zero each cycle.  (The banks hate me for that.)
I'll tell you something — it was PAINFUL learning to wait until I could afford what I wanted, early on.  Especially with that credit card burning a hole in my wallet.
I drove a rattletrap '80 Celica liftback (ugliest car on the road, ever) that required a gallon of water every morning in the radiator (slow leak), and which was often mistaken for a vehicle bound for the Demolition Derby across town.
I'm not proud of this, necessarily.  Nevertheless, that car met my needs as a struggling early-career freelancer.  (I just made sure clients didn't see it.)
And when it finally went on life-support, I bade it a tearful goodbye (I loved that old wreck) and wrote a check, in full, for a luxury-edition Camry.
Debt sucks, folks.
It's willingly allowing shackles to be welded onto your ankles.  It pushes your nut far out into the future, limits your ability to move fast when opportunity knocks, and (worst of all) gives you a false sense of accomplishment.
Now, sometimes you may go into debt for something (like a house) that you can justify.  Sometimes.  (I may yet pay this nasty thing off all at once… but for now, I'm at peace with having a mortgage for this love-nest.)
Just make sure you do it consciously.  And not because it's your habit to never pay as you go.
Side story: I have a standard reply for anyone who considers going into debt to afford a high-ticket product or seminar or something else they feel they "need right now"… but can't afford.
My advice: Don't do it.
Instead of hocking grandma's jewelry, or maxing out six credit cards, or rolling the dice in any way…
… why not try a truly radical approach.  And save up the money to pay for it on the barrel-head.
Instead of looking for an easy, immediate, debt-stupid way to get around not having the cash… just earn the cash beforehand.  Stop partying on the weekends for a year — just a single year (trust me, it won't kill you) — and take a part-time job dedicated to filling up your "continuing adult education" fund.
Save every penny from that second job.  (Which you can, because your day job covers your nut each month, right?  Especially now that you've ceased dropping a bill every Saturday night at the slosh pit.)
Put it in a savings account.  Don't touch it.  Don't dream about it, don't consider it for any other situation…
… except your quest for getting the knowledge and coaching you want so you can move ahead in life.
Even a minimum wage gig, two days a week, can net you several hundred bucks a month.  Any higher wage is gravy.  At the end of a year, you'll have a pot with a few thousand smackeroos in it…
… which you can then lay out for that seminar, or course, or coaching, or whatever you're drooling over.
No debt.  You earned your entry fee.  You paid your way.  You didn't have to beg, borrow or steal.
And you know the value of every buck you laid out.  Which means you're gonna consume whatever you buy, and put it to work in your life asap.
Scoff if you want.  Most folks do.
But the pride of knowing you paid your own way instantly pumps more honest value into that purchase than you could ever imagine.  You'll appreciate the adventure, and (key point) suck every drop of value from it.
The adventure of a life well-lived is funny that way.
Let others haggle and plot and concoct elaborate schemes to get around the simplest path to earning your own success.
There's a lot of risk inherent in creating a successful life.  Most entrepreneurs operate with no safety net.  Going for the gusto means exposing yourself to the dangers of adventure and accomplishment.
But that doesn't mean that burying yourself in debt needs to be one of those risks.
Of lot of people well-established in the business world will argue with me.  That's fine.  I understand the advantages of using OPM (other people's money), and investing cash and resources to maximize potential.
But that's all a little further down the line for anyone just starting the adventure.
Smart leveraging is one thing.  Blindly piling up obligations beyond your nut is something else entirely.
Before you can be a Player, you gotta be a foot soldier in business.
Travel light, and avoid all "tails" (obligations, like debt, that restrict your freedom) for now.
Big Damn Observation #4: And… I think that's enough for this post.
I do have one last piece of financial advice for anyone after a better life.
It's a cool little tactic that seriously changed my life almost immediately…
… allowing me to become one of the top freelancers in the game…
… and opening up amazing new opportunities (like mentoring with Gary Halbert) that would have never happened otherwise.
Let me know if you'd like to hear this last lesson… and I'll put it in the next post.
I gotta get ready to travel some more here.
Love to hear your comments, stories, opinions and whatever below on this topic of moolah (and the love/hate thereof).
It's the main sticking point holding folks back from getting what they want out of life, you know.  Money.  It's a gas.
Stay frosty,
John
P.S. By the way…
… in case you weren't in the loop…
… there is still a slot or two left in the killer mastermind group we've put together for entrepreneurs, small biz owners, and freelancers.
If you're finally ready to get the support, shared resources, contacts and profit-boosting mojo that comes with being embraced in a mastermind group…
… then this is gonna blow your mind.
Personally hosted by me and my biz partner Stan Dahl.  It's already generating scorching-hot buzz in the marketing community and…
… well, you can read all about it here: www.carltoncoaching.com/platinum-group
Very rare opportunity.
You might wanna check it out immediately.